« Back to news list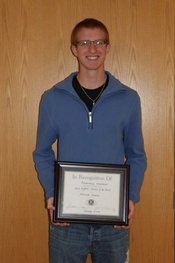 Luke Griffith
Posted On: Tuesday, September 18, 2012
The September Salineville Kiwanis Student of the Month from Southern Local High School is Mr. Luke Griffith. He is the son of Chris and Kim Griffith. Luke is currently a senior with a GPA of 3.897, which places him 4th in his graduating class.
During his freshman and sophomore year, Luke received all A's and B's in his academics. His junior year Luke earned the all "A" Honor Roll.
Luke is also an athlete who participates in football and basketball. He played junior varsity his freshman year for both sports. He lettered varsity his sophomore, junior, and senior years. Luke received 2nd Team ITCL and First Team ITCL All-County in basketball. In addition he was named 1st Team ITCL, and Columbiana County Quad-County for football.
Luke is a member of National Honor Society, TEC Club, yearbook, and he participates in the school morning news broadcast.
Luke is undecided about a college but wants to major in Pre-Medicine.