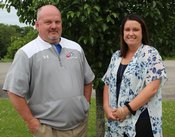 Longtime high school administrator and coach Rich Wright and teacher Emily Brinker will now helm Southern Local Elementary respectively as principal and assistant principal. As part of her role, Brinker will also act as curriculum director.
Wright, Brinker to Helm Building
Southern Local Elementary will have two leaders at the helm after Rich Wright and Emily Brinker were respectively named principal and assistant principal at the June 12 regular school board meeting.
Wright and Brinker each received a one-year contract and will head the elementary school for the 2019-20 term. Both are also known to the Southern Local community since Wright has served as a high school assistant principal, football coach and administrator for the Utica Shale Academy. As for Brinker, she has taught at SLES since 2012 and in addition to her latest role will also serve as curriculum director.
Superintendent Tom Cunningham said the board made the move in order to bolster operations in the building, as well as to ensure someone was available to handle any issues that may arise among the estimated 460 students.
"We felt it would improve scores and help the students and teachers. They will be visible in the school and get into the classrooms more," he said, noting that at times the guidance counselor and other personnel have stepped up when the principal was out of the building.
Cunningham added that the district wanted to focus on test scores, among other issues, and a team of nine educators recently traveled to Columbus for an event through the Buckeye Association of School Administrators and Ohio Department of Education. About 25 school districts were represented and officials reviewed enrollment, test scores and socioeconomics to help formulate ideas for their five-year strategic plans.
Having two administrators at the elementary school would also make a difference in that effort and Cunningham praised Wright and Brinker, saying they bring plenty of knowledge to their roles.
"Rich has had administrative experience and Emily is well respected by parents and staff and has run leadership and teacher-based teams. We think they will be a great complement to each other."
Wright replaces Kristy Sampson, who headed SLES for four years and recently gained a new post as district Title and grant fund administrator. Wright led the Indians football team and high school for the past five years and completed the 2018-19 term as USA administrator. He said he was up to the challenge of his new position in the elementary building.
"I look forward to continue working with the Southern Local School District and I am thankful to be working here," he said. "I have had a great experience here and want to keep improving it and moving forward."
Among his plans are to improve scores, increase enrollment, maintain a friendly learning environment and bring more parent and community involvement into the school setting.
Brinker taught third-grade during her first two years at SLES and has since instructed first-graders. She obtained her master's degree in administration from Franciscan University in 2018 and said she was excited about her promotion.
"I am ready to get the school year moving," she said. "I definitely want to focus on what we've continued in the last year or two. We are doing great things and I am anxious to see what the test scores are. I also want to create a positive culture for learning and get more community members involved."
Meanwhile, the school board heard from Southern Local Jr. High English/Language Arts teacher Rick Hughes, who discussed how computers aid his hands-on learning program and have helped his seventh- and eighth-grade students succeed in the classroom. Hughes detailed how he utilized such programs as Book Creator and Flipgrid for class projects and students ultimately gain full control over their assignments.
"There are computer programs I use during the school year so teachers have access as well as students," he said. "This year's eighth-graders jumped up by 17 percent in proficiency and seventh-graders were up by 4 percent more."
He plans to continue implementing the program in his classroom, saying student will learn the software and begin projects during the first nine weeks with him overseeing their work. During the second nine weeks, they will learn new software and undertake more projects in the third nine weeks. By the final nine weeks of the school year, they will have total control over their learning and Hughes will act as a facilitator.
In other action, the school board:
--Approved a service agreement with OMERESA for Fiscal Year 2020;
--Approved a service agreement with the Columbiana County Educational Service Center for FY'20;
--Approved a contract with the Jefferson County ESC for special education services for FY'20;
--Approved Soursa as insurance carrier for FY'20;
--Approved supplemental contracts for Kyle Exline as junior varsity boys' basketball coach and junior high athletic director, Mike Skrinjar as head girls' basketball coach and Brian Spahlinger as junior high wrestling coach for the 2019-20 school year;
--Transferred $65,000 to athletics;
--Approved the first reading of school policies regarding procurement of federal grants and funds and purchasing and bidding practices;
--Approved the retirement of bus driver Gary Hawksworth effective May 28 and wished him well in his future endeavors;
--Approved an agreement with Damon Industries Inc. for products and services to maintain the school;
--Named Mike Leonard as mechanic/substitute bus driver for the FY'20 school year;
--Set the next regular meeting for July 10 at 5:30 p.m. at the board office.