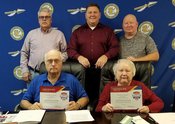 The Southern Local Board of Education met to organize on Jan. 9, respectively naming Jay Cole and Linda Morris as president and vice president. Officials also observed School Board Recognition Month for January and received certificates of appreciation during the session. Pictured are, front from left, John Sawyer and Morris. Back: Cole, Kip Dowling and Mike Abraham.
Cole, Morris Elected to Lead Board
Southern Local Schools revamped for the new year and named new leaders to helm the panel for the coming year.
During an organizational meeting on Jan. 9, officials elected Jay Cole as board president and Linda Morris vice president for the duration of 2019. Officials also approved a series of resolutions surrounding district operations and took more action during the regular session that followed.
District Treasurer Greg Sabbato shared some good news, saying plans to repay funding for energy-related upgrades at the school could occur much sooner. Sabbato told the panel that electricity and natural gas savings totaled more than $137,000 this year and the funds would repay for work through the School Energy Conservation Financing Program over the next seven years.
The board entered into the program in 2016 and worked with H.E.A.T. Total Facility Solutions Inc. on the transition program under H.B. 264, which allows school districts to finance energy efficiency improvement projects and use the cost savings to pay for the improvements. The upgrades must generate enough energy and maintenance savings to pay for the project within 15 years, while there would be no additional expense to taxpayers. More than 500 Ohio school districts have participated in the program. H.E.A.T. representatives audited the Southern Local K-12 school building, as well as the administration building, bus garage and noted areas of particular interest, and the district took such steps as replacing bulbs with LED lights, adding light sensors to shut off automatically when a room or hallway is not in use and performing maintenance on the HVAC system.
"We had a light winter, and if we'd had a more severe winter the savings would be around $172,000," said Superintendent Thomas Cunningham. "With the savings, the funds could be paid early and any future savings for the district would go into the general fund."
The board also approved a series of personnel matters, including the resignation of longtime teacher Jody Lockhart who plans to retire at the end of the school year. Lockhart has served the district for 17 years and the board wished her well in her endeavors. Continuing contracts were also approved for cafeteria workers Cindy Marshall and Monica Plunkett with a one-year contract granted for bus driver Danielle Berkheimer. Additionally, maternity leave was approved for teacher Emily Brinker beginning in February with a return date set for August. The board further accepted the resignation of bus driver Tiffany Hamilton effective this month; employed paraprofessionals Christine Pitts and Kayla Terdina through the Jefferson County Educational Service Center; named Bob Shansky varsity volleyball coach and Marissa Paxson as junior class advisor; and approved bus driver Tiffany Hamilton and cafeteria/custodian Christina Eltringham on the substitute list.
The board also:
--Approved committee appointments with John Sawyer and Cole on finance; Kip Dowling and Mike Abraham on personnel/negotiations; Morris and Sawyer on maintenance/transportation; Morris and Cole on curriculum/policy; and Abraham and Dowling on athletics/activities;
--Set compensation at $80 per meeting for current board members and $120 per session for recently elected posts and not exceeding 24 meetings annually;
--Agreed to submit the annual tax budget to the county budget commission;
--Established meeting times on the second Wednesday of each month with the next regular session scheduled for Feb. 13 at 6:30 p.m. at the district office.