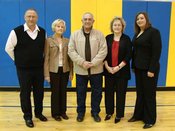 Front: James Gruszecki; George Wilson; Daniel Saling (posthumously); Larry Kessler; Angel Bogart Chamberlain
Members
John James Gruszecki, Jr. Class of 1931, Athlete/Contributor
John Gruszecki played football for Salineville High School in 1923 and 1930. He was talented enough in his athletic abilities that he went on to play for Kent State University. He also wrestled at Kent State in the 175# weight class. He competed his academic career at Kent State in 1939. John pursued a career in the field of education and returned to the Salineville area as principal at Franklin Elementary in Summitville. He filled that position from 1950-1965. While in the area, John coached little league teams. He promoted good conduct, learning and fundamentals, and good sportsmanship. As others remembered-everyone played, no one sat, his teams won and had fun. John finished his educational career at United Local Schools. John married in 1945 and he and his wife Helen raised ten children. To entertain his own and other children, John was an amateur magician. He entertained young and old alike and he was especially good at the "egg trick." John was president of the Salineville/Southern Local Alumni for many years before his passing in 1972. His heart was always with Salineville/Southern Local.

George Thomas Wilson, Class of 1955, Athlete
The headline in the East Liverpool Review November 11, 1954 read "Salineville Defeats Lafferty to Capture Six-Man Grid Title," but the subheading really said it all "Wilson Scores 4 Touchdowns in 40-13 Win." Fullback Tom Wilson scored two touchdowns in the first quarter, one in the third, and one in the fourth. The newspaper ran out of verbs to describe how Wilson plunged, bulled and dashed his way into Salineville High School history. Tom Wilson participated in football for four years and basketball for two. He is best remembered for his contributions to Coach Tom Leek's six-man football squads. He was a member of the team that captured the Six-Man Grid Title. After graduating in 1955, Tom joined the workforce. Following a tour of duty in the US Army (Compliments of the draft), he endured a series of jobs and lay-offs until he eventually settled in as a food salesman. He soon learned to love this job and remained with it the remainder of his life. Tom married in 1959 and he and his wife raised a son and daughter in Stark County. He was very involved in his children's lives-whether it be sports, scouting, fishing, or other school activities. Tom's hobbies included woodworking and travel. He remained a member of the Salineville Masonic Lodge and was a 32 degree Scottish Rites of Steubenville. Tom passed away in 1988, but his family spoke of his memories at Salineville encompassing sports and spending quality time with friends. He also felt that with small town schools, people had an opportunity to be much closer to each other.
Larry Kessler, Class of 1959, Athlete
Larry Kessler received four varsity letters in football and four letters in basketball. Larry played on both six-man and eleven man football squads at Salineville High School. Highlights of his career included being named All County Quarterback his junior year and senior years, scoring a 98 yard touchdown his senior year, throwing five touchdowns in one game, being an East Liverpool Review "Spotlight Player," and being named Honorable Mention All State. Larry also played baseball and pitched several no-hitters. Following graduation, Larry attended Mount Union College for two years. After two years, he married and started raising a family. He has been married to his wife Kaye for forty eight years. They have two sons and five grandchildren. His interests include hunting, fishing, and buying all the "stuff" to do these things. He does say that since he's the "go to guy" for taxi service and babysitting "he does not get to do these things as much as I would like." But as he earnestly puts it- "I love this part of my life." Larry's best memories of Salineville High School are of playing sports- the wins and losses. The memories were good because of sharing them with very special people. Liking everyone in the school made this a very happy time in Larry's life. Larry goes on to say that "When I was a sophomore, I lost my mom. This was a dark time for me. However, because of the great people...and my coach, Richard Jones, they made it much easier to handle. ..."These were the best years one could have, I feel blessed to have known so many nice people."
Angel Bogart Chamberlin, Class of 1979, Athlete
Angel Bogart Chamberlin was a four year varsity letter winner in track. She was the first Southern Local girl track athlete to qualify for the state meet. She did so running the mile and did so her Junior year! Angel still holds the school record for the mile. Following graduation, Angel joined the work force. In 1984, she began her career in the financial field as a secretary to the president of a bank. Several years and many courses later she became a commercial lender for the New Waterford Bank. A large car dealership in Youngstown hired her away and she has worked as a Finance and Insurance Manager for the past 20 years. In an industry dominated by men, she has been successful and has not compromised on her values, beliefs, or desire to help people. Angel's best memory of her athletic career was the camaraderie she shared with her fellow athletes. She thinks often of her team and how everyone liked to win and be supportive of each other. Those who helped her elevate her own performance included fellow Hall of Famers Chrissy Dangelo and Cathy Barrett. Like everyone Angel could not wait to grow up, move away from home and Southern Local, and conquer the world. She realizes that she took some vital things with her- Miss Beatty made her appreciate math and it helped tremendously in her career. Her father and Mrs. Boyd, her track coach, both helped her to push herself until it hurt to achieve a goal. Mediocrity was not tolerated and when doing things, never do them halfway. Those lessons carried over into her adult life.
Daniel C. Saling, Jr., Class of 1981, Athlete
Dan Saling earned four varsity letters during his tenure at Southern Local High School. Two were earned in football and two were in track and field. Dan's contributions to SL football were that he was a two year starter both ways (offense and defense); he was the second leading tackler while playing nose guard; he recovered several fumbles; he had 21 tackles against Lisbon; and he was the captain his senior year. Dan was awarded "Offensive Lineman of the Year," and he was the primary blocker for Larry Sargent- a 2004 Hall of Famer. In track, Dan excelled at the shot put. He was undefeated in the Indian League for two years (1980-81). He was the Tri-County League Shot Put Champion and County Meet Champion 1981 and held the Southern Local Shot Put Record for 23 years (1980-2004). He broke the school record at the time, the first meet thereafter. Dan continued to break his own career at Kent State as a walk on. After breaking two helmets, he earned a position on the team. He elected to drop out of college however and returned to help on the family hog farm. Dan also attended school to become an auctioneer- he had always had a gift of gab but now he learned to say it all faster! Along with his occasional auctioneering, Dan became an on the road salesman for Ohio Pet Dog Foods. His area covered eighteen states east of the Mississippi. Dan married wife Nancy in 1988 and they have three daughters (what he considers his greatest accomplishment). The family moved back to the family farm in 1991 and Dan became a full time fourth generation farmer. Dan began coaching junior high/senior high football in the fall of 2006. He moved to head coach in 2008 and after posting a winning season he was honored as Coach of the Year- Evening Review, Morning Journal, and Columbiana County. Dan's wife Nancy voiced Dan's best memories of Southern as always beating Lisbon, breaking into school on Sundays to play basketball (until ratted out by Kevin Buckley) and friends like Skinhead, Webhead, and Shook. Nancy also said that Dan was always proud of being from Southern Local. He felt Southern is the best kept secret in the country. The character of students, caliber of athletes, and academic strenghts are what Southern produces for society. He was the alumni association president for 2007-2008 because his veins truly ran blue and gold.