College Credit Plus Virtual Meeting January 13, 2021 for the 2021-2022 School Year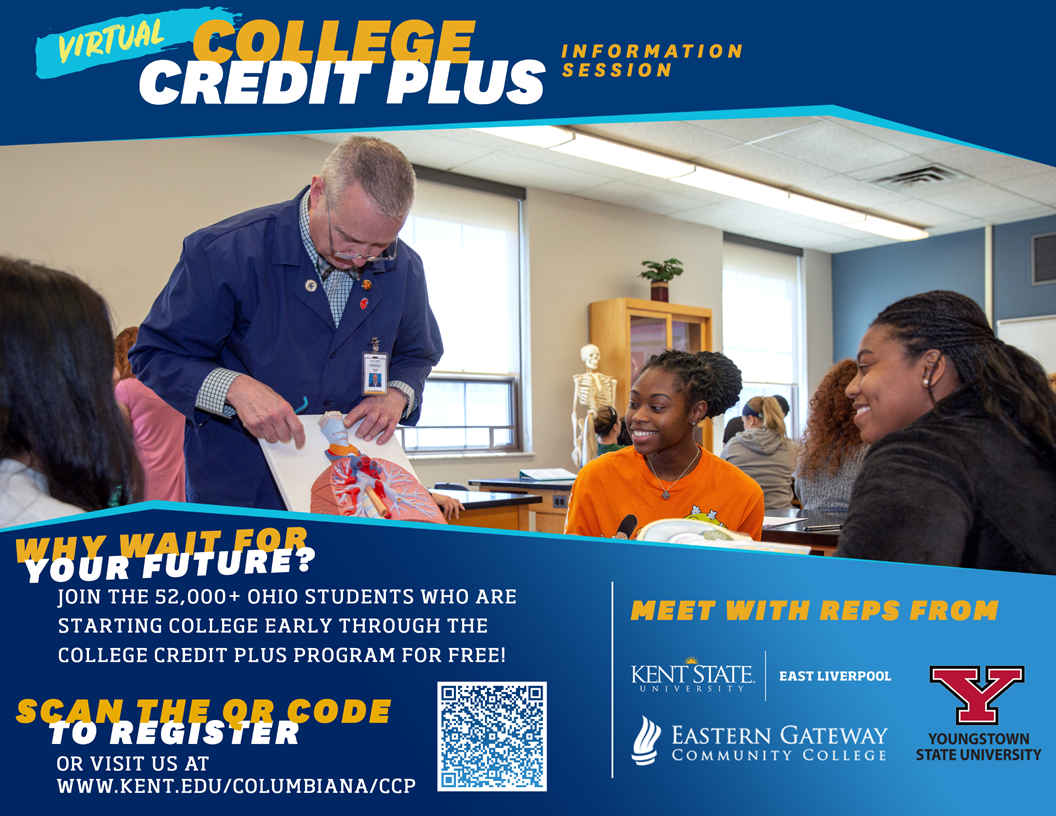 ---
Important notice if you intent to participate in College Credit Plus classes next year
On January 13, 2021 at 6:00pm, Kent State will be hosting an informational night along with YSU and EGCC. You will find the link to register and join the meeting by clicking on the flyer. We will also send the link to you student email. If you are considering taking college classes next year you and your parents MUST attend this virtual meeting, it usually lasts about 30 minutes.
If you are unable to attend this meeting, we will post a link to view the recorded meeting on our website on a date to be determined.
Also in order to participate in college classes for the 2021-2022 school year, you MUST turn in a letter of intent by February 11, 2021. The Letter of Intent was enclosed in the letter sent to you. Turning in a letter does NOT mandate you take classes; it only means you are considering it.
You are NOT required to pass a test this year as in the past. If you have a GPA of 3.0 and apply, you will accepted into the program.
This program continues to grow each year. It is our hope that you will be a part of this growth. If you have any questions, please contact Mr. Infanti or Mrs. Boyd.
Mr. Infanti
phone: 330-679-2343 ext 4026
Mrs. Boyd
phone: 330-679-2343 ext 4010
Click on the flyer to register for the College Credit Plus meeting before January 13, 2021.