SLES Students Get Weather Lesson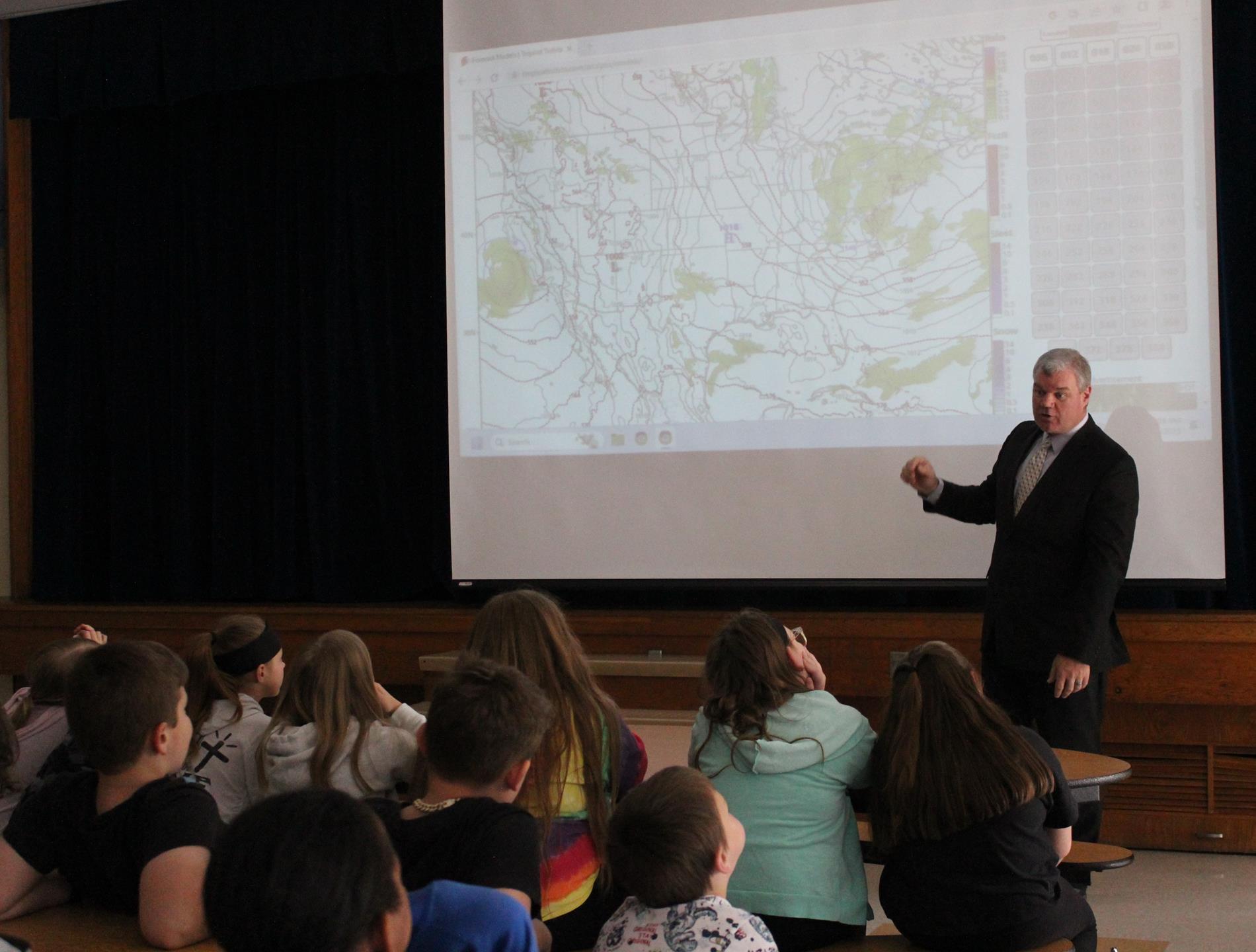 ---
SLES Students Get Weather Lesson
SALINEVILLE-Third-graders at Southern Local Elementary School had their eyes on the skies during a weather lesson on May 3.
Meteorologist Paul Wetzl of WKBN-TV Channel 27 spoke to schoolchildren about his work and shared that he grew up only a stone's throw away.
"This is home for me. I went to United and played on your field at Southern Local," he said. "I'm happy to be back at the school."
He said he was inspired to study weather following a tornado outbreak as a child and he continued to study it intermittently to determine any potential snow days while in school. Wetzl originally planned to be a veterinarian but said he changed his course of study to atmospheric science at Mississippi State University. He later owned a storm-chasing company in the Great Plains and eyed a career creating forecasts behind the scenes; however, he ended up on-camera in Youngstown.
"I love the weather," he said. "It's my passion and I love being able to do what I do."
He discussed the dangers of lightning, flooding and tornadoes and explained high and low pressure using an analogy with beach balls and bowling balls to explain density. Other lessons included the difference between warm and cold fronts and Wetzl used computer maps to help indicate conditions. He also shared interesting tidbits including that hailstones contained rings, much like trees, which denote how many cycles they went through during a storm. The lesson concluded with a question-and-answer session with the students and queries included what it took to be a meteorologist and the technology he utilized in his work. He replied that those interested in the field should continue to learn math and science because they will utilize plenty of it in the field, adding that he relies on computers for his forecasts.
"I look for high- and low-pressure systems, jet streams and wind speeds, and I look at the radar features inside images for wind, rain and tornadoes. The computer does the work but our job is to determine what they are saying," he said.
Holly Keller, SLES Title I teacher, said the visit concluded students' work on their weather unit, which included science, writing, reading stories and building their vocabulary. As a result, the children gained an understanding of tornadoes, blizzards, hurricanes and more.
"This was the first time we did this project, but we did a similar one three years ago about volcanoes," Keller commented. She added that teacher Nancy Sakely had contacted Wetzl about visiting the school and he was glad to oblige.
Sakely said students spent three weeks learning about all aspects of atmospheric conditions and even recorded themselves giving a news report.
"Some were roving reporters and two of the three classes did [the lesson]," Sakely added, saying another 20 students in the third class will complete the unit soon. "It fulfills standards on science and technology and the kids were having so much fun that they didn't know they were learning."
Meanwhile, several students found Wetzl's visit fun and educational.
"I learned about the clouds," said student Jocelynn Jackson.
"I liked when he showed us the maps," added classmate Kinzley Blatch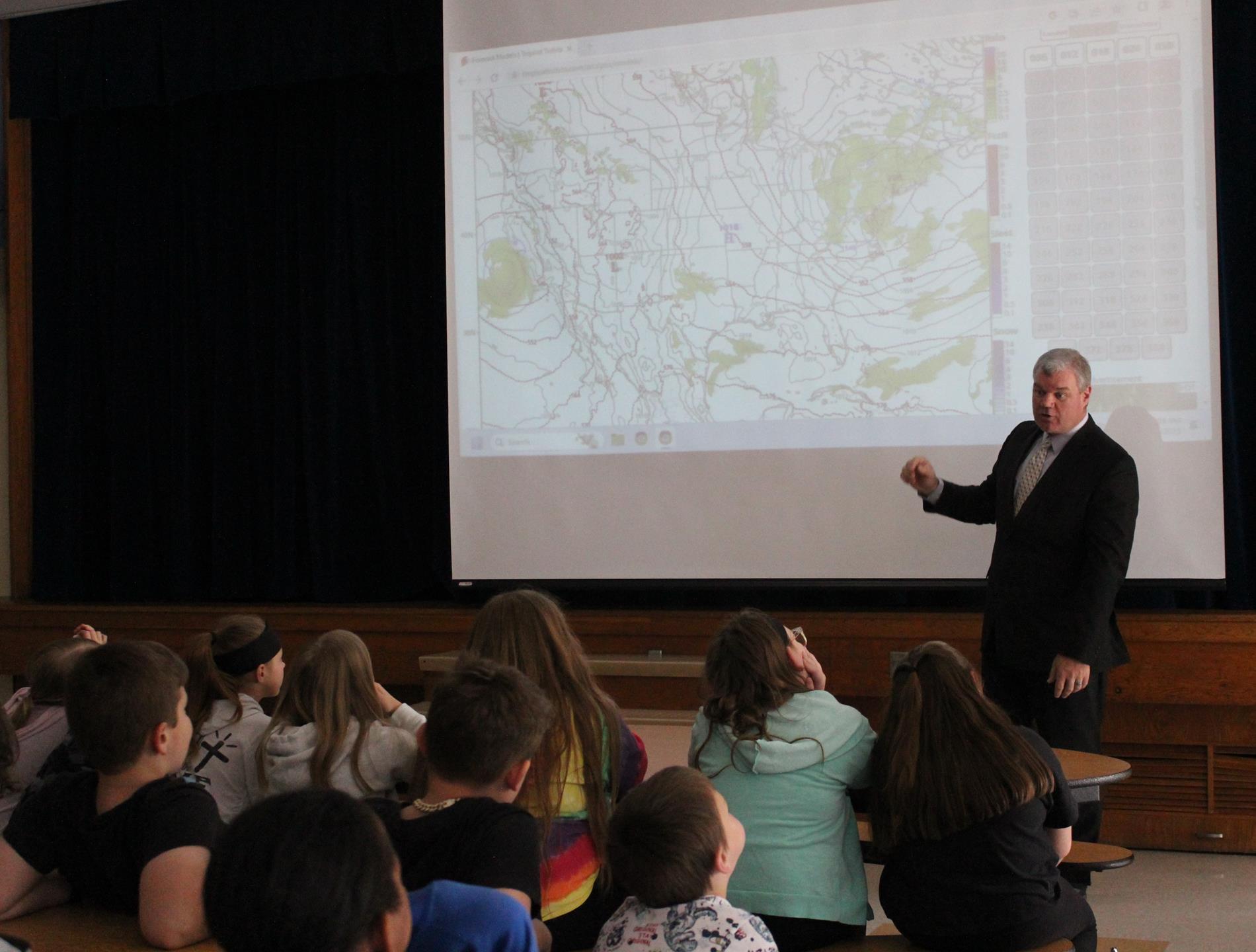 WKBN-TV Channel 27 Meteorologist Paul Wetzl gave third-graders a lesson on the weather during a visit to Southern Local Elementary School on May 3. Students completed a weather unit in their classes and gained more understanding of conditions and forecasting.