Southern Pulling Together for Local Girl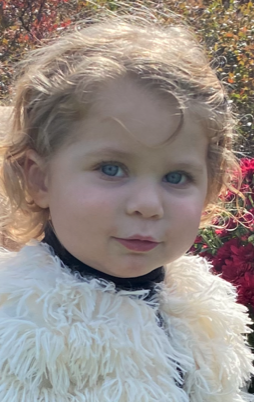 ---
Southern Pulling Together for Local Girl
SALINEVILLE-Southern Local Schools students, staff and administrators are pulling together to support a local child with ties to the district.
For the past two weeks, Southern has held fundraisers as part of Operation Support Winnie in honor of Winnie Vollnogle, the two-year-old granddaughter of former SLSD Assistant Superintendent and Southern Local High School Principal Carol Vollnogle. Vollnogle served at Southern for seven years and currently acts as preschool director and coordinator of federal funds for East Palestine City Schools.
Winnie, the daughter of Chad and Katelyn Vollnogle of New Waterford, was diagnosed in late August with Acute Lymphoblastic Leukemia (ALL), a cancer of the blood and bone marrow that affects white blood cells. Her grandmother describes her as a typical tot who is sweet, thoughtful and full of energy. Winnie never displayed any symptoms, but when her mother noticed abnormal bruising she took her to a doctor. Blood tests were completed and the family was immediately directed to take her to the emergency room at Akron Children's Hospital for further diagnosis. Winnie began undergoing chemotherapy on her second birthday Sept. 1 and is expected to continue treatment for the next two years.
"It's hard for us because she didn't look sick as you'd expect," Vollnogle said. "She has chemo four days a week [now]. She has a small amount of leukemia in her bone marrow, but this intensive chemo could eradicate it."
Winnie's doctors have several treatment options before a bone marrow transplant would be considered. Vollnogle said the family has been coping, but the love and support of the community has given them strength. School districts such as Southern and Columbiana, the latter where Chad has coached soccer, have held Operation Support Winnie basket raffles and fundraising "Winning for Winnie" soccer and volleyball games, while East Palestine is also planning a spaghetti dinner benefit in November. In addition, childhood friends have sent money and perfect strangers would leave something on the family's front porch. Since Winnie couldn't go out for Halloween, a Trunk or Treat event was planned in 24 hours which attracted 45 cars and 120 kids through Facebook and simple word of mouth.
"Everyone has been very supportive," Vollnogle said. "It's been extremely overwhelming."
When Southern Local leaders learned of Winnie's plight, they immediately began holding events to help her and her family. Laura Krulik, district director of special services, said T-shirt sales, donations and basket raffles have been conducted with $1,700 already donated to the Vollnogles, and now a local dealership has provided chances to win a car.
The elementary and high schools also created birthday videos to spread some cheer while the SLHS Spanish class recorded themselves singing "Happy Birthday." Krulik then had the idea to conduct a gift basket raffle at the Indians' homecoming football game against Valley Christian, which drew a crowd to watch the two undefeated teams do battle. She approached local businesses and organizations and received money, gift cards, baskets and other items from the likes of Southern Local Elementary schoolteacher Kim Adams, the Krulik Family, Southern Local principals, Adorned, Sweet Amelia's, Crafty Mom Boutique, Horst Sub and Deli, Clemens Garden Gifts, Jenkins Feed, Salineville Fire Department, Lewis Lawn Care, Lisbon Nutrition, Country Girl Custom Designs, Southern Local Football Boosters, East Ohio Lumber Co., Two Smart Cookies, Salineville American Legion and Ladies' Auxiliary, Glenna McNeil and Ron Buchannon.
And when Krulik contacted JMullen Motors of Lisbon, the reply was much grander.
"I thought they would offer an oil change or a basket, and they asked if we'd like a car," she recalled.
Owners Jay and Lisa Mullen, who are both Southern Local alumni, offered up a 2008 Ford Fusion valued at nearly $4,000. It has been detailed and is in like-new condition, and Krulik and husband Jess, who is the SLHS assistant principal, also contributed towards the taxes so the winner will receive the automobile free and clear. Organizers made 100 tickets available for $20 each with nearly 80 being sold so far. Krulik anticipated selling the chances through basketball season but said tickets have been going fast, and she was grateful because every penny will support the child. She expects thousands more dollars to be collected through the car raffle and said Southern Local has always strived to assist someone in their time of need.
"When we hold our District Showcase basket raffles, we have one of the most family-oriented, caring communities I've ever experienced," she said. "The people heard who this was for and all asked, 'What could we do?' There are many people in need and dealing with cancer or a cancer diagnosis who are affiliated with the school. Our school community—and the community as a whole—are caring and giving. If we can make it a little bit easier with gas money, meals or medical expenses, we'll definitely try."
Krulik considers Vollnogle a mentor and said the school community has been incredibly kind.
"Mrs. V. has made a really big impact on a lot of people. She was a really great mentor and a really good person to everyone here. People were super happy to help her."
Meanwhile, Vollnogle was very appreciative of the work the district has done.
"I always referred to the staff at Southern as my kids and I have such great respect for them. The students I had are now turning 30 and have kids or are having kids," she continued. "I have such fond memories of working there. It is just overwhelming and I'm so appreciative. My son said, 'You don't know how big your support system is until you face something like this.' People really care, and in this day and age, it feels good."