SLJHS Begins Anti-Virus Character Ed Program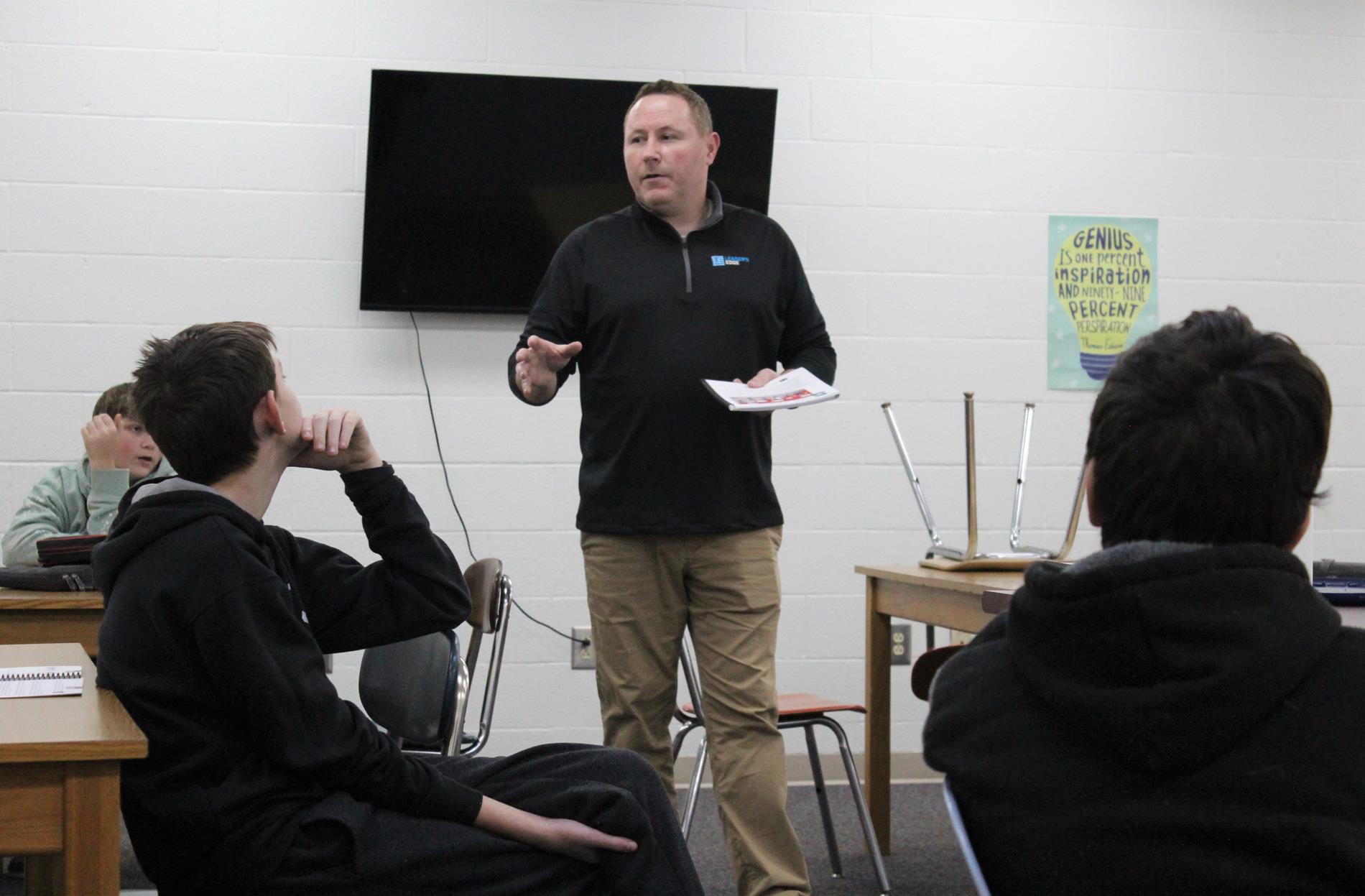 ---
SLJHS Begins Anti-Virus Character Ed Program
SALINEVILLE-Southern Local Jr. High School students are learning about the importance of making good choices and how poor ones can lead to consequences through the newly implemented Anti-Virus program.
Sixth-graders got their first lesson in January from Tom Coffee, associate director and mentor with Leader's Edge. Leader's Edge, which is located across Ohio, is based locally in Dover and provides leadership and character development. The Anti-Virus program is utilized throughout the world and the curriculum has been implemented in Columbiana County thanks to a generous benefactor. Coffee said it will be enacted in three volumes and he will visit each week for the remainder of the year. His first lesson touched upon corruption and how people can change from making bad habits to more positive decisions.
"The only thing in life you have 100-percent control over is you," he said. "Your character, the person you are and the person you're becoming are under your control."
He noted that there are consequences to actions, and if a person continues to make bad decisions then it becomes a habit. Coffee provided journals for students to complete and said it will aid with self-improvement.
"This is the hardest thing you'll do in your life—work on your character."
Coffee delved into the theme of corruption, saying it can occur from a young age and someone may make bad choices to gain acceptance from others. However, a person who chooses the right path can avoid negativity. He described a virus as something found biologically and in electronic devices, and the key is to remove them by wiping them clean and putting up a wall or barrier to prevent further problems.
"It's like a wall," he said. "Do you think we need barriers in life? Regardless of how cool it may be to do something, it may not be good to do it. It takes just one time to realize it was a bad choice. Corruption is something that can sneak up on us...and consequences can come later."
He cited smoking as one example with long-term consequences, saying it may lead to lung cancer or other health problems. Future discussions will also incorporate videos and touch not only upon drugs and alcohol, but choices in general.
During further talks, Coffee cited a list of bad habits such as lying, cheating, drinking alcohol, smoking, having a bad attitude, violence, risky behavior and gangs. He defined gangs as including cliques which kids may see in school, and he said risky behaviors not only impact the youth themselves but also others. He peppered his lecture with personal stories, telling of friends who made choices which were life-altering and even life-ending.
"These aren't just things you may struggle with, but it could be somebody at home," he said. "Some of my friends didn't make it to graduation because of their risky behaviors."
The Anti-Virus program focuses values such as hard work, responsibility, emotions, restraint, common sense and generosity. Coffee said he will continue speaking to the junior high students through the rest of the year while students can learn how they can change themselves for the better. He added a visual example by putting drops of green dye into a glass of water to represent corruption, then he placed the glass into a clear container and repeatedly filled the cup with water until the green liquid dissipated and the glass was clear once again. He said people can do the same to eliminate corruption and bad habits, but it will not be an easy fix.
"You can change but it will take time, dedication, focus and effort," he concluded. "I got rid of my bad influences and continued to make good choices."
Meanwhile, Assistant Principal Jess Krulik said Anti-Virus and the Aiming High program, the latter beginning at SLJHS in February through the Family Recovery Center of Lisbon, also tied in with the school's Positive Behavior and Intervention Supports (PBIS) system to promote good choices and positive actions throughout the building.
"I think the movement coming from the elementary to the junior high is a big step and the kids are given a lot of freedom they haven't had before," he said. "With that, the character values programs we promote will mold them into better students. We've supported [Anti-Virus] and Aiming High and wrapped it in with PBIS, so when they get to high school they have moral and character development."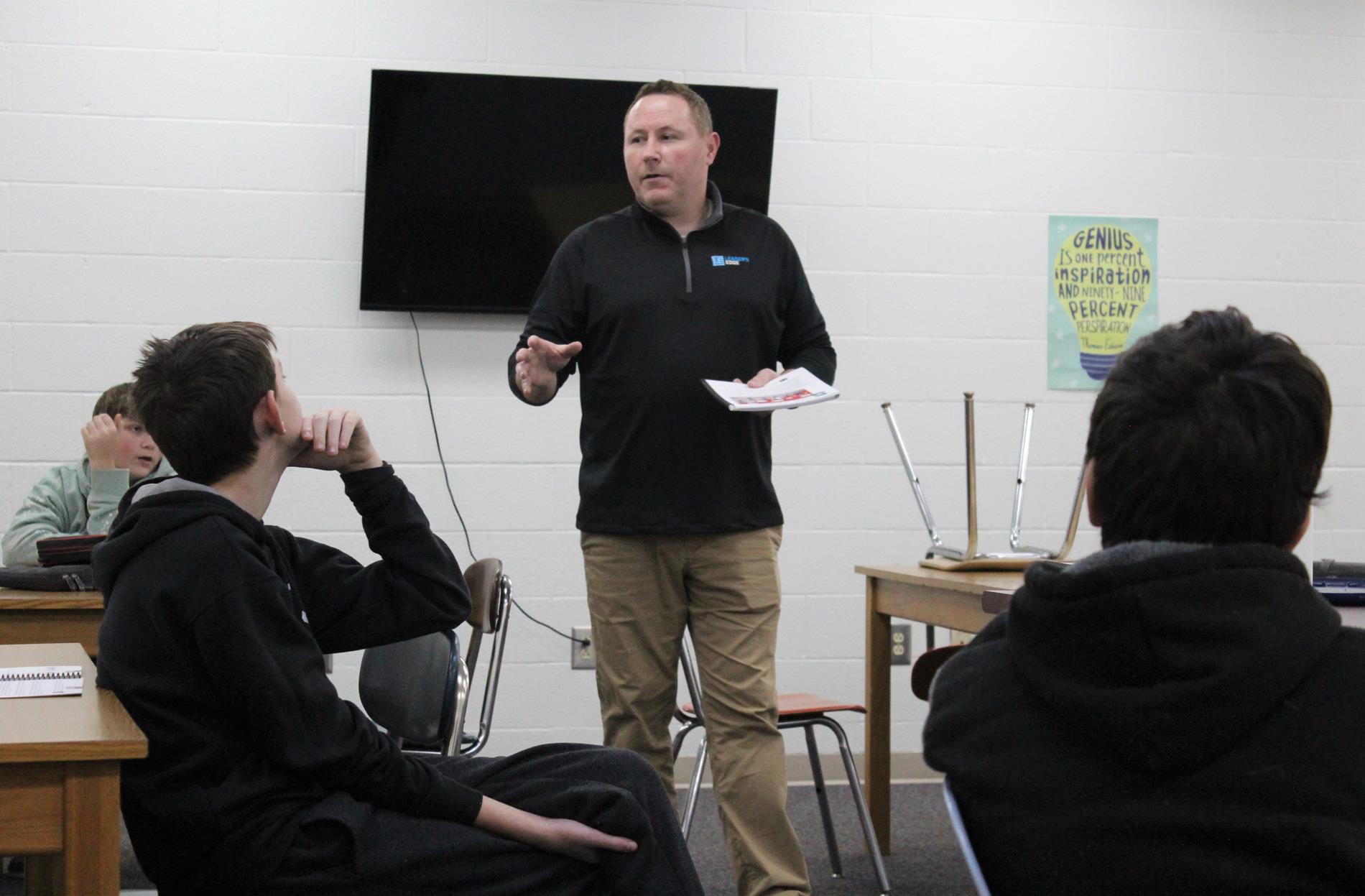 Tom Coffee, associate director and mentor with Leader's Edge of Dover, began the Anti-Virus character education program with sixth-graders at Southern Local Jr. High School. The program looks at making good choices and ties in with the expanded Aiming High program, which is coming in February through Family Recovery Center of Lisbon, and the school's ongoing Positive Behaviors and Intervention Supports (PBIS) system to promote positive actions throughout the building.