Indians seek playoff success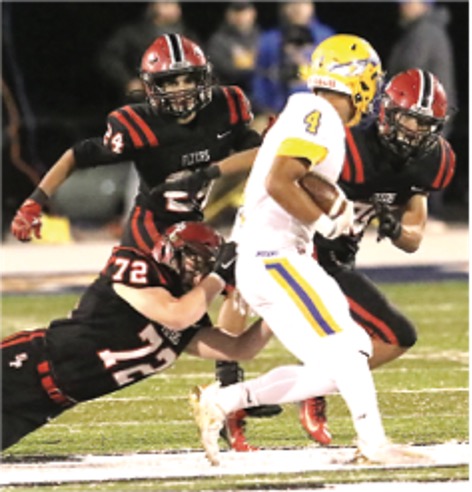 ---
Southern Local's draw in the Div. VII, Region 25 playoffs was a tough one and the Indians are still looking for their first playoff win in school history.
The ninth-seeded Indians couldn't gain any traction on small-school power Norwalk St. Paul, the eighth seed, in a 48-14 loss on Saturday in a second round game.
St. Paul, 6-1, advances to meet top-seed Warren JFK on Friday at a site to be determined.
Southern Local, 5-2, had won five straight after its opening loss to Leetonia.
The big swing in the game came with the score 27-8 and Southern facing a 4th and 7 from its own 44 with 1:01 left in the half. The Indians tried to gain a first down with a pass but it was incomplete.
St. Paul scored on a 44-yard touchdown pass on the next play to make it 34-8 at the half.
Brad Sloan carried the load for the Indians with 76 yards rushing and two touch- downs on 10 carries. He also had four catches for 44 yards.
Josh Pratt was 8 of 16 for 107 yards and three interceptions for the Indians. Timmy West hauled in three catches for 48 yards.
Southern did not have any regular-season opponents lined up for the rest of the season coming into Saturday.
SOUTHERN: 0- 8-6- 0—14 ST. PAUL: 14-20-0-14—48 SCORING
First Quarter
STP — Will Stieber 21 pass
from Myron Stoll (Tyler Perkins kick), 7:36
STP — Camden Crabbs 7 run (Perkins kick), 1:28
Second Quarter
STP — Adam Baker 40 pass from Stoll (Perkins kick), 9:29
S — Brad Sloan 32 run (Tim- my West pass from Josh Pratt), 7:16
STP — Crabbs 2 run (kick blocked), 2:17
STP — Baker 44 pass from Stoll (Perkins kick), :49
Third Quarter
S — Sloan 1 run (pass failed), 4:25
Fourth Quarter
STP — Stieber 7 run (Perkins kick), 11:21
STP — Crabbs 2 run (Perkins kick), 9:03
(From the Morning Journal, Monday, October 19, 2020 - Article Indians seek playoff success by Staff Reporters. Photo from the Morning Journal, with courtesy of the Reflector/photographer Jerry Harrington.)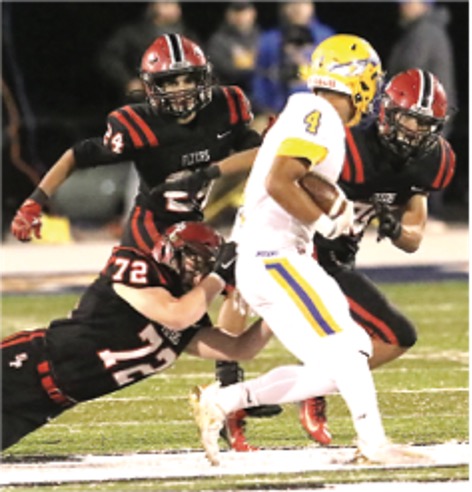 Courtesy of the Reflector/Jerry Harrington
Southern Local's Brad Sloan gets caught by Norwalk St. Paul defenders (from left) Zach Pocos, Steven DeLeon and Camden Crabbs in Saturday's playoff game at Contractors Stadium