Wellness Center Opens at Southern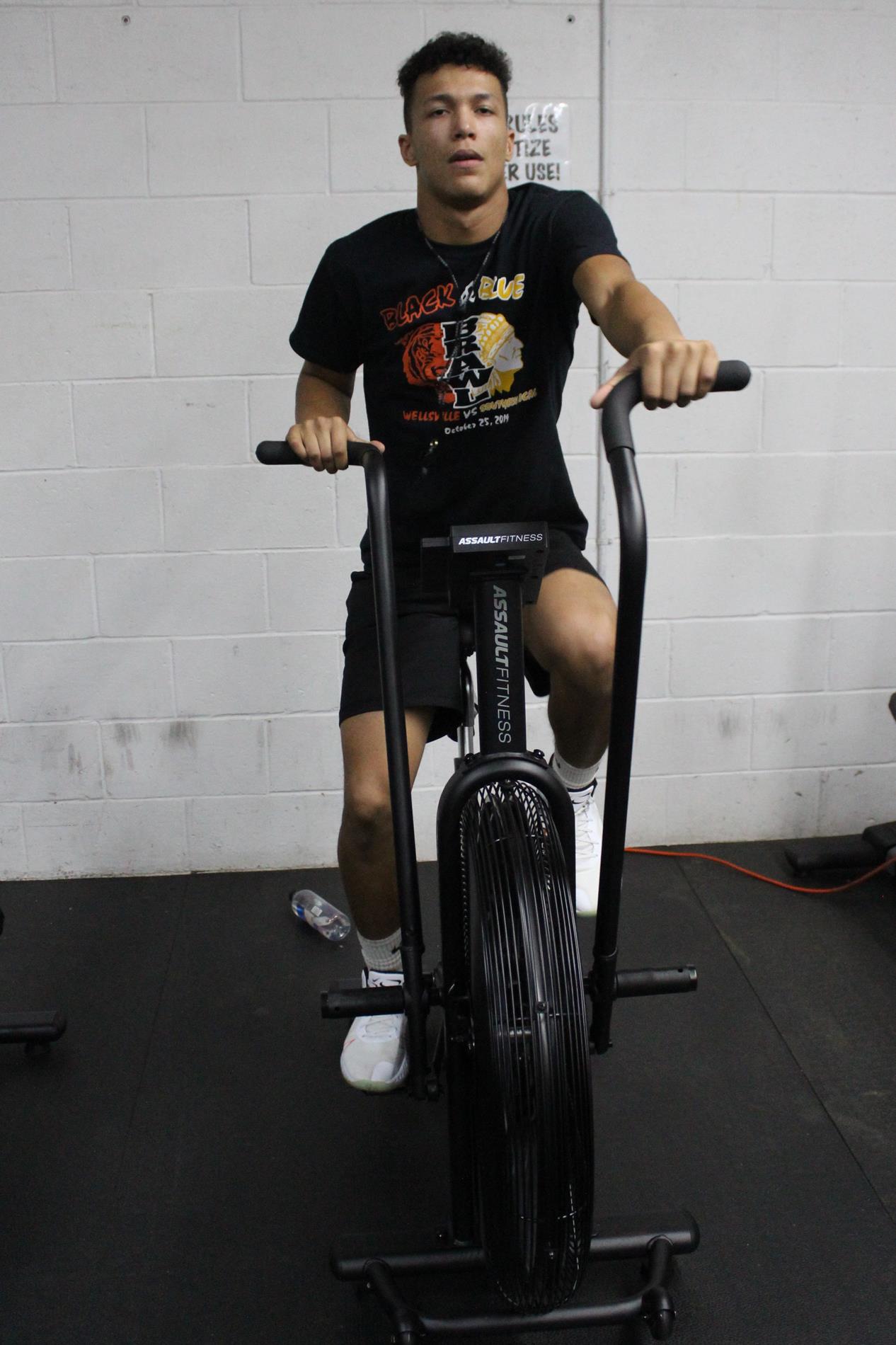 ---
The Southern Local Wellness Center is now available to promote health among staff and students.
The center, which started prior to the school going to remote learning, is located in a former weight room behind the high school gym. The site will be open during gym time as scheduled by athletics through the FMX facilities management system. However, officials said it would be available to use at other times including early morning and afternoons. Participants must adhere to strict COVID protocols with athletes kept in small groups for contact tracing and other guidelines but the hope is to help focus on fitness. The idea was formed by high school English/Language Arts teachers and coaches Kyle Exline and Gerard Grimm, who approached school leaders to utilize the space. Exline said officials quickly got on board and the site has already been put to use.
"Coach Grimm and I saw an opportunity to use an unused space for something incredibly beneficial to the school district. We wanted to create a multi-faceted space to benefit all of Southern Local," Exline added. "We started working on the idea during the pandemic in late May and early June. When you consider the cost of equipment and renovating a whole room, it was a tall task. Luckily for us, [district Director of Federal Programs] Kristy Sampson was able to find creative solutions to support this endeavor. Without her and her hard work, this project wouldn't have been possible."
A $12,000 wellness grant helped acquire plates, dumbbells, bars, squat racks, benches, landmines, prowlers, MedBalls, jump stretch bands and stationary bikes, among other items while old equipment was also being repurposed. Those include a utility machine, elliptical and jump stretch stations. More equipment to be procured range from a treadmill and adjustable bench to a GHR station and additional storage units. In addition, the room will be repainted over Thanksgiving Break and signage is also being created. Exline, who also serves as assistant athletic director, head golf coach and junior varsity head boys' basketball coach, said he and Grimm, who is also head boys' basketball and baseball coach, also wanted to incorporate former athletic trainer Michaela Bragg, physical education teacher Eric Sampson and Coach Mike Skrinjar into the process to ensure staff and students' physical needs were met.
"With [Superintendent Tom Cunningham's] support, Kristy's hard work and our vision of the space, we were able to make this thing happen," Exline continued. "It was truly rewarding. Oftentimes, you have great ideas, and quite frankly, some of them are lofty and difficult to make happen. Being able to enter that room as a coach, faculty member and student-athlete, you feel that this space is clean, organized and updated with the best equipment possible. It really encourages you to better yourself from a fitness standpoint."
Members of the girls' basketball team began using the facility at the end of October while other sports teams will take advantage of the offerings. Exline said feedback has been positive and hopes the wellness center will become a popular draw.
"I am sure I am more excited about this than the boys but they were impressed with the room and the new equipment when they saw it. We are very fortunate to have this new asset," he noted. "The girls' basketball team enjoyed the new equipment and some of the new exercises they were introduced to with the equipment. In this space, we are doing everything we can to develop our young students' athleticism. Olympic lifts, functional movements and resistance training are pivotal in this regard. I look forward to hearing input from the staff as well."
Exline thanked everyone for implementing the center and helping the district promote health.
"Collectively, we want to thank everyone who was involved. I cannot stress enough how great of an asset the wellness center is to staff, students and student-athletes. We look forward to maintaining the quality of this space and the integrity of the equipment. The Wellness Center will not go unappreciated."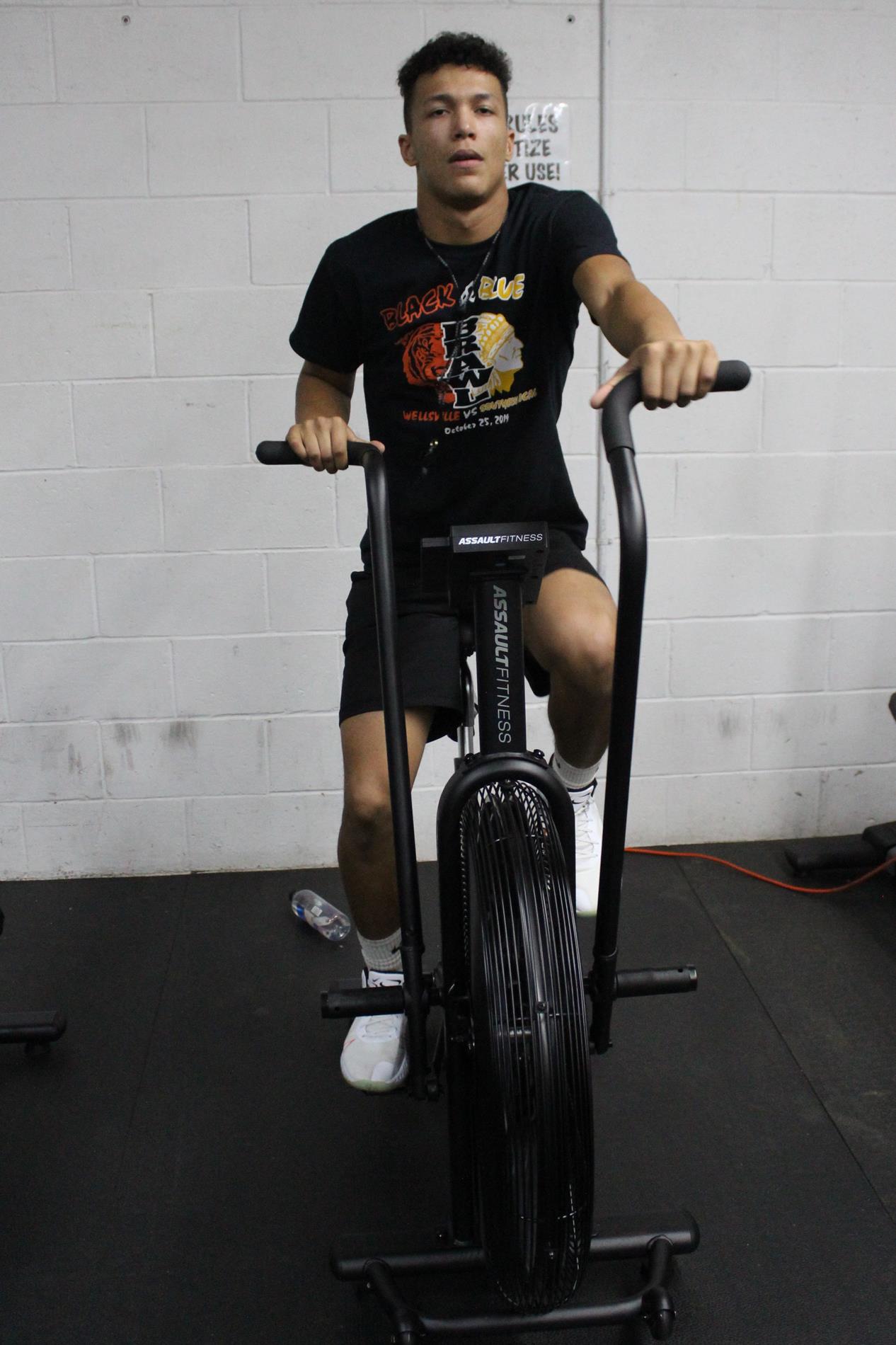 Southern Local High School senior Brad Sloan works out on some of the equipment now available in the Southern Local Wellness Center located in the building. The site, which opened prior to the school going to fully remote learning, is housed in a former weight room which was revamped to help staff and students get fit and live a healthier lifestyle.