SLES Secretary Marks Milestone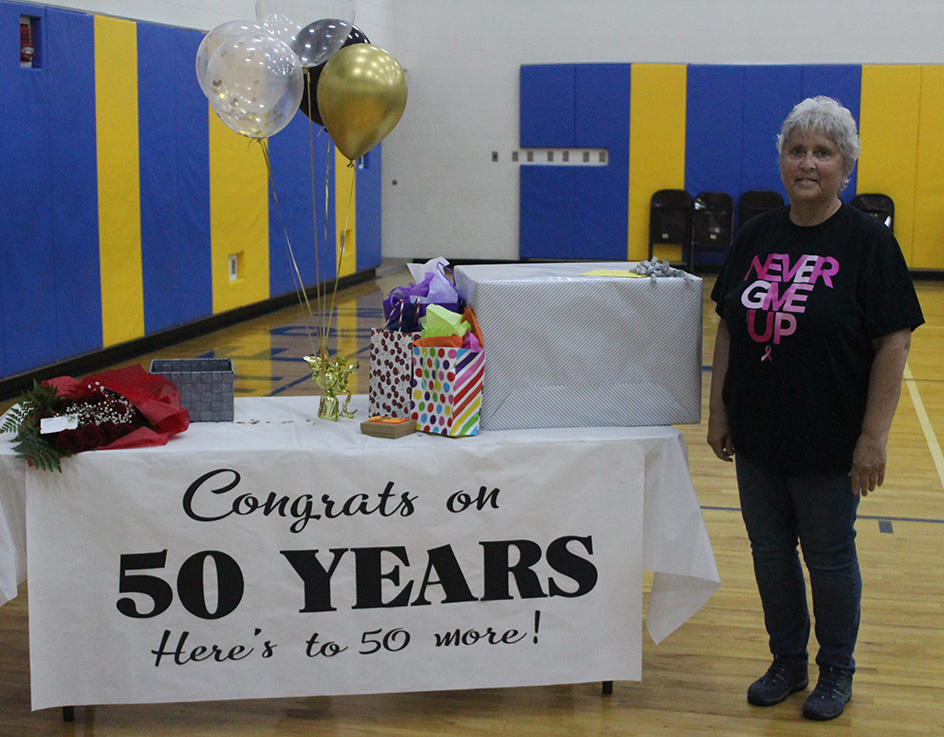 ---
SLES Secretary Marks Milestone
SALINEVILLE-Southern Local Elementary School secretary Sandy Lewis marked a major milestone after celebrating 50 years of employment with the school district.
Lewis, of Salineville, was surprised by staff with a gathering in her honor on June 4 in the SLES gym. She was joined by nearly 100 guests including family, friends and school staff of the past and present and said the honor was humbling and completely unexpected.
"I was called in by [SLES Associate Principal] Emily Brinker to the gym," she said. "They did a pretty good job. There were people here I had worked with and it was a wonderful thing to do which I did not think was necessary. It was very unexpected and very appreciated."
She said her love of children always keeps her coming back, but Lewis initially did not plan to work with the youngsters.
"I applied for the high school secretary, but they decided that year they were going to have an elementary secretary, so that's what they gave me," she recalled.
She began working for the district at age 20 in 1971 and has served with more than a dozen principals plus numerous teachers, staff and students. Lewis added that it was also convenient while caring for her son, Christopher.
"I love the kids and it was very beneficial for me as a single mother that when he had a vacation, so did I."
Lewis watched the district evolve from operating six schools to consolidating to one building. At one time, Southern had four elementary buildings with No. 16, Highlandtown, Franklin and Wayne and she was the first elementary secretary in the district. Lewis divided her time between two principals who each operated two buildings, and that continued until a second secretary was added and Lewis remained at Highlandtown and No. 16. By 1990, the district only had No. 16 and Franklin Elementary Schools for grades K-4, Highlandtown Elementary School for grades 1-4 but Wayne had been closed, plus Southern Middle was available for grades 5-8 with Southern Local High School for grades 9-12. In 1991, officials closed and sold the No. 16 and Franklin buildings and Highlandtown was called Southern Local Primary School and taught grades K-2 while Southern Local Middle School was renamed Southern Local Intermediate School and educated students in grades 3-6. Ground was broken about a decade later for the K-12 complex that currently sets along State Route 39 near Salineville. Southern Local Primary and Middle Schools became known as Southern Local Elementary around 2004.
Throughout the years, Lewis has looked forward to returning each August and greeting the little faces coming into the building. It's that affinity which drives her to keep going. She has since watched her son graduate Southern and marry current SLES kindergarten teacher Nikki Lewis while grandson Conner just graduated and granddaughter Kennedy became a freshman at the high school.
"I love the kids and get new ones every year," she added. "I've liked everyone I've worked with. It doesn't feel like I've been here 50 years and I attribute that to coming to work."
Southern leaders praised Lewis for her commitment to the kids and hope to see her continue for years to come.
"We're blessed here at Southern Local Elementary to have two great secretaries," said SLES Principal Rich Wright. "Sandy knows everybody in the community and she's a great asset."
"Sandy always has the kids in mind," added Brinker. "She is a dedicated member of our staff and we truly appreciate her. She is the face of the elementary building when students, families and staff first walk in. She has a great heart and in one way or another she has truly helped everyone."
Fellow school secretary Patty Gruszecki agreed.
"It's been a privilege working with her for the past 15 years. Her dedication and love for the students is irreplaceable. I'm looking forward to us working many more years together."
Superintendent Tom Cunningham noted his history with Lewis and said she was a mainstay in the district.
"I have been blessed to work with Sandy, first as the elementary principal and now as superintendent. She knows every family and cares about everyone in the district. She has a passion for the community and someone that I hope to work with for many more years."
As for Lewis, she said she had absolutely no thought of retiring at the moment and looks forward to the next school year and beyond.
"I enjoy what I do or I wouldn't be here."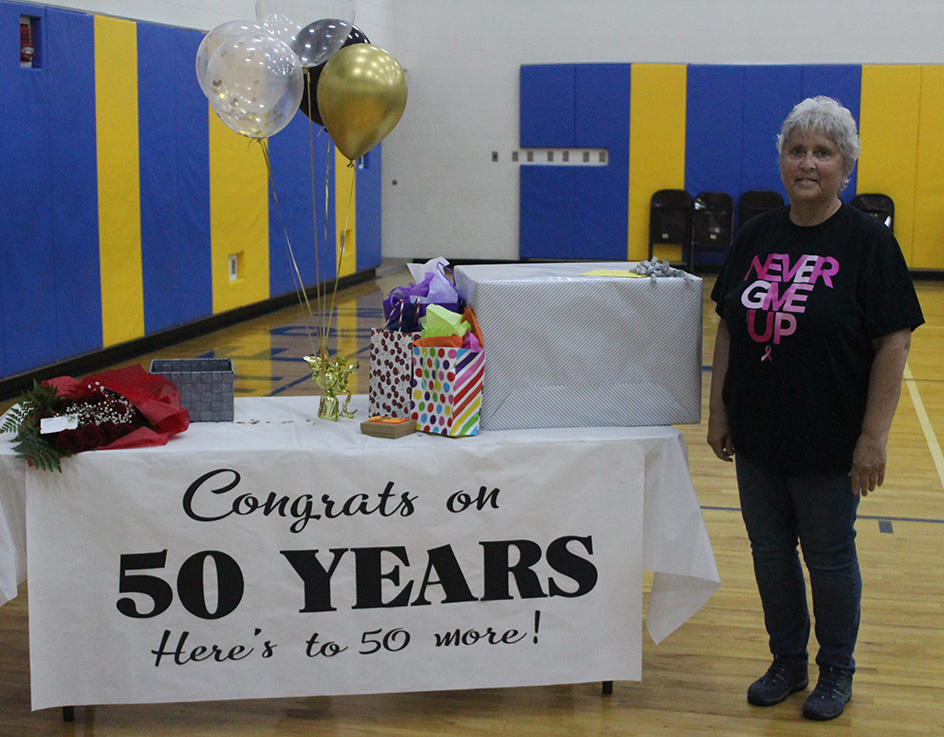 Southern Local Elementary School secretary Sandy Lewis recently marked 50 years of working in the district and said her love of children has brought her back each year. Lewis was surprised with a celebration at the school on June 4 featuring family, friends and past and present school staff.