Indians rebound in Wellsville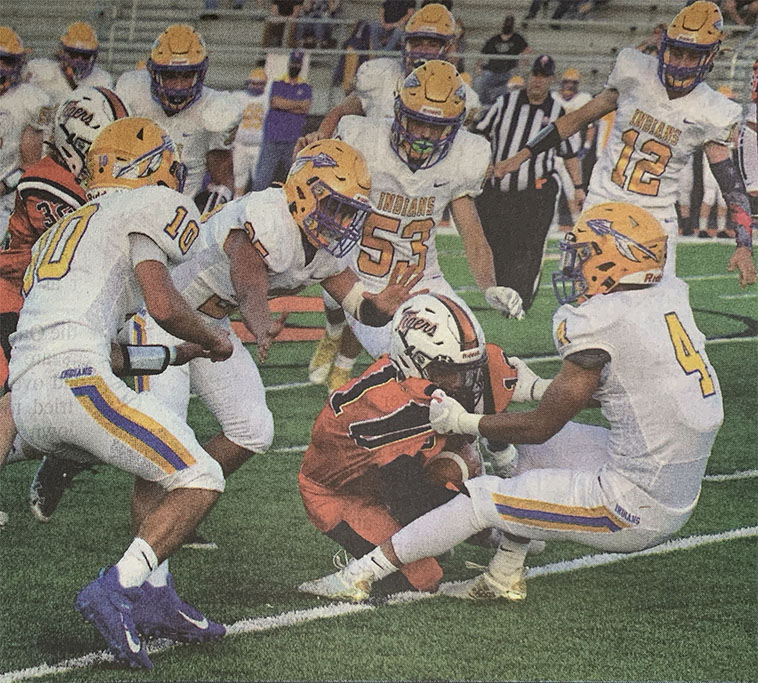 ---
The Southern Local Indians are taking social distancing to a whole new level.
The Indians' running backs made sure to put plenty of distance between themselves and the closest defender Friday night as the Indians rolled to a 46-0 Eastern Ohio Athletic Conference romp over the rival Wellsville Tigers at Nicholson Stadium.
Southern Local, which made the playoffs the past two seasons but suffered a tough one-point loss to Leetonia last week, is now 1-1 on the season.
The Indians used that stinging loss in the season opener as motivation for Week II. Stamp it mission accomplished.
"We were really disappointed in ourselves last week (in the loss to Leetonia), that was our first league loss in a while and we worked hard this week and got off to a good start tonight," said Southern head coach Rich Wright. "It's a good win and we needed it really bad."
Wellsville, which opened the season with a 25-19 win over Lisbon, is now 1-1.
"We didn't come out ready to play football, which surprised me because we were well-prepared and has a great week of practice," said Wellsville head coach Robert "Moose" Ramsey. "We just didn't play well tonight."
The Indians set the tempo early, marching 52 yards in seven plays on their opening drive of the game to score on a 31-yard inside counter play by running back Brad Sloan. The PAT run failed and the Indians took a 6-0 lead at the 8:36 mark of the first period.
Sloan had a big game to lead all rushers with 123 yards on nine carries and a touchdown.
"We were a little shaken last week (in the loss to Leetonia), everybody was nervous with a young group but it's nice to come down here and get a win, especially against a rival," said Sloan. "My (success) is all thanks to my line, they block really well."
"Brad (Sloan) did a nice job," praised Wright. "I thought our skill kids played well and we improved a lot from Week 1 to Week 2, and that's what you're supposed to do."
Before the first half was finished, the Indians had out-gained the Tigers 189-40 and added three more touch downs on a one-yard run by quarterback Josh Pratt, a three-yard scoring run by running back Garrett Brewer and a two-yard bolt up the middle by running back Hunter Morris. It all added up to a 26-0 Southern lead at intermission.
"This is always a great rivalry, it's a weird little this year with it not being packed (due to pandemic stadium crowd protocols) bit it's good to play hard," said Wright.
The Indians' defense also played well in the first half as linebacker Chance Wooly recovered a fumbled Tiger punt snap to set up a touchdown and the Indians' defense held the Tigers to just three first downs in the opening 24 minutes to 12 first downs for Southern.
Wellsville's deepest penetration in the opening half was to the Indian's 24-line but the drive ended when a 34-yard field goal attempt fell short.
For the game, Southern piled ups 329 yards total offense while holding Tigers to 116 yards offense.
The Indians' offense continued to find the end zone in the third quarter as Morris scored on a one-yard run at the 6:13 mark. Southern also added the two-point conversion on a pass from Pratt to Sloan, making it 34-0, which started a running clock.
"I'm very proud of my football team, the short season is weird but we just have to keep working hard, we've got a lot of young kids but we're playing hard," said Wright.
Wellsville starting quarterback Troy Carter had to leave the game in the third quarter with an angle injury.
Southern's defense got into the scoring act late in the third period when Pratt scooped up a Wellsville fumble dip in Indians' territory and set sail on an 80-yard touchdown run. The conversion failed but Southern's lead ballooned to 40-0 with 1:38 left in the third quarter.
Ramsey said his team will bounce back.
"They've been through a tough summer and we'll learn from this and move on," stated the Wellsville head coach.
Both coaches inserted their second teams to finish out the third quarter and all of the final stanza.
Southern's backups scored a final touchdown when running back Cooper Edmiston bolted four yards into the end zone with 5:04 left, making it 46-0 after a failed conversion.
Game notes
Southern won last year's meeting with Wellsville by a 58-0 final. Wellsville has lost four straight meetings in the series. Wellsville's last win against the Indians occurred in 2016 by a 42-0 score.
Southern will host the East Palestine Bulldogs next Friday evening in EOAC action. "We're 1-1 and Wellsville is 1-1 and we wish them the best of luck the rest of the year and we'll just keep playing," said Wright.
Wellsville will also be in action next Friday when the Tigers travel to United to face the Golden Eagles in league play. "(United) coach (DJ) Ogilvie and his staff do a great job with those kids and with coach Ogilvie's son at quarterback, he's good and we'll have our work cut out next week," closed Ramsey.
SOUTHERN: 20-6-14-6 -- 56
WELLSVILLE: 0-0-0-0 -- 0
SCORING
S - Brad Sloan, 32 run, 8:36 1st (Run failed)
S - Josh Pratt, 1 run, 4:58 1st (Brad Sloan pass from Josh Pratt)
S -- Garrett Brewer, 3 run, 45.8 1st (Kick failed)
S -- Hunter Morris, 2 run, 6:50 2nd (Pass failed)
S -- Hunter Morris, 1 run, 6:13 3rd (Brad Sloan pass from Josh Pratt)
S -- Josh Pratt, 80 fumble recovery, 1:38 (Run failed)
S -- Cooper Edmiston, 4 run, 5:04 (Run failed)
-----
First downs S 19 W 8
Total yards S 329 W 116
Rushes-yds. S 48-283 W 24-72
Passing S 46 W 44
Comp-Att-Int S 4-5-0 W 6-14-0
Punts S 2-33 W 5-31
Fumble Lost S 1-0 W 5-2
Penalties-Yds. S 3-35 W 4-20
INDIVIDUAL LEADERS
RUSHING -- Southern, Hunter Morris 12-52, Brad Sloan 9-123, Josh Pratt 8-36, Garrett Brewer 3-3, Cooper Edmiston 4-36; Wellsville, Troy Carter 4-9, Isaiah Greathouse 8-26, Gavin Kountz 2-10, Richie Dowling 2-10, Valen Krzyston 1-8, Jalen Allen 2-8
PASSING -- Southern, Josh Pratt 3-4-46-0-0; Wellsville, Troy Carter 6-14-44-0-0
RECEIVING --Southern, Brad Sloan 1-16, Colton Soukup 1-18, Noah Perfetto 1-6, Wellsville, Isaiah Greathouse 2-15, Tanner Rambo 1-2
FUMBLE RECOVERIES -- Southern, Chance Wooley, Josh Pratt; Wellsville, none
(From the Morning Journal, Saturday-Sunday, September 5-6, 2020 - Article Indians Rebound in Wellsville by Sports Correspondent Mike Brown. Photos from the Morning Journal / Special to the Journal/Gary Leininger.)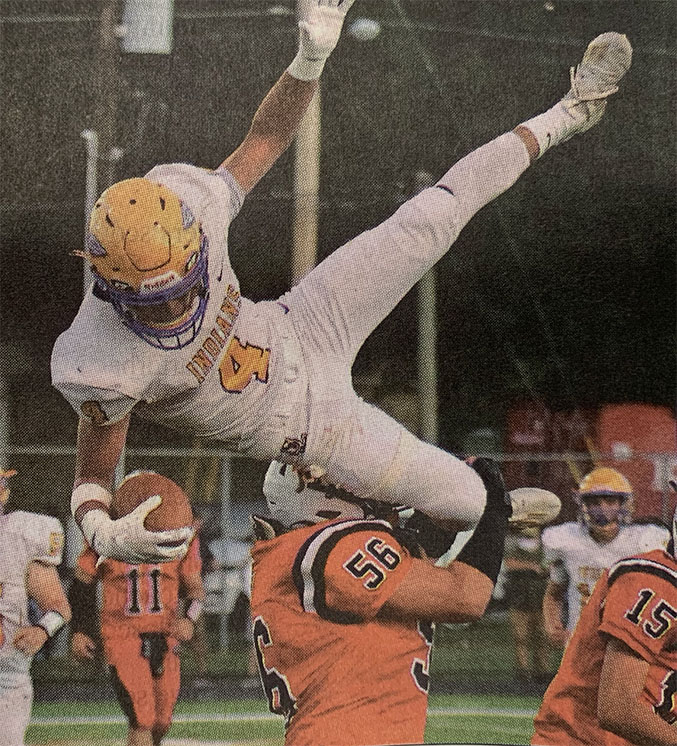 Southern's Brad Sloan jumps over Wellsville's Caden Weekley during the Indians' Friday win. (picture special to the Journal/Gary Leininger)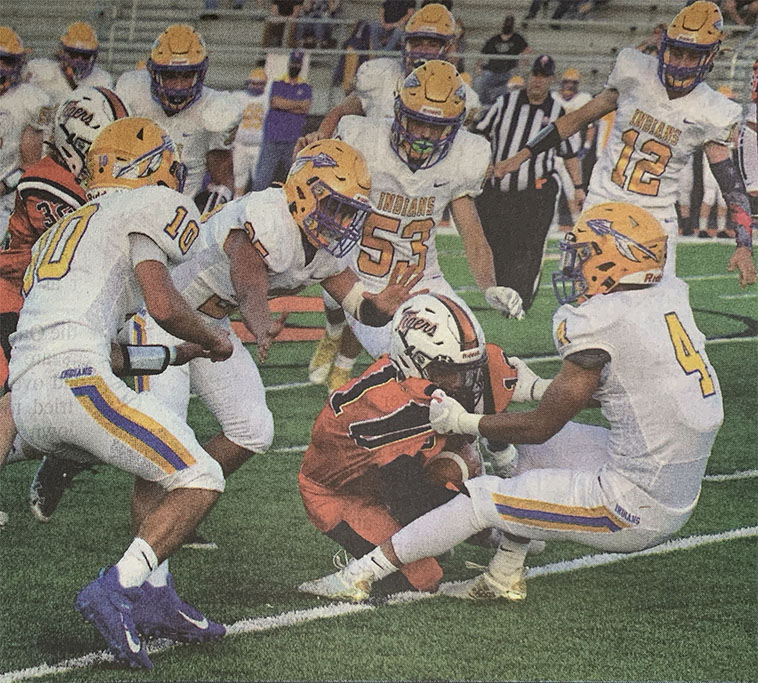 Wellsville's Isaiah Greathouse gets stopped by Southern's Brad Sloan (4), Josh Pratt (10), Garrett Brewer (25) and Jaedon Madison (53) (picture special to the Journal/Gary Leininger)