Southern Looks Back and Ahead amid Challenging Year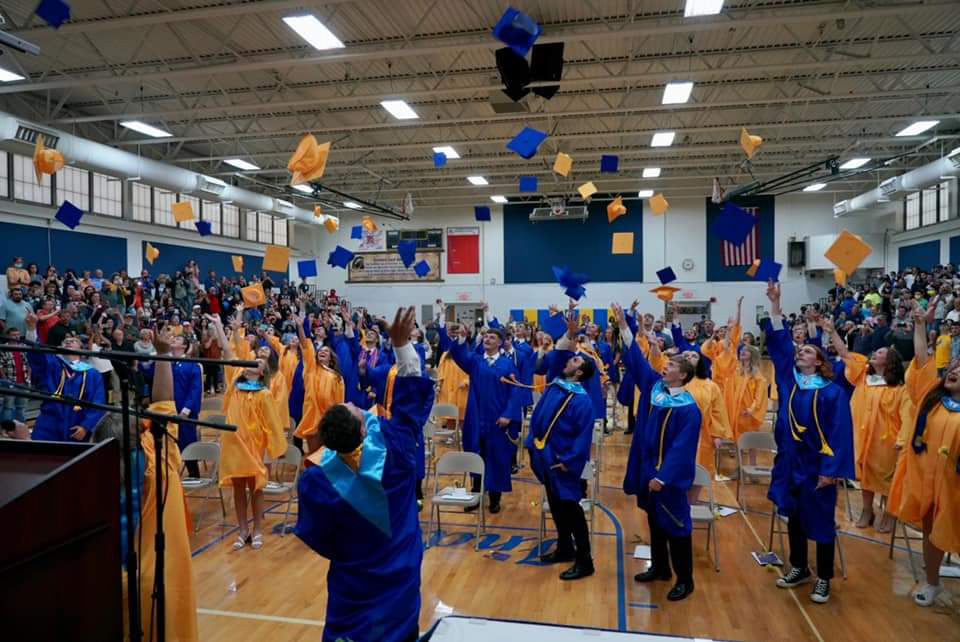 ---
Southern Looks Back and Ahead amid Challenging Year
SALINEVILLE-Southern Local High School seniors savored some final moments together before turning the page to a new chapter in their lives, but they also looked back on what they overcame amid the tumultuous times of COVID.
Fifty-two graduates would go on to collect their diplomas and turn the tassels on their mortarboards on May 28. For them, it was the culmination of their hard work to reclaim a bit of normalcy after the coronavirus pandemic led to remote learning, mask wearing and social distancing in 2020. They and school officials said working together enabled school to remain operational at a time when many remained shuttered and online. As students gathered for one of their final events—a senior assembly in the high school gym on May 26—several looked back fondly on what they managed to achieve.
"The bond that we created," said Mackenzey Infanti, when asked what stood out for her this year. "We got a lot closer."
What will she miss the most?
"Them," she replied, noting her fellow classmates. "Hanging out in Mr. I's [teacher and father Ron Infanti's] room."
"Friendship is key," interjected friend and senior Lindsay Ingledue as friend and senior Emma Duncan agreed.
Senior Conner Lewis said he would miss seeing people in the school hallways and talking to them each day. Lewis was most impressed with how the school district handled the COVID situation and the janitors maintaining the building so education could resume.
Senior Bradly Sloan said watching his class come through the adversity amid COVID and be able to hold events from sports to senior trips, unlike last year.
"That makes it all the sweeter and all the more unforgettable," he commented. "And I'll miss the routine of coming here every day and seeing all my friends and classrooms and not having that constant in my life. Being in a small town, you are more connected to them."
SLHS Principal Jay Kiger highlighted the impact of COVID on keeping kids apart during an important time in their lives.
"For me, it became an issue of how much more are we going to take off the kids. They understood the pandemic and knew what was going on, and not one time did I hear a complaint about masks from the kids and staff. The staff also needs a lot of credit for online teaching. It's not our forte but we took what resources we had and we made the best of it. Everybody knew and understood we were on the same boat and we all got through it."
Kiger continued that when the senior class asked to hold prom, officials were onboard, albeit with an altered format. Constant contact with the Columbiana County Health Department and awareness of CDC guidelines would dictate what could and couldn't be done, but the class was able to hold a dance in the school gym and build some positive memories. Another plus was that the 2021 commencement exercise would be open, unlike the virtual graduation last year.
"I think the kids got a little bit of normalcy in their senior year," Kiger said.
He also credited athletic director and senior class advisor Bob Shansky for helping maneuver students through the frequent rescheduling of games and support of seniors to help make special events in their final year happen. Kiger further noted school nurse Heidi McIntosh for her work to ensure kids—and everyone else—remained healthy.
"All things considered, I think we came out of this relatively unscathed. It all has to play out over the next few years academically, but we learned some lessons from it and implemented the Indian Academy online school option and Edgenuity and moving the sixth grade to the junior high will also help with education." I want to get back to normal and get back to five days a week and do things we've always done."
Shansky said Southern Local and schools like it were among the few to remain open at a time when many remained shuttered.
"It was very trying, but it wasn't just us; it was every school in the country. Athletically, we were constantly making changes and the [East Ohio Athletic Conference] agreed and everyone was willing to move things, so it worked out, and athletic directors were sympathetic. Every school handled COVID in a different way. We were fortunate at Southern Local to remain open. Kids need this. They need camaraderie and hands-on education," Shansky continued. "People really tried to work together and we were doing everything for the kids."
Southern Local Superintendent Tom Cunningham agreed that while it was a challenging time, the school and community pulled together to make it work.
"It was trying for everyone—the teachers, parents and students—but I think we learned a lot from it and took positives from it, whether it was the way we teach virtually or whether it's doing more hands-on projects to engage the students. We need to look at things down the road educationally and with the social-emotional piece. I think we always knew how important schools are to communities, but I think it was magnified with the feeding program. We take care of the whole child and not just their educational needs. "
He also thanked the staff and parents for making it successful in a non-traditional way.
"I can't thank them enough."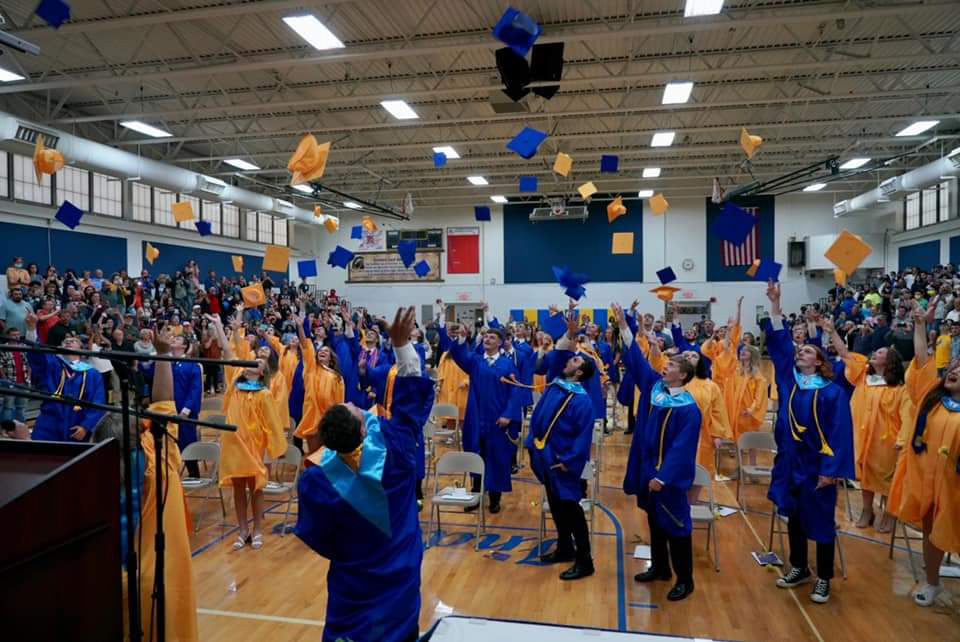 Southern Local High School's newest alumni tossed the mortarboards during their May 28 graduation after reflecting upon the challenging year they faced amid COVID-19. The graduates and school officials looked back on the year and ahead to the future as people strive to return to normalcy. Photo: JIMMY JO SAVAGE