Southern Seniors Assemble for Recognition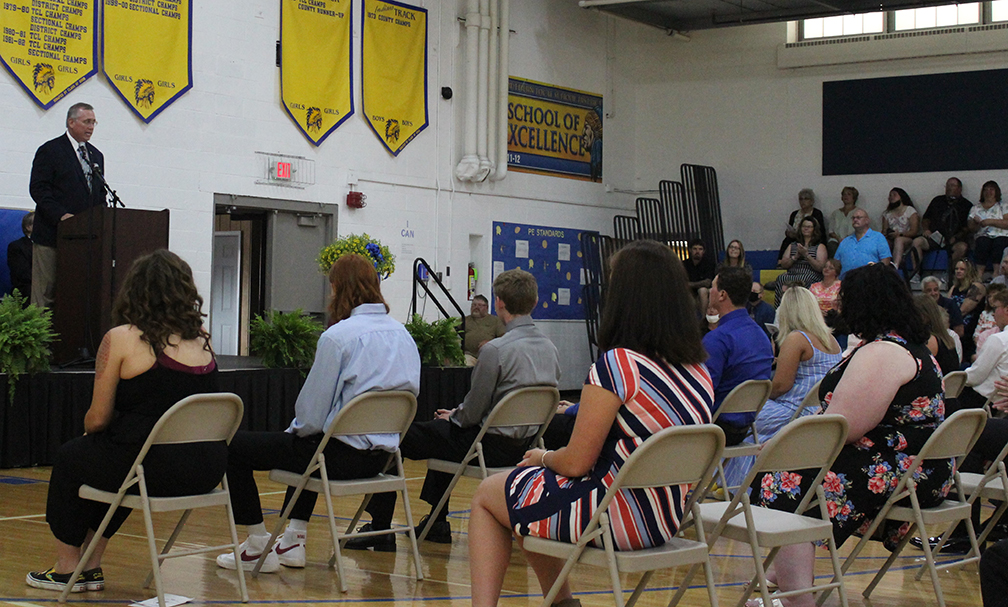 ---
Southern Seniors Assemble for Recognition
SALINEVILLE-Southern Local High School seniors gathered in their final days before graduation for awards and recognition during the Senior Assembly program.
More than 100 graduating students, their family members and school officials took part in the program on May 26, which included a mix of scholarships and community awards, school honors and class reflections before the class graduated that Friday. Class President Delainey Mellott welcomed the crowd and rejoiced in commemorating class achievements.
"These past four years have been the most unforgettable and memorable and I'm glad to share them with you through it all," she said.
SLHS Principal Jay Kiger said it was an opportunity to join together and celebrate incredible accomplishments over the past year, and they did it with the support of family, friends and the school.
"We are here to honor, celebrate and recognize the accomplishments of the Class of 2021. I continue to be amazed by these young people through the pandemic. You have demonstrated resilience, strength and grit. This class has been motivational and has set the bar high for all classes to follow," he added. "Thank you for making Southern Local the special place it is. You have truly made a mark."
Senior class advisor Bob Shansky introduced the senior class officers, which also included vice president Brock Smalley, secretary Camryn Mellott and treasurer Conner Lewis.
"These last two years have been very trying, but throughout it [the class officers] kept in touch with me," Shansky said, adding that the group sought to hold prom, a senior trip and other events to bring normalcy back to their fellow classmates. "This has been a very good class of officers."
Thousands of dollars in scholarships were then awarded and included the following:
--Calgary United Presbyterian Church Scholarships of $1,250 to Mackenzey Infanti, Conner Lewis and Nate Webster;
--American Legion John Adams Post Auxiliary Scholarships to Mackenzey Infanti, Tyler Beadnell, Garrett Brewer, Conner Lewis and Bradly Sloan, which were doubled to $1,000 each this year;
--West Liberty University Presidential Scholarship to Mackenzey Infanti for $7,500 annually for four years;
--Youngstown State University Scholarship to Bradly Sloan for $2,000;
--Salineville Kiwanis Scholarships to Conner Lewis and Mackenzey Infanti for $700 each;
--Southern Local/Salineville Alumni Scholarships: Brock Smalley, the George Bach Sr. Memorial Scholarship for $1,000 and Huntington National Bank Scholarship for $1,000; Timmy West, the Sondra Strabley Memorial Scholarship for $1,000 and the Southern Salineville Alumni Scholarship Foundation (SSAC) Scholarship for $750; Sam May, Mary Marhefka Day Memorial Scholarship for $600 and SSAC Scholarship for $900; Mackenzey Infanti, the Martha Hirst Hilyard, Donald Hirst and Meda Hirst McCord Memorial Scholarship for $1,500; Delainey Mellott, the Lenora Bentley Giles Memorial Scholarship for $500 and the SSAC Scholarship for $750; Tyler Beadnell, the Saundra Cassidy Polen Memorial Scholarship and John Buckley Memorial Scholarship for
$500 each and the SSAC Scholarship for $250; Camryn Mellott, the Martin and Doris Leek Adams Memorial Scholarship and Morgan Family Scholarship for $500 each; Arianna Goley, the Carl R. Lindner Memorial Scholarship and William Robert Hays Memorial Scholarship for $500 each; Conner Lewis, the Linda Clark Scholarship and Duane J. Marhefka Memorial Scholarship for $500 each; Emma Duncan, the Henry R. Salter Sr. Memorial Scholarship and SSAC Scholarship for $500 each; Bradly Sloan, the Kevin Melhorn Memorial Scholarship for $500 and the SSAC Scholarship for $250; Cheyann Board, the Eugene Gearin Memorial Scholarship for $500 and SSAC Scholarship for $250; Garrett Brewer, the SSAC Scholarship for $750; Autumn Pelley, SSAC Scholarship for $750; Nate Webster, the Bentley Family Memorial Scholarship for $500 and SSAC Scholarship for $250; Alexa May, the SSAC Scholarship for $500; and Addisyn Milhoan., the SSAC Scholarship for $500;
--Matt Puckett Memorial Scholarship to Nate Webster and Bradly Sloan for $500 each;
--Growe Scholarships to Alexia Phillis and Hannah Price for $1,200 each;
--Ohio High School Athletic Association (OHSAA) Awards: Scholar/Athlete Awards to Brock Smalley and Delainey Mellott; Archie Griffin Sportsmanship Awards to Timmy West and Alexia Phillis; National Federation of High Schools Sportsmanship, Ethics and Integrity Awards to Camryn Mellott and Conner Lewis; and the Courageous Student Award to Mackenzey Infanti;
--Columbiana County Basketball Coaches Association Scholarships to Sam May and Brock Smalley for $200 each;
--Ira Thompson Memorial Scholarships to band members Alexia Phillis and Quinton Gfeller for $250 each;
--Marcus Walter Memorial Scholarship to Garrett Brewer and Arianna Goley for $1,000 each; career tech honors to Garrett Brewer and Arianna Goley; and the Columbiana County FFA Alumni Association Scholarship to Arianna Goley for $250;
--Southern Local National Honor Society: American Red Cross Scholarships to Delainey Mellott and Conner Lewis and a National Honor Society Club scholarship to Brock Smalley;
--Southern Local Student Council Dedicated Member Scholarship to Camryn Mellott and an Above and Beyond Scholarship to Delainey Mellott for $350 each;
--Southern Ruritans Scholarship to Timmy West for $500;
--Kathy Martin Scholarship to Conner Lewis for $300;
--College scholarships: Thiel College scholarships totaling $110,000 for Conner Lewis; Kent State University Scholarship totaling $16,000 to Brock Smalley; KSU Scholarship totaling $16,000 plus an Oak Ridge Church Scholarship for $500 for Timmy West; YSU Red/White Scholarship totaling $8,000 for Bradly Sloan; and KSU COVID Scholarship for $15,000 to Camryn Mellott.
Parents and grandparents also presented honor cords to their seniors, which included Tyler Beadnell, Cheyann Board, Garrett Brewer, Nyla Clevenger, Emma Duncan, Katelynn Exline, Quinton Gfeller, Arianna Goley, Zachary Halfhill, Olivia Homan, Mackenzey Infanti, Lindsay Ingledue, Conner Lewis, Dakota Long, Alexa May, Samuel May, Camryn Mellott, Delainey Mellott, Addisyn Milhoan, Autumn Pelley, Alexia Phillis, Jessica Piatt, Joshua Pratt, Bradly Sloan, Brock Smalley, Jayla Smith, Nate Webster and Timothy West.
Camryn Mellott and Conner Lewis then recalled the past year with their class history report as Timmy West and Mackenzey Infanti read a class prophecy written by junior officers. Bradly Sloan then read some sweet and humorous last wills and testaments by the nearly graduates while Delainey Mellott closed the event with Brock Smalley and Sam May advancing the junior class members to incoming seniors.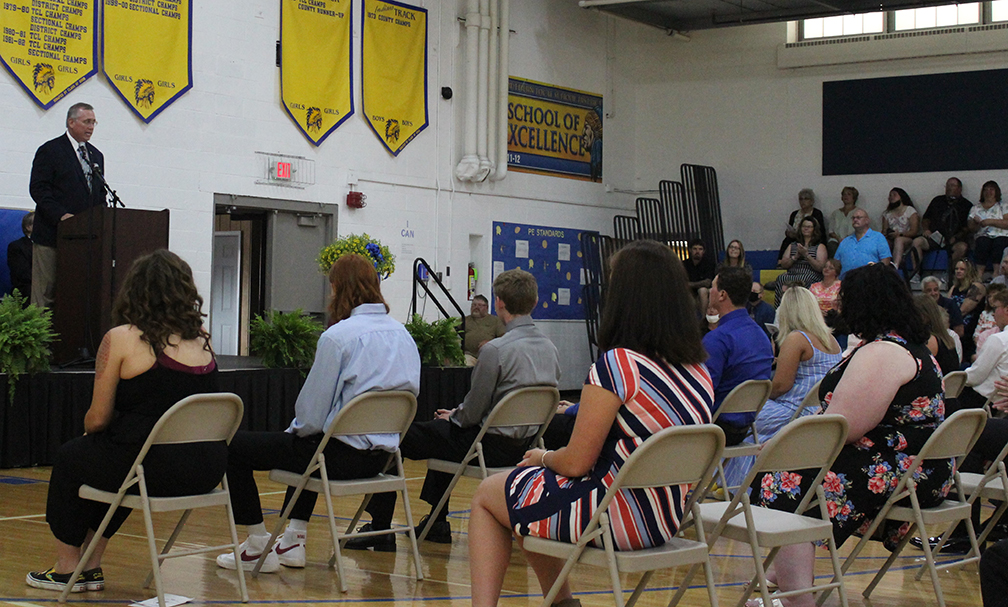 Southern Local High School Principal Jay Kiger addresses the next group of alumni during the Senior Assembly on May 26. Seniors were joined by parents and school officials for recognition including honor cords and scholarships. Fifty-two seniors went on to obtain their diploma during commencement exercises that Friday.)