Southern Local Starts Year with New Board Members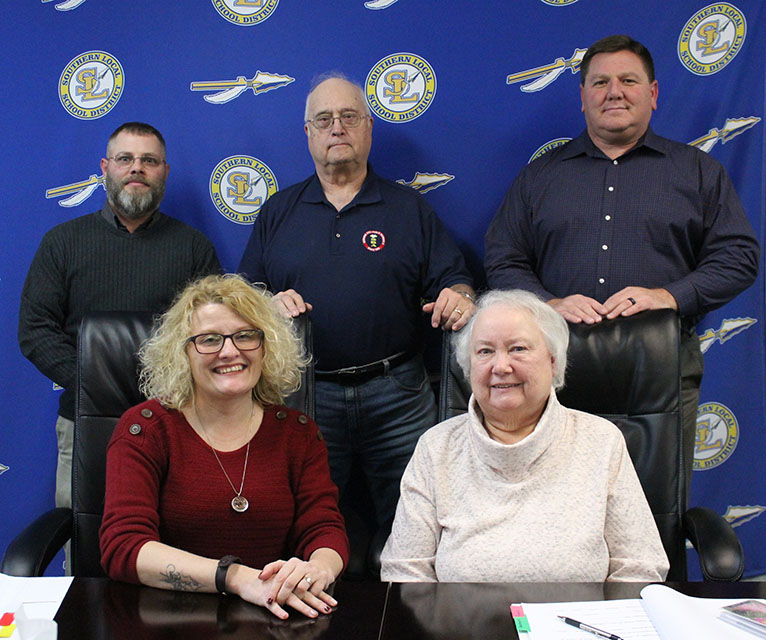 ---
The Southern Local Board of Education kicked off 2020 with new board members as Patty Exline and Rodney Edmiston were sworn into office.
Exline and Edmiston took the oath during the Jan. 8 reorganization meeting, succeeding Jay Cole and Michael Abraham in the positions. The board then respectively elected Kip Dowling and Linda Morris to lead as president and vice president for the remainder of the year and approved policies and matters related to operations. The session was followed by a brief tax budget hearing where District Treasurer Greg Sabbato said figures for 2020-21 would be sent to the Columbiana County Budger Commission.
"The only things that are outstanding is the bond retirement fund and classroom facilities. We'll probably have the bond paid off in December for $995,000," Sabbato added. "The classroom facilities fund expires in two years and we use it for operational replacements in the building."
He cited the outdated boiler system as well as roofing and equipment that are nearing the end of their lifespan.
"We have a 22-year-old roof and its economic life [ends in] less than 24 months. It's never easy to plan for [upgrades] but we do what we can."
The board concluded its trifecta of meetings with its first regular session of the year and heard updates from school leaders about planned projects and operational matters.
Southern Local High School Assistant Principal Ron Sines said a new Tattletale wireless alarm system is being added which would inform officials of emergencies in the building. The portable system provides two buttons for teachers and staff to alert school administrators and law enforcement, and Sines said the first would text administrators' phones if help was needed to deal with an issue in the building while the second would contact safety forces.
"We're looking to get it for each teacher and it's instant and wireless and can be programmed into the fire and sheriff's departments," Sines continued, saying it would also alert the school resource officer, administrators and board office.
Superintendent Tom Cunningham noted that it would provide another resource for enhanced security.
"We put in schoolSAFEid, which is a neat resource, but when people are scanned in they are in the office. We're looking at other programs [for further security]."
Oklahoma-based schoolSAFEid is a privately owned company which specializes in cloud-based identification software, both for visitor management systems and generating printable student ID cards. Southern Local recently acquired the system to track students and visitors each time they enter and leave the building. Users simply scan driver's licenses and state identification cards in a kiosk inside the school offices and it also can issue physical badges and digital visitor ID's, the latter of which are kept on users' phones if
they are regularly in the building. Both passes can be scanned when visitors leave and the technology also texts teachers when a parent checks in through the system. The key is to help keep track of anyone who visits the schools while also boosting security and efficiency for staff.
Meanwhile, Sines said officials were removing the school fountains in favor of updated hydration systems that provide purified water with energy-infusing electrolytes. A rented system was being installed and leaders were going to review it for a month.
Southern Local Elementary Principal Rich Wright also outlined projects in his building, saying leaders were looking to include the Wilson Foundation Phonics Curriculum for second and third grades. Wright added that discussions were underway to contract with PAX Positive Behavior to start programs for younger classes.
"We will start with preschool, kindergarten and first grade and expand as we move forward and give teachers and staff strategies to correct behaviors," he said. Other plans are to purchase a new math curriculum and Wright said the district spelling bee was set for Jan. 30.
Additionally, Utica Shale Academy Director Bill Watson gave an update on happenings with the community school. Watson said 72 students were currently enrolled and 17 seniors were at or above requirement levels to graduate. He added that letters would be sent twice a year to conduct residency reviews for the Ohio Department of Education. He noted that ACT and MAP testing were being planned while weekly outreach efforts to improve student attendance were working.
In other action:
-- Morris suggested keeping meetings consistent and officials agreed to meet on the second Wednesdays of the month at 6:30 p.m. in the board office. Sabbato recommended informing the public through a yearly calendar and Cunningham said information would also be available through the district website and social media;
-- The board further approved guidelines for board compensation, setting the amount at $125 per meeting for 24 sessions. During discussion, Edmiston asked to donate his stipends to the district's Christmas program and provide gifts for needy students;
--Board committees were established with John Sawyer and Exline on finance; Dowling and Edmiston on personnel and negotiations; Sawyer and Morris on maintenance and transportation; Morris and Exline on curriculum and policy; and Dowling and Edmiston on athletics. Sawyer will also remain the legislative liaison to the Ohio School Boards Association while Morris will serve as the district's student achievement liaison;
--Leaders approved a resolution opposing EdChoice vouchers that state legislators proposed to increase for families and students who attend private and parochial schools. Cunningham said the funds are paid at public tax expense and Southern Local was among districts whose funding would be unjustly decreased, devastating its finances. He added that the private and parochial schools also were not subject to the same testing standards as public schools;
--The board approved the 2020-21 tax budget;
--The next regular meeting was scheduled for Feb. 12 at 6:30 p.m. at the school board office.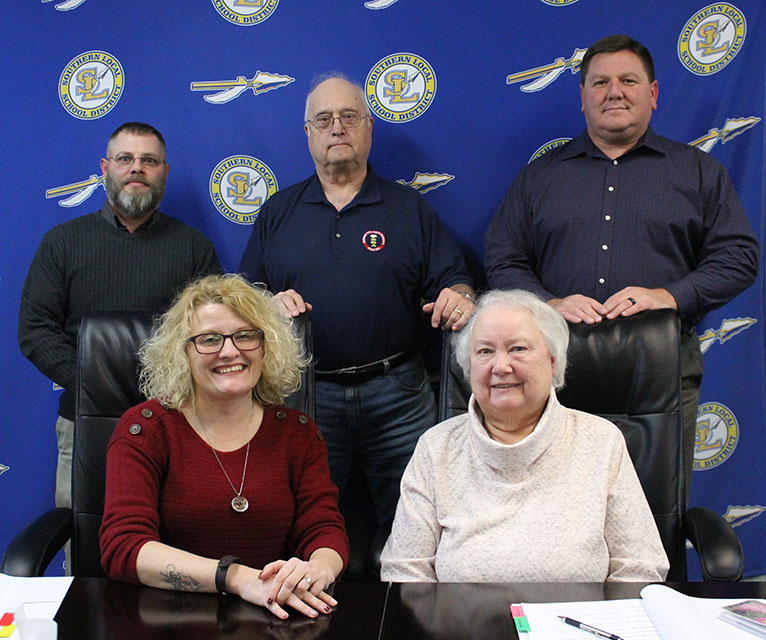 The Southern Local Board of Education reorganized for 2020 and swore in Patty Exline and Rodney Edmiston as the newest members. The board also recognized January as School Board Recognition Month and pictured are, front from left, Exline and board Vice President Linda Morris. Back: Edmiston, John Sawyer and board President Kip Dowling.