SL Hears Solar Energy Proposal, Classroom Concerns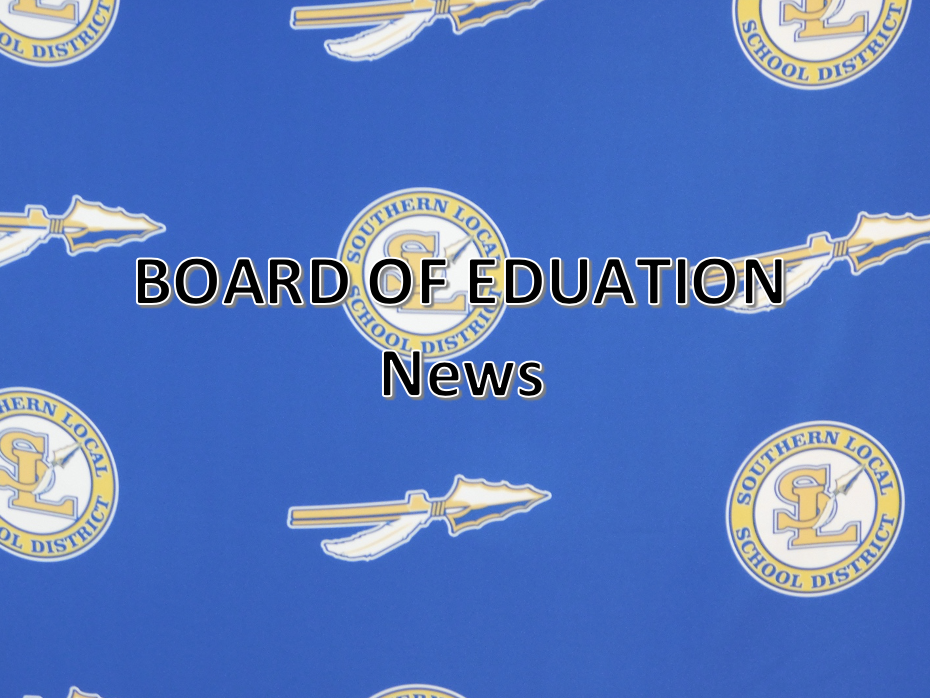 ---
SL Hears Solar Energy Proposal, Classroom Concerns
SALINEVILLE-Southern Local school board members heard varying issues during the June 14 meeting, including a solar energy proposal and ongoing concerns regarding overcrowding in the classroom.
Matt Brophey, solar project manager with Arizona-based Scout Solar LLC, told officials that utilizing solar energy could save the district an estimated $391,543 on its usage. He based his findings on a review of the district's electric bills over a 12-month period, saying they could reduce the amount with panels on the campus.
"We looked into your system and the facility could reduce the electric reading, and it would be about $391,000 that you would save."
He proposed a power purchase agreement and adding a 5,500-square-foot shade cover to a basketball court or creating a pavilion to hold the panels, which would possibly cover 1.8 or 1.9 acres and the company would defray the $2.8 million project cost. He explained a process called net metering, where another meter would be placed on the main line above the existing one to measure energy in and out, and said Southern Local could work in conjunction with the Carroll Energy Co-op to sell excess power from the grid and also purchase it back at the same cost.
"I know a lot of people are skeptical. If we don't provide power, we don't get paid," Brophey continued. "Carroll Electric is OK with [the plan]."
During discussion, he said the panels would be a fixed mount and face southward to constantly capture solar energy. He said the agreement would be for 25 years and provided options to purchase from Scout Energy, renew the plan for five to 10 years, restore the grounds or inherit the system.
He said the issue was not set in stone and agreed to speak to officials further. Board member Karl Blissenbach sought references and Brophey said he could supply them, noting that Scout Solar has clients across the country from Arizona and Texas to Minnesota and New Hampshire. Superintendent Tom Cunningham said it was the first time the board heard the proposal and no action was being taken at this time.
Meanwhile, parents Julie Utt and Holly Davis shared ongoing concerns about overcrowding in the fourth-grade classrooms at Southern Local Elementary. Their children are due to attend in the fall and they noted problems the students faced over the past year. Utt said she has spoken to leaders before and would continue to do so in hopes that more help could be provided, particularly by hiring a third teacher.
"Currently, there are 47 students on the rosters," Utt said. "You have two teachers with 23 ½ students. I have a problem with that, especially in today's world."
She said her son had issues with the class size and she had been in the classrooms herself.
"It is too much for the kids, especially those with behaviors. It's not fair to the students or teachers to be confined. I've had conversations with Mr. Cunningham in the past. Somebody needs to revisit it and come up with something."
Davis, who also teaches at SLES, said her son faced similar challenges and a change was needed.
Principal Rich Wright said there were 49 children entering fourth-grade and an aide and intervention specialist also worked with the classes. Utt said the third-grade classes had three teachers, which was helpful, and she hoped another would be added for the fourth grade. Cunningham later said officials were reviewing class sizes across the district.
Among other matters, the board:
--Approved physical therapy agreements for Amy Purcell and Kelly Crosby for the 2022-23 school year;
--Approved an agreement with the Columbiana County Educational Service Center for the 2022-23 school year;
--Approved Sorsa/McBane Insurance as the district's insurance carrier and cyber insurance company;
--Approved supplemental contracts for Jesse Liggitt as marching band assistant, Kylee Maple as cheerleading advisor and Kim Adams as junior class advisor;
--Approved a $10,000 health stipend for school nurse Heidi McIntosh for the 2021-22 school year. Cunningham said the funding was provided to the county health department for COVID tracking but was since returned to all of the school nurses;
--Approved the retirements of teachers Chris Plunkett and Sue Henthorn, effective July 31 and May 27, respectively, and wished them well in their endeavors;
--Approved substitutes for the 2022-23 school year, including the following: Hannah Brothers, Ann Chamberlain, Jada Derrington, Jackie Donovan, Lexie Elliott, Jody Lockhart, Tony Martini, Amanda Mayfield, Jacob Melott, Marianna Milajecki, Jean Pastore, Frank Rose, Kate Spahlinger, and Scott Thornberry, teachers; Ashley Dowling, substitute nurse; and non-certified subs Jean Boley, Heather Gilliam and Kristina Sosack, paraprofessional; Jody Boyle, secretary; Jamie Clemens and Abigail Cline, cafeteria, secretary and paraprofessional; Jackie Giovenco, Julie Gates, Lacey Locke, Shawna Parrish and Rich Sloan, cafeteria and paraprofessional; Taylor Gaunt and Tara Javens, bus driver; Vicki McCulley and Michelle Salus, custodian, cafeteria and secretary; Joy Mclntosh and Angela Martin, cafeteria and secretary; and Dawn Spooner - cafeteria and custodian;
--Approved 2.5-percent salary increases for district Treasurer Greg Sabbato and administrative office employees Julie Dowling, Whitney Tsemilles and Tammy Phillips. Sabbato said the increase follows a three-year wage freeze for the staff;
--Approved Nutrition, Inc., as the food service provider;
--Set the next regular meeting for July 12 at 5:30 p.m. in the high school media center.