Morris Heading to County Bee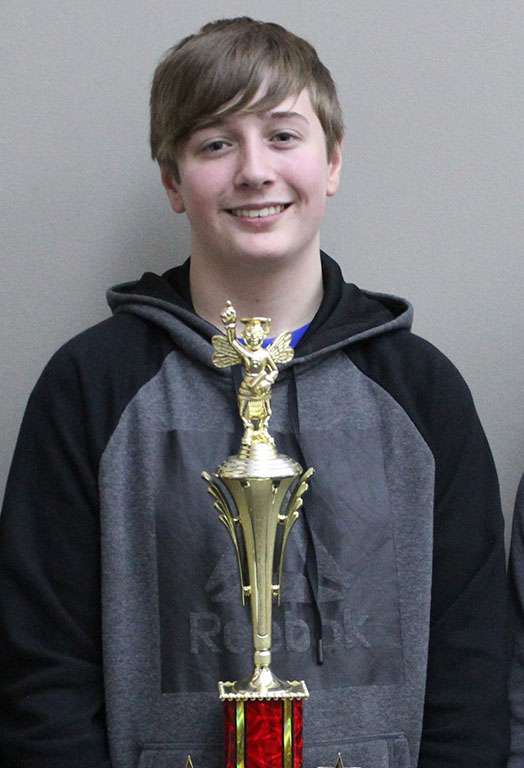 ---
Southern Jr. High School eighth-grader Jaden Morris will join students from Columbiana County for the annual spell-off after being declared winner of the 2020 Southern Local School District Spelling Bee on Jan. 30.
Morris, the son of James and Patience Morris of Salineville, was named champion after correctly spelling "cattail" during the 10th round. He was one of 16 students in grades 5-8 participating in the district bee in the Southern Elementary library and was joined at the podium by seventh-grader Mystia Myers in second place and fifth-grader Ava Reed in third place with eighth-grader Aiden Brothers named alternate.
"I was surprised," Morris said of his win, adding that it was the first time he was in the district bee. "I studied all of the hardest words."
Others taking part in the district event were Evan Haught, Kaleb Cremeans, Wyatt Bach, Kemper Jones, Sara Johnston, Alliandra Myers, Logan Mettenberger, Jason Pratt, William Dickson, Tessa Board, Lindsey Berger and Destinee Mullis. Judges included fifth-grade teacher Dana Patterson, bee organizer, and SLES Assistant Principal Emily Brinker with fourth-grade teacher Jim Reese as announcer and librarian Donna Hart called rounds.
Patterson got a consensus of the students and agreed to include parents in an assembly during next year's festivities. She also noted her pleasure for the youth's hard work.
"It's a huge honor just to make it here and we are very proud of you," she said.
Morris will move on to the county bee on March 4 at David Anderson Jr./Sr. High School in Lisbon and will compete for the chance to head to the 93rd Scripps National Spelling Bee in Washington, D.C., on May 24-30.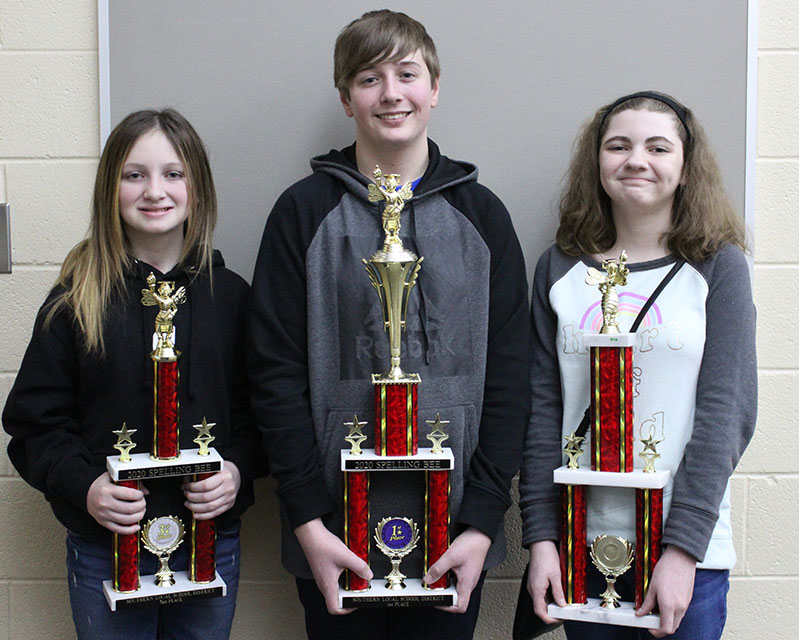 Southern Local Jr. High School eighth-grader Jaden Morris was named winner of the Southern Local School District Spelling Bee on Jan. 30 after completing 10 rounds successfully. Sixteen students in grades 5-8 joined in the Southern Elementary School Library to compete for the chance to move on to the Columbiana County Spelling Bee on March 4 and hopefully the 93rd Scripps National Spelling Bee in Washington, D.C., in late May. Pictured are, from left, Ava Reed, fifth-grader and third-place finisher; Morris; and Mystia Myers, seventh-grader and second-place finisher. Not pictured is eighth-grader Aiden Brothers, who was named alternate.)