Milo Returns to Southern Local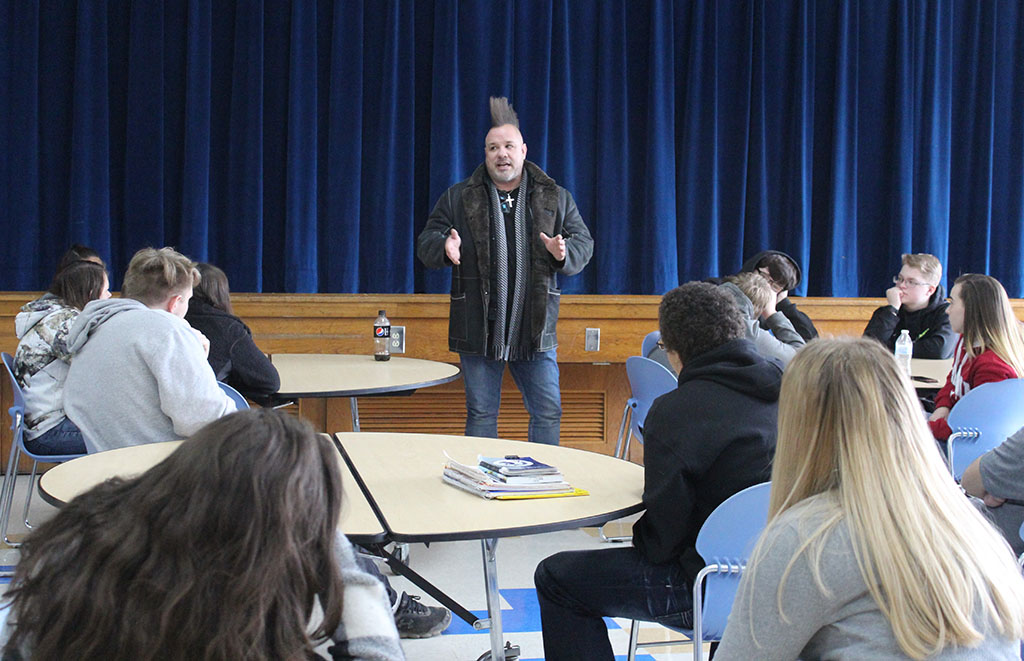 ---
Professional speaker Christopher Milo brought his message back to Southern Local High School on Jan. 10 and addressed such topics as bullying and making good choices.
The Chagrin Falls-based speaker and concert pianist has made regular trips to Salineville since fall and plans to do so for the remainder of the school year. Not only does he interact with students at Southern but he has ventured to football games during their successful season and cheered them on, plus he has worked with school leaders as an advisor. Milo has been visiting schools, universities, churches and businesses for the past 13 years and has spoken to roughly 500,000 students and school officials during that timeframe. He has blends his messages with stories about his own life, namely his six-month ordeal as a paraplegic in 1992 who was told he would never walk again, but he also touches upon bullying and stresses the importance of values and good character.
Styled with his trademark sky-high Mohawk, he most recently met with teachers and staff and visited classrooms before speaking with high school pupils in the cafeteria.
"I'm here in this building because each and every one of you matters. I'm here to help and I'm here to offer assistance you might need," he told a group of sophomores during one of his gatherings.
He uses his lectures to instill his 13 Messages from Milo (13MFM) mentoring program, which aims to positively impact the entire school, cultivate a school atmosphere where students are eager to learn and attend classes, excite the student body by giving them purpose which creates hope and a "can-do" attitude and instill kindness. The 13 messages are to be positive, be genuine, accept, love one another, listen, communicate, work together, be curious, inspire, coach, use your talents, be creative and trust. Part of his latest discussion centered on his teenage son who, after being bullied for his weight, decided to get fit. Not only did he lose the weight but his grades improved in the process.
Milo said the purpose of his talks was to get the students motivated to live more positive lives.
"I'm not here for me. This is for you. Every little bit of this is for you," he said. "What is important is tomorrow. Yesterday is gone; your tomorrow is what matters to me. It's my belief that if we applied the 13 Messages from Milo to your daily life, it will make a difference."
He continued that his goal wasn't to preach to the youth but to inspire them to succeed, and part of that success is going to school.
"Being here is half the battle. You need to be here and on time. This year is 2020 and this is a new decade. For 2020, you look at things with a new lens."
He told the youth to think of someone to apologize to and someone to forgive, adding that his message had less to do with academics and more to do with life in general.
"We have to be intentional about our choices. Once we align our hearts, everything else will fall into place. If you want things to change for you, you need to change you."
He also encouraged the youth to seek help from teachers when necessary and to know that school faculty truly had their best interests at heart.
"There is so much opportunity out there. Go to school, get good grades, graduate and go get it," he concluded.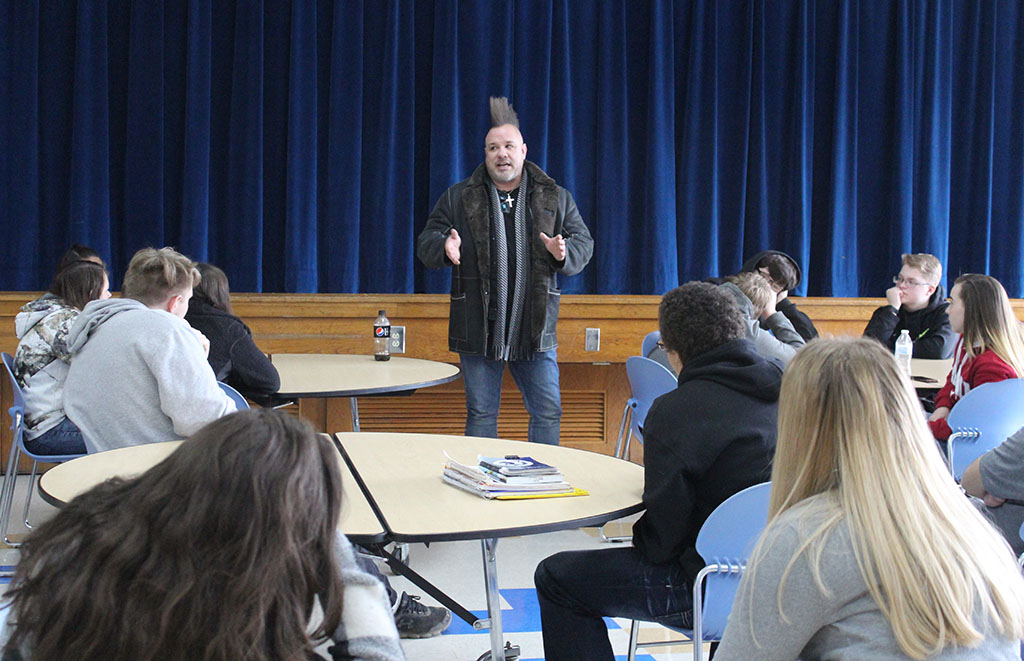 Professional speaker Christopher Milo returned to Southern Local High School to speak with students about his 13 Messages from Milo motivational program and inspire them to live positive lives. Milo met with students and teachers throughout the day and stressed the importance of attending school and making good choices to ultimately lead successful lives. He plans to return to the school district regularly for the remainder of the academic year.