Southern Local Teachers Awarded Mini Grants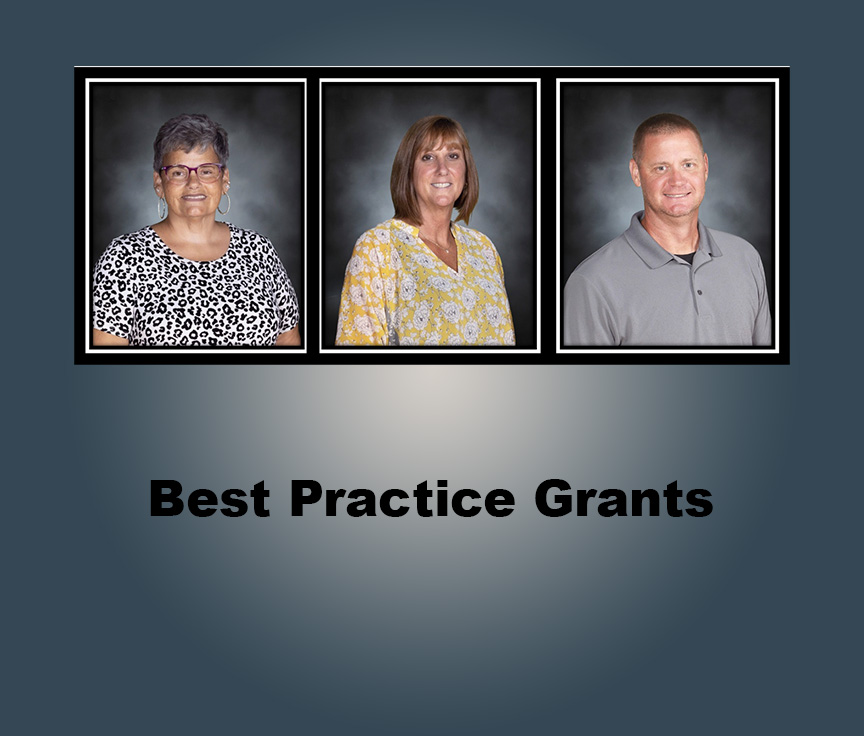 ---
Southern Local Teachers Awarded Mini Grants
SALINEVILLE-Teachers in the Southern Local School District are enriching learning opportunities for students after receiving allocations through the Jefferson County Educational Service Center.
JCESC Director of Curriculum and Professional Development Ron Sismondo presented three $600 Best Practice Grants during the Nov. 15 school board session for Karen Marquis, Janice Pierce and Eric Sampson to enhance education in their respective classes.
Marquis plans to implement a "Wonder Workshop" for 55 fifth-grade math and English/Language Arts students at Southern Local Elementary School to introduce them to coding. She will purchase two Cue Robots and said the project will help kids' self-guided exploration of programming languages and robotic capabilities. The program will be incorporated into small centers in her classroom and allows all students to work with the robots. Activities are designed for grades K-5 teachers and students and offers step-by-step lesson plans covering six fundamental coding concepts that engage kids in hands-on learning and project-based assessments. Wonder Workshop has a database of lesson plans and turn-key activities that can be implemented across all core subject areas, plus there is STEAM-related content and easy-to-integrate ideas for grades K-8.
"This program helps the kids to build problem-solving skills through coding, engineering and design. Cue is also a step up from the dash robots that students had the opportunity to work with in the fourth grade," she added. "The computers will be able to build things."
This is her first mini grant and Marquis was grateful to gain the financial support and expand her students' horizons.
"I am very excited about this opportunity. I am excited about learning how to do the coding myself and finding ways to challenge my students," she said. "This is a practical way to introduce engineering and coding to students who are interested in technology. The program is built so that students will feel successful while learning something new and challenging."
Pierce, a fourth-grade math and science teacher at SLES, is using her funds to create a Monarch butterfly habitat and pollinator garden after discovering its population was declining. She said her 42 students will learn how to plant and maintain the garden but grades K-5 could benefit from its educational properties in the future. She previously received Best Practice Grants and said the latest allotment will help bolster educational advantages.
"I love seeing the students' excitement when the Monarch butterflies emerge in the fall. It will be a wonderful educational experience to watch all the stages. Also, students will benefit from the learning process by developing an understanding of the Monarch butterfly environment," Pierce explained. "Students will gain a better understanding of the importance of maintaining a sustainable habitat and can experience their life cycle."
Sampson, a physical education teacher at Southern Local High School, will use his portion to add a little more fun with the formation of a "Disc Golf Course" project on the campus. He instructs grades 6-12 but added that elementary school teacher Kathy Randolph and her class were also included in the grant process. The course will benefit at least 300 students and even the community.
"Disc Golf has exploded in popularity over the last few years. It is a perfect sport that checks many boxes of the [Ohio Department of Education's] physical education standards. Students will be participating in physical activity while walking the course, learning on working with others, learning proper throwing and manipulative skills of a disc and even map reading to navigate the course. Disc golf baskets will be installed on the campus of Southern Local Schools. The course would be available to all students in all physical education courses, as well as the community after school," he said.
Sampson received a similar grant last year for his surveying class and was pleased to benefit from the Best Practice Grant program yet again.
"The grant program is a wonderful opportunity provided by the JCESC that allows us as teachers to have an enormous impact on student learning and success," he commented.
Meanwhile, JCESC Superintendent Dr. Chuck Kokiko lauded the teachers and said the purpose of the mini grants was to support the enhancement of learning.
"The JCESC has a mission of building capacity through innovative cost-effective programs. The Best Practice Grants are a great example of allowing our classroom teachers to be innovative in the practice of educating their students," he commented. "Every year, our district teachers continue to find unique and innovative methods for their classroom. We are grateful for the teachers' hard work and happy to support their creativity."
Southern Local has received a total of 21 grants since it began participating in the program in 2015 and more funding was awarded this year at Buckeye Local, Edison, Harrison Hills, Indian Creek, Steubenville, Toronto and the Utica Shale Academy.