SOUTHERN HITS UNITED EARLY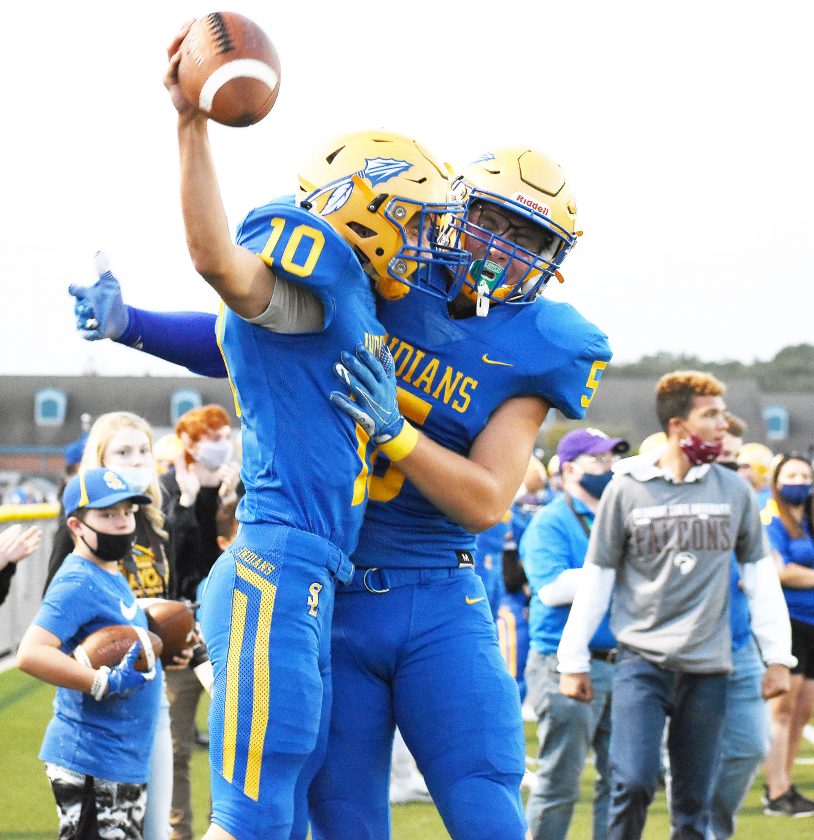 ---
The Southern Indians cheered on the United Eagles at the end of the game Friday night, "Three-way tie, three-way tie".
With the Indians knocking off the previously undefeated United Eagles 34-21, the Indians and Eagles now sit with identical 4-1 records.
If the Eagles can knock off the Leetonia Bears next week, all three teams will be tied for the league lead. But the Indian seniors are looking even beyond that.
"This is big, this is the difference between possibly getting a home playoff game here and the last time I will ever play on this field," Indians senior running Hunter Morris said. Morris finish with 121 yards on 18 carries.
"This is huge," Indians senior receiver Timmy West said. "The difference between week seven at home and week seven on the road. And possibly my last home game here."
With the Indians leading 22-7 at the intermission, West came up with a huge interception on Eagles quarterback Brutus Ogilvie, and retun the pick 33-yards to boost the Indians advantage to 28-7. The interception was West's first of two on the night as the Indians picked off Brutus Ogilvie three times.
"Actually it was a jump ball between me and the receiver. I just took it out of their hands and ran it back," West said. "In practice we really worked on pass coverage and I just happened to be in the right place at the right time."
Eagles receiver Keaton Baker returned the ensuing kickoff 68 yards to give the Eagles some much needed energy. The touchdown was at the 10:58 mark of the quarter made it 28-14 in favor of the Indians.
Southern answered with a 30-yard run by Brad Sloan at the 5:50 mark to make it 34-14. The drive was set up by a big defensive stand, turning the Eagles away on a fourth and six play at midfield.
"I'm glad he's a senior. He's a heck of a football player," Eagles coach DJ Ogilvie said. "Obviously he made us miss a lot of tackles, because he is a great athlete."
The Eagles tried to make one last thrust to get back in the game when Brutus Ogilvie connected on a 81-yard pass to Grant Knight to cut the deficit to the final score of 34-21. The touchdown came with only 50 seconds remaining in the third quarter.
"We were pretty much on our heels the whole game," Morris said. "We were just hoping they ran out of steam and we could keep up with them, and that's what we did."
With Indians starting quarterback and safety Josh Pratt sitting out due an injured ankle, the Indians turned to a pounding running game to run out the clock in the fourth quarter.
"Our young kids stepped up tonight, and it was a great team effort,"Southern coach Rich Wright said. "(Brutus) Ogilvie is so good, and (Keaton) Baker is so good, they are very hard to defend. We made few big plays, and we just gutted it out. (Ryan) Exline did a nice job at quarterback and Markel Smith had to come in and play safety.
"We wanted this win very bad. It was a good win for our program,"Wright said.
The Indians scored on their first offensive possesion when quartetback Josh Pratt found Timmy West in the left corner of the end zone at the 7:14 mark of the first quarter to give them an early 6-0 lead. They added to their advantage on their next possesion when Brad Sloan raced in from 61-yards out to make 14-0 with 43-secnd left in the opening quarter.
The Eagles got on the scoreboard with 7:49 left in the first half to make it 14-7 when Baker ran the ball in from 10-yards out.
But the Indians took the momentum into the halftime when Pratt ran around right end for a 2-yard touchdown with 15 seconds left. That gave the Indians a 22-7 lead at the intermission.
"We didn't quit," DJ Ogilvie stated. "So I'm proud of that. We just have to lick our wounds and bounce back for next week. We will see what type of character our kids have."
UNITED: 0-7-14-0–21
SOUTHERN: 14-8-12-0–34
SCORING
S –Timmy West 8 pass from Josh Pratt (Run Failed)
S –Brad Sloan 61 run (Pratt Run)
U –Keaton Baker 10 run (Luke Courtney Kick)
S –Pratt 2 run (Hunter Morris Run)
S –West 33 interception return (Run Failed)
U –Baker 68 kickoff return (Courtney Kick)
S –Sloan 30 run (Pas Failed)
U –Grant Knight 81 pass from Brutus Ogilvie (Courtney Kick)
——
U S
First downs 14 17
Total Yards 301 406
Rushes-yards 19-35 44-305
Passing 266 101
Comp-Att-Int 24-38-3 7-13-0
Punts 0-0 1-33s
Fumbles-Lost 0-0 2-1
Penalties-Yards 6-45 5-40
——
INDIVIDUAL LEADERS
RUSHING–United, Lincoln Urmson 7-23; Southern, Brad Sloan 12-180, Hunter Morris 18-121.
PASSING–United, Brutus Ogilvie 24-38-266-1-3; Southern, Josh Pratt 5-9-70-1-0, Ryan Exline 2-4-31-0-0.
RECEIVING–United, Grant Knight 9-183, Keaton Baker 7-37; Southern, Timmy West 3-54, Noah Perfetto 1-20, Brad Sloan 2-11.
INTERCEPTIONS–Southern, Timmy West 2, Josh Pratt, Timmy West.
FUMBLE RECOVERIES–United, Christian McCon.
(From the Morning Journal, Saturday-Sunday, September 26-27, 2020 - Article Southern hits United early by Sports Correspondent Lowell Spencer. Photos from the Morning Journal/Ron Firth.)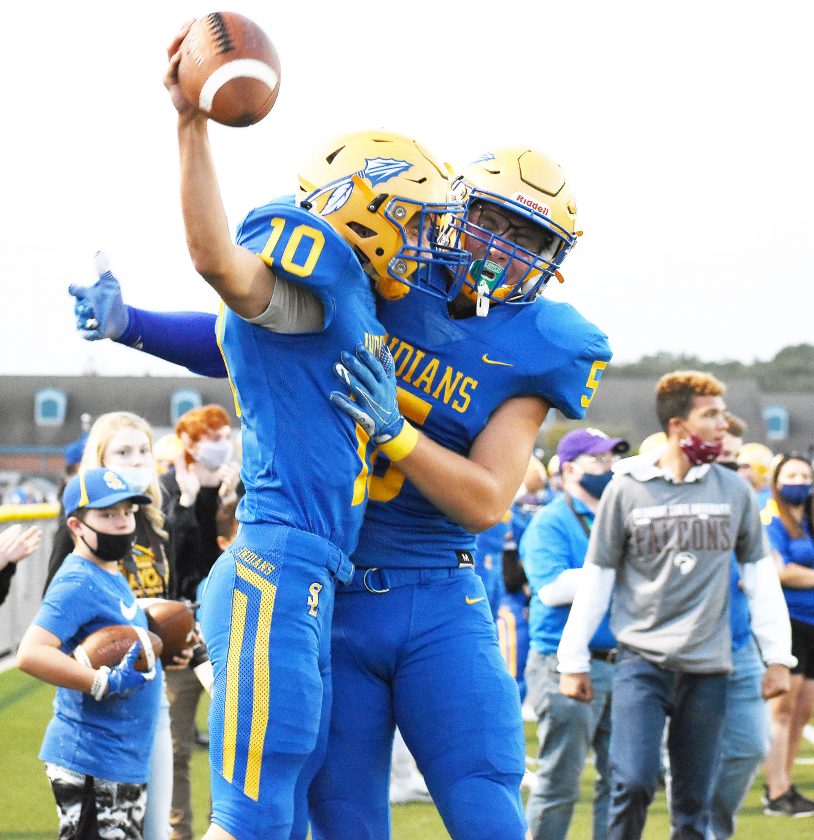 Southern Local safety Josh Pratt (left) is congratulated by Timmy West after an interception on United's first possession Friday. (photo credit: Ron Firth / Morning Journal)