Southern Winds Down Another School Year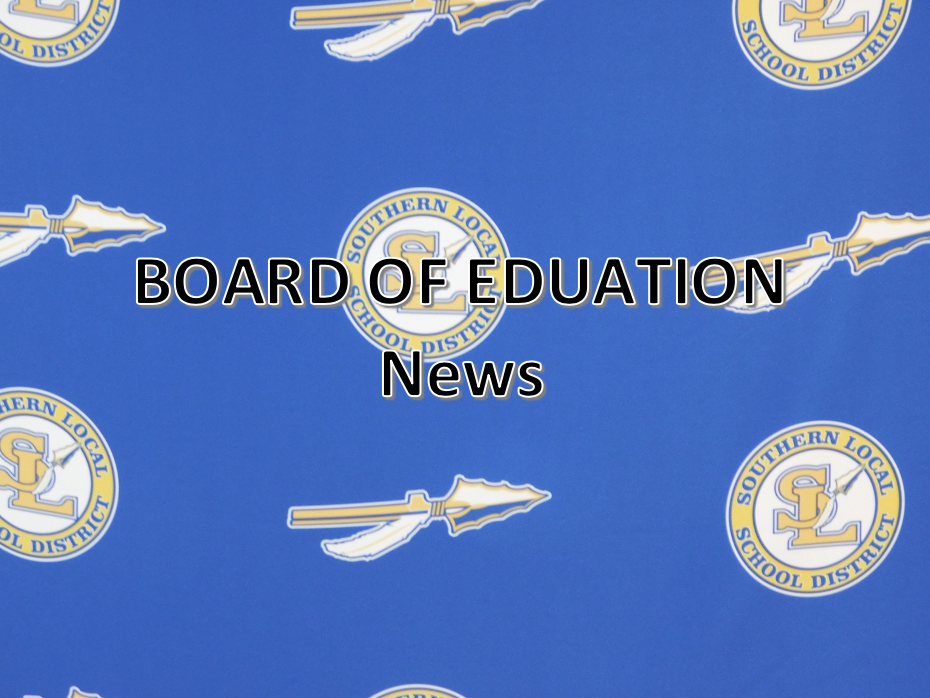 ---
Southern Winds Down Another School Year
SALINEVILLE-Southern Local Schools wound down another year and is looking forward to a new term as board members took a series of action during the June 8 regular meeting.
Superintendent Tom Cunningham said summer programs were getting underway with the Back to School Bash making its return in August to kick off a new term. Southern Local Jr./Sr. High School's summer school program runs June 9-July 2 and will assist students in grades 6-11 with credit recovery. Students would attend on Wednesday to Friday the first week and on Monday to Thursday for the duration of the program with the time set from 7:30 a.m. to 12:15 p.m. Southern Local Elementary is bringing back the Kids Summer Program for grades PreK-5. Activities will be held on June 15-17, June 22-24 and June 28-July 1 from 9 a.m. to noon and will incorporate literacy, math, science and social studies plus some hands-on learning fun. In addition, students will be provided with transportation, breakfast and a snack.
The summer school will also utilize Edgenuity, an Arizona-based online program which will also be part of the district's planned Indian Academy permanent online school option being unveiled this fall. Edgenuity offers K-12 learning solutions and partners with schools and districts throughout the country. The program will assist with credit recovery and test remediation during summer school and will provide engaging curriculum for students when classes resume. School officials previously said the academy was being offered as a permanent online option after a survey showed about 10 percent of district parents wanted to keep their kids at home. The program will go live in late August and kids can still participate in extracurricular activities and College Credit Plus if they enroll.
The change will bring an end to Virtual Fridays but the curriculum is user friendly with video lectures and resources embedded within the program. Students will receive daily monitoring in a self-paced learning environment, have weekly progress checks, gain access to Southern Local counselors and administrators for support and receive a school-issued device. Core courses are available from English and math to social studies while test prep courses will also be available to kids in and out of the academy with a subscription, plus some career tech options and life skills courses. For more information, contact the district office at (330) 679-2305.
Cunningham said the district was also promoting the online option though advertisements on Facebook and in newspapers to attract participants. He also continued that the summer food distribution will continue on Wednesdays with pickup at the school from 11 a.m. to 1 p.m. and gallons of milk and half-gallons of orange juice will be included. About 115 students are registered for that program and it is open to anyone in the district aged 1-18.
He then announced the Back to School Bash on Aug. 19, which is making a comeback after COVID-19 shelved activities last year. The superintendent said plans were in the works but it would be "back in traditional form" to welcome students and their families back. Previous events have included a distribution of school supplies and information from local agencies and organizations plus treats and fun for participants. Cunningham said teachers will return around Aug. 18 while students will be back in class on Aug. 24.
"It will our kickoff for the year," he said.
Cunningham concluded that faculty were continuing their book study on school culture while the preschool filled its full-day classes with spots available for half-day sessions. Officials were also eying playground upgrades at the elementary school for safety, plus they were looking toward next year with academic improvements.
Meanwhile, Brinker informed leaders that celebrations were held for the 50-year anniversary of school secretary Sandy Lewis and the retirement of speech and language pathologist Cynthia Peshel, whose last day was June 8. Peshel's retirement was later approved by the board and officials wished her well in her endeavors. Brinker continued that teachers completed PAX training which was financed with an estimated $14,000 prevention grant from the Columbiana County Mental Health Recovery Board. Preschool to first-grade teachers underwent training last year while grades 2-5 wrapped up their sessions last week. She further noted that 63 incoming students were registered for kindergarten with five students and families interested in the Indian Academy.
The board then took a variety of action on personnel matters and approved physical therapy agreements with Amy Purcell and Kelly Crosby for the 2021-22 school year; supplemental contracts for the 2021-22 school year for Marcus Reed as seventh-grade girls' basketball coach; a continuing contract for Mike Leonard as bus mechanic; staffing agreements for Fiscal Year 2021 for Utica Shale Academy staffing to include Matt Gates, Mike Skrinjar and McKenna Boals; a one-year contract for Andrew McCartney as a full-time substitute teacher for the upcoming school year; Gerard Grimm as a volunteer golf coach for the next school year; Brian Spahlinger as a volunteer assistant coach for summer baseball; a one-year teaching contract for Breann Jones as a second-grade teacher; and a list of substitutes including teachers John Bryan, Neil Claypool, Alexandra Elliott, William Jackson, Siera Liolios, Jody Lockhart, Tony Martini, Marianna Milajecki, Melissa Noland, Frank Rose, Scott Thornberry, Kathleen Vennum, Bonnie Wilkinson and Barb Witmer, nurse Ashley Dowling and non-certified staff Jean Boley, Jody Boyle, Jamie Clemens, Kim Crawford, Raymond Davis, Pam Deitch, Taylor Gauntt, James Householder, Lacey Locke, Angela Martin, Amanda Mayfield, Michelle Salus, Billie Sevek, Richard Sloan, Kristina Sosack and Nicole Vest.
In other action, the school board:
--Welcomed McCartney and Jones, who Brinker said previously served as substitutes at the elementary school;
--Approved a contract for special education services from the Jefferson County Educational Service Center as well as a service agreement with the Columbiana County ESC, both for FY'22;
--Approved a $500 donation from the Central Ohio Chapter of Professional Land Surveyors Organization;
--Approved the substitute rate for nurses at $150 a day;
--Approved using the same pay scale for the Virtual Learning Academy (VLA) with the Indian Academy at $240 for a full year and $120 for a half-year;
--Planned to conduct an appropriations meeting with Sabbato by the end of the month;
--Scheduled the next meeting for July 13 at 6:30 p.m.