Parents, Students Gather to Hear SL Reopening Plans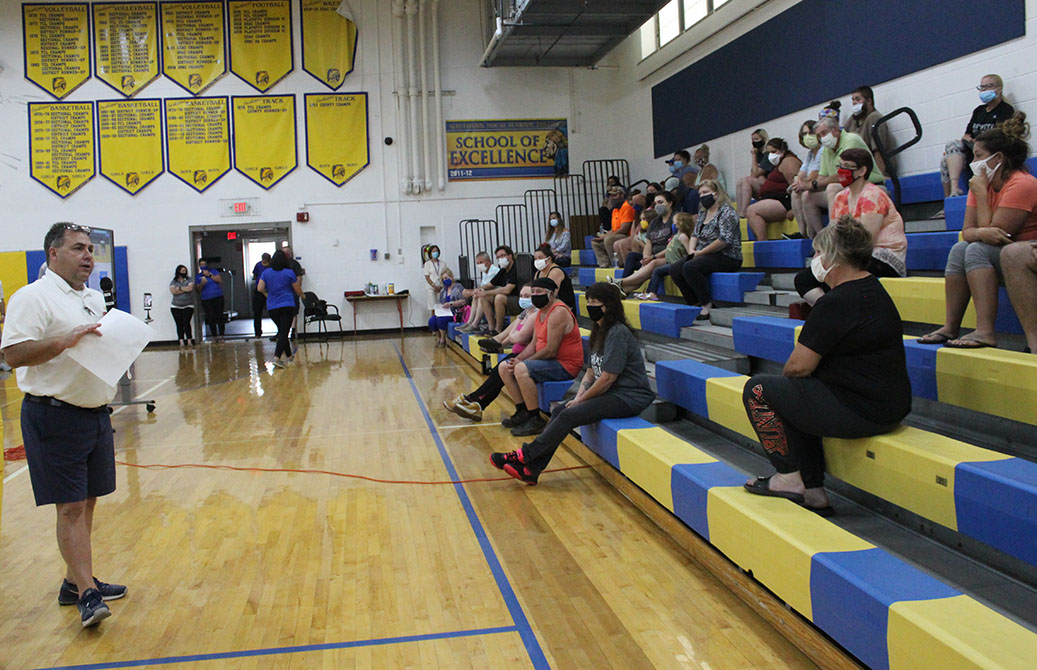 ---
Dozens of students and parents turned out on Aug. 12 to hear officials outline plans for the reopening of Southern Local Schools.
Superintendent Tom Cunningham gave an overview of the upcoming school year during an informational meeting in the Southern Local High School gym but said it was subject to changes from the state amid the COVID-19 pandemic. Cunningham was joined by district Director of Federal Programs Kristy Sampson, district Special Education Coordinator Laura Krulik, Southern Local High School Principal Jay Kiger and school nurse Heidi McIntosh for a subsequent question-and-answer session with the audience. School is set to begin Sept. 8 and Southern Local will provide face-to-face instruction five days a week in the buildings plus an online option for parents who have reservations about having their child return to class. The remote learning component will include online Virtual Learning Academy classes and teachers will provide personal interactions as well as video-based lessons.
Cunningham said officials meet on a weekly basis with the Columbiana County Health Department to review issues occurring in the county and he also holds discussions with other superintendents about plans for their respective schools. He added that there has been an uptick in coronavirus cases and there were color codes in place which would determine how school would be conducted. He said yellow was the lowest level, at which time traditional classes would be held; classes would remain open during the orange phase, but officials would be more cautious. At red, the district would heed the advice of county health officials which may include remote learning. At purple, or the highest level, schools would be shut down and all lessons would occur online.
"The county health director will give guidance and there are going to be tough discussions. We will also put our plan on Facebook, our school website and include information on busing and playgrounds," he added, saying details regarding students with special needs were still being ironed out.
However, parents have the option now to decide whether they want their child to return to the classroom or continue learning remotely.
"We will have a five-day week face to face and with a two-hour delay on Fridays. We have a large number of students taking the virtual option," Cunningham continued, saying that number was at roughly 30 percent and teachers will also provide video lessons and activities online for students to stay in pace with those in the classroom.
Cunningham continued that face coverings must be worn in school and on the bus and measures would be taken with social distancing and dividers in classrooms. Thermal scanners were also installed at school entrances with hand sanitizers accessible in classrooms, cafeterias and hallways while water bottle refill stations were installed last year. Additionally, buildings would be regularly cleaned with an electrostatic sprayer along with an outside cleaning company. He further noted that the schools were limiting visitors and volunteers and officials were looking at ways to reduce traffic by limiting time between classes. Efforts are also being made to curb traffic in the cafeterias with many students eating breakfast in the classrooms and having two to three people per table at lunch, plus recess time will become more structured. Regarding buses, students will be seated from back to front with one to two people per seat while two entrances will be created in each building to handle stagnant drop-offs.
Meanwhile, Sampson said parents can register their child online for the in-school or online option and provide information so the district could provide technological assistance if necessary.
"We need parents to register online for the option you want with your child. If you could navigate to the [school] website, there is a form wanting information and you pick option A or B. Option A is face to face and option B is remotely," she said, adding that the deadline to register is Aug. 21 and students can choose to stay in school or in class every nine weeks.
The second form also asks if students would attend class or learn remotely and if they have internet access and devices at home. Sampson said there was a possibility for another shutdown, but the district could provide help to ensure they receive an education regardless.
"The district received CARES funding to use for PPE and sanitizers or remote learning devices. We have updated teachers' computers to effectively teach students and updated internet capabilities for One-to-One initiatives and K-12 kids will be assigned a computer," she continued and urged parents to contact the district for any help they need.
Cunningham interjected that during the initial shutdown, officials did not know the specific number of students needing to share devices at home as well as those with limited or no internet, prompting leaders to contact providers for support this year. Every student will be assigned an individual Chromebook which they will use in class and dates will be announced to distribute the devices. He added that the Sept. 8 start date was selected because they wanted to have the best plan possible for students and work to minimize issues should there be a surge or surrounding schools face difficulties.
School officials then took questions from the crowd, with parents asking how ill students will be handled. Kiger said students with a temperature above 100 degrees will be taken to an isolation room and checked by the school nurse, who will review them further. McIntosh said parents would determine if their child should be tested and any exams would be done outside the school, but anyone with a fever must be out of school for 10 days under state health mandates. However, if they are fever-free after 72 hours they may be able to return. Some parents said a child may have allergies or other issues not related to COVID-19 that lead to higher temperatures and McIntosh said a doctor's note would be taken at that point. Other queries included services for special needs students and Krulik noted that they will have a remote service plan available to go with a child's Individualized Education Plan.
More information is available at www.southern.k12.oh.us or by contacting the district at (330) 679-2343.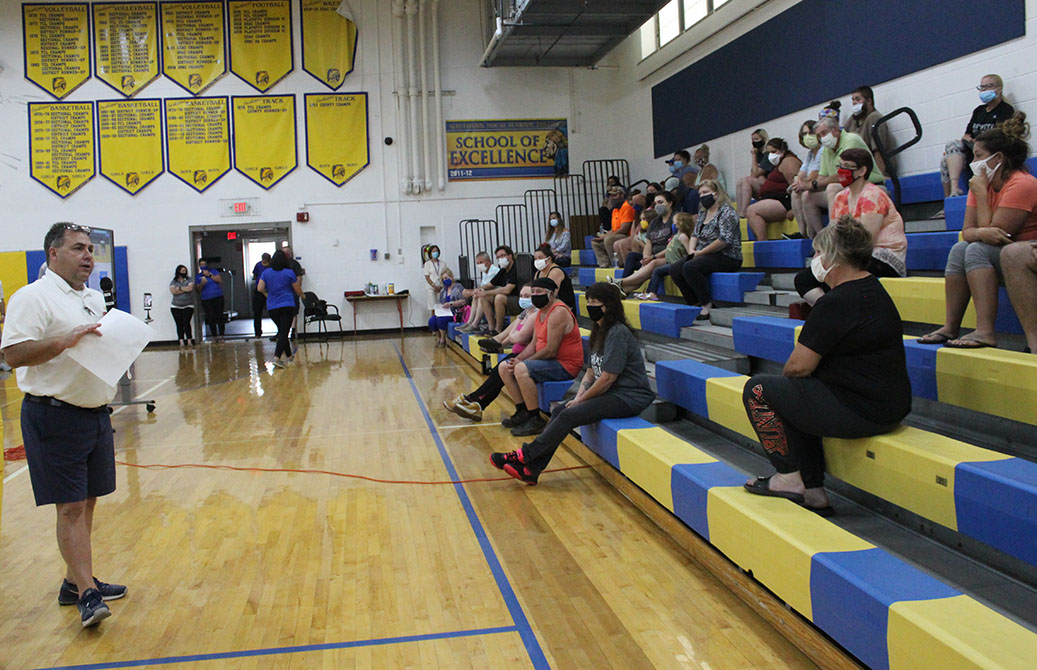 Southern Local Superintendent Tom Cunningham addressed a crowd of parents and students in the Southern Local High School gym on Aug. 12 during an informational session on the restart of school Sept. 8. Cunningham and other school officials discussed steps being taken to provide a safe learning environment for those who will attend classes as well as plans to assist students learning remotely. Registration for either option is Aug. 21 and more information is available online at www.southern.k12.oh.us or by calling (330) 679-2343.)