McFolling "Speaks Life" at Southern Local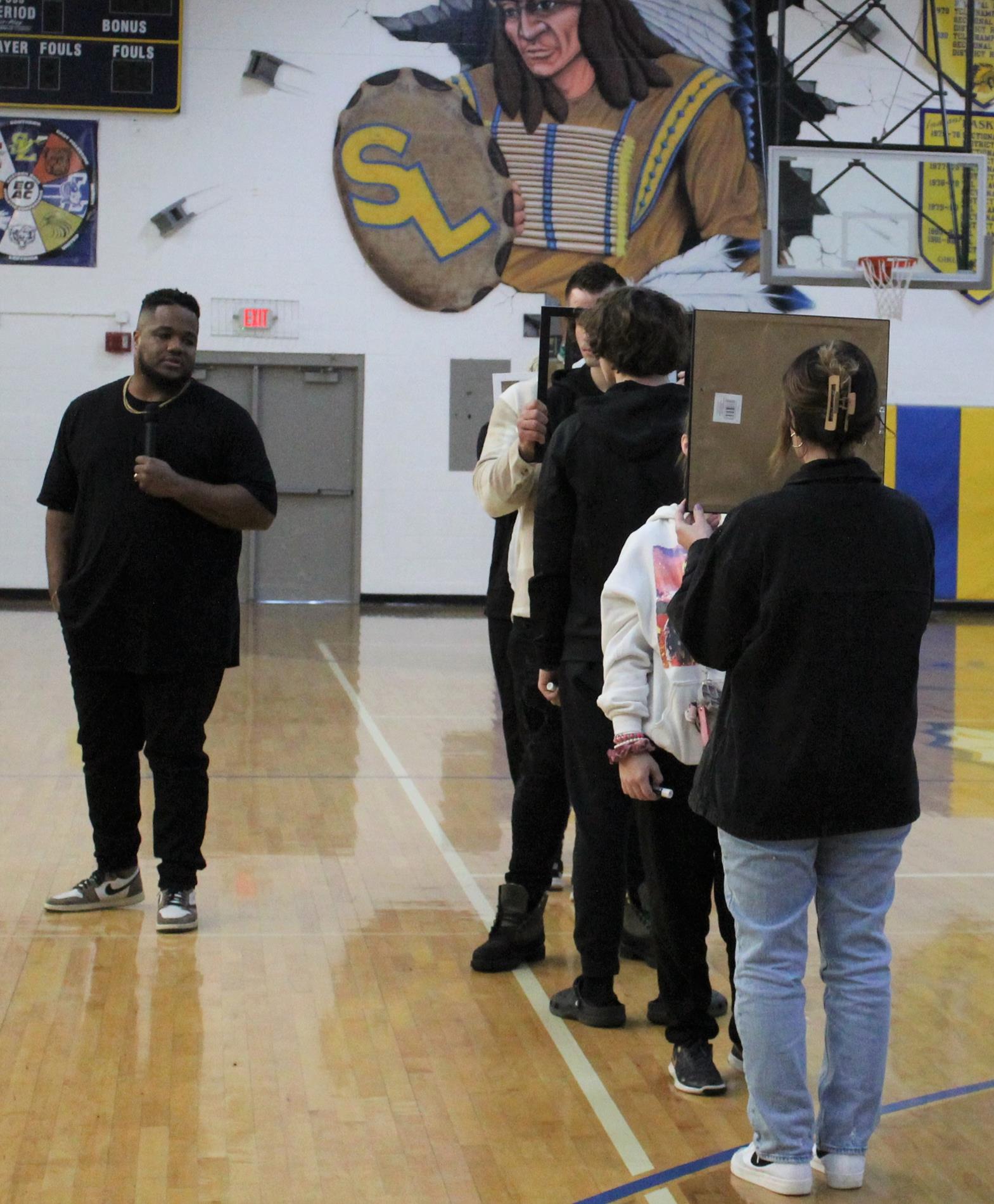 ---
McFolling "Speaks Life" at Southern Local
SALINEVILLE- Markus McFolling was a football player when an injury led him to a downward spiral. Now he's sharing his message of hope and encouraging others who are facing struggles in their own lives.
McFolling, of Canton, visited Southern Local High School on Dec. 9, where he led two sessions with junior and senior high students and also met with teens at lunchtime. A high school and college athlete from Seaside, Calif., he was a running back for the San Antonio Talons professional arena football team for more than three years when he injured his shoulder. He underwent surgery following the mishap and ultimately developed an addiction to painkillers.
"My doctor prescribed Percocet and I would do whatever I had to so I could get high," he said. "I was a star athlete who became an addict."
His addiction impacted his family, which included wife Chelsea and then baby daughter Averie. McFolling would purchase narcotics on the street and was arrested after attempting to acquire more from various doctors. In 2017, he was charged with deception to obtain prescription drugs and chose the honest path by pleading guilty in court, and his words moved the judge to drop the charges. McFolling sought help in a faith-based rehabilitation program and has worked to stay on the straight and narrow. It was also around that time that he decided help others.
"I wanted to use my pain and turn it into message. I realized I was someone who was good enough," McFolling added. "When I was in rehab and I was at my lowest of lows, I said I was going to do great things."
He went on to form the Reach1 organization, which stands for Reconciling Every Abandoned Child Home, and has traveled to schools, conferences and community events across the country to share his story of overcoming adversity. In October of 2018--nearly one year to the day he made that choice—he spoke to his first high school. Since then, he has addressed 310,000 people across the country and his next ventures were in the Dominican Republic and a session with the Seattle Seahawks. His personal life has also improved when his family expanded with the addition of another daughter, Dakota.
McFolling said people should use positive, life-affirming words to help others who are facing depression, anxiety, addiction and other struggles.
"There's someone in this room right now that's going through it right now," he added. "In 2017, about 57,000 people lost their lives to an overdose. That's more than the Vietnam and Korean Wars combined."
He asked students if they or someone they knew had been facing struggles with addiction or other issues, to which many teens raised their hands. He also conducted several exercises where the youth closed their eyes and raised their hands if they had thoughts of harming themselves within the past month to year. Other activities involved having several pupils look at themselves in mirrors and say affirmations, plus they shared positive words with teachers.
He said the purpose was to "speak life" and lift up themselves and others, and McFolling noted that teachers, parents and other adults were available for the youth to talk to.
"If you remember anything else I say today, remember this: I see you and I see you're struggling, but your life has so much purpose." Promise me you will talk to an adult sometimes when you need to."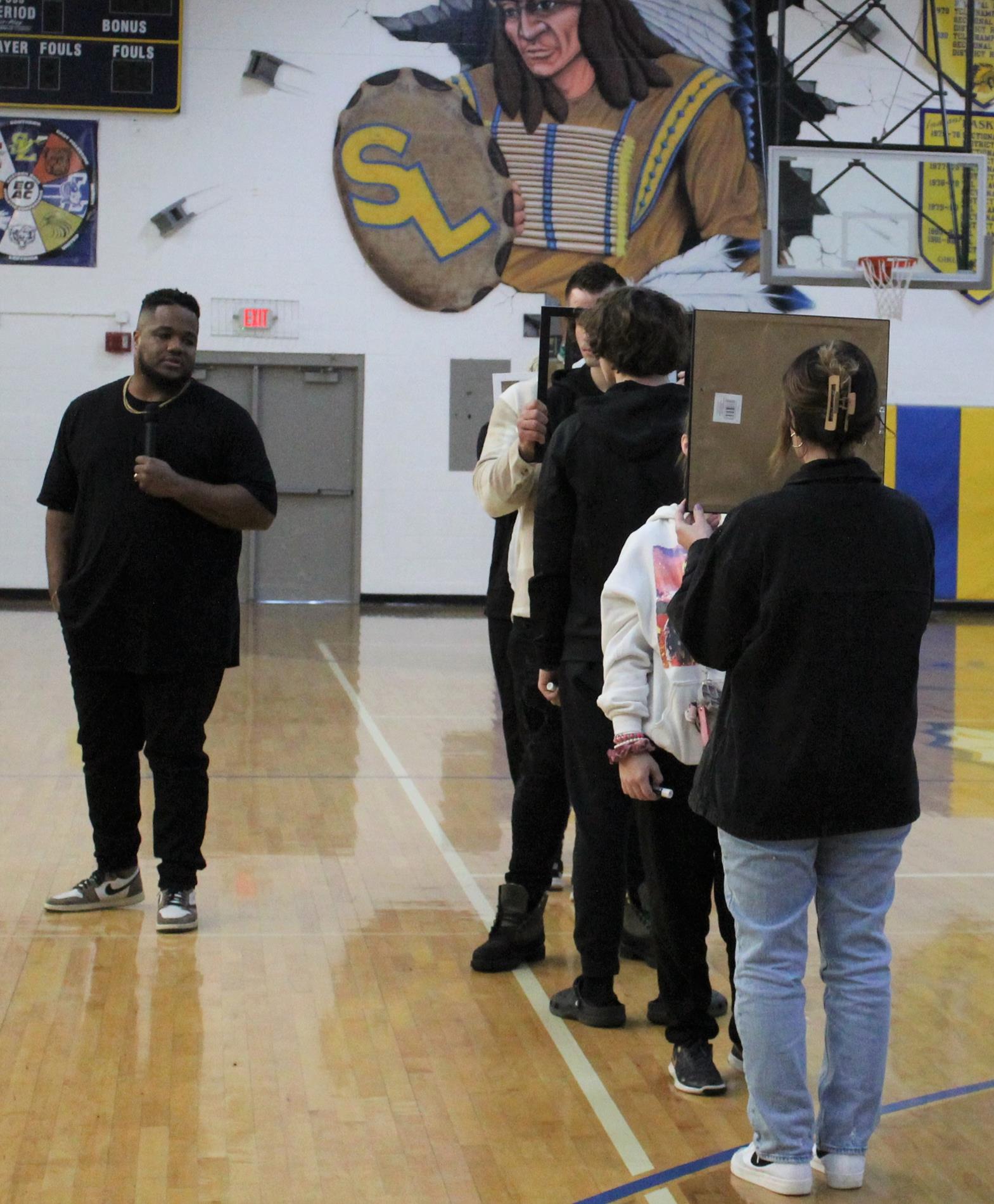 Speaker Markus McFolling addressed junior and senior high students at Southern Local on Dec. 9 as he shared his journey from athlete to addict and his mission to encourage positive living in others. McFolling developed his Reach1 organization and has since spoken in schools, churches and other venues. He is pictured here performing an exercise with junior high students during one of his sessions.