Students Learn about Fire Safety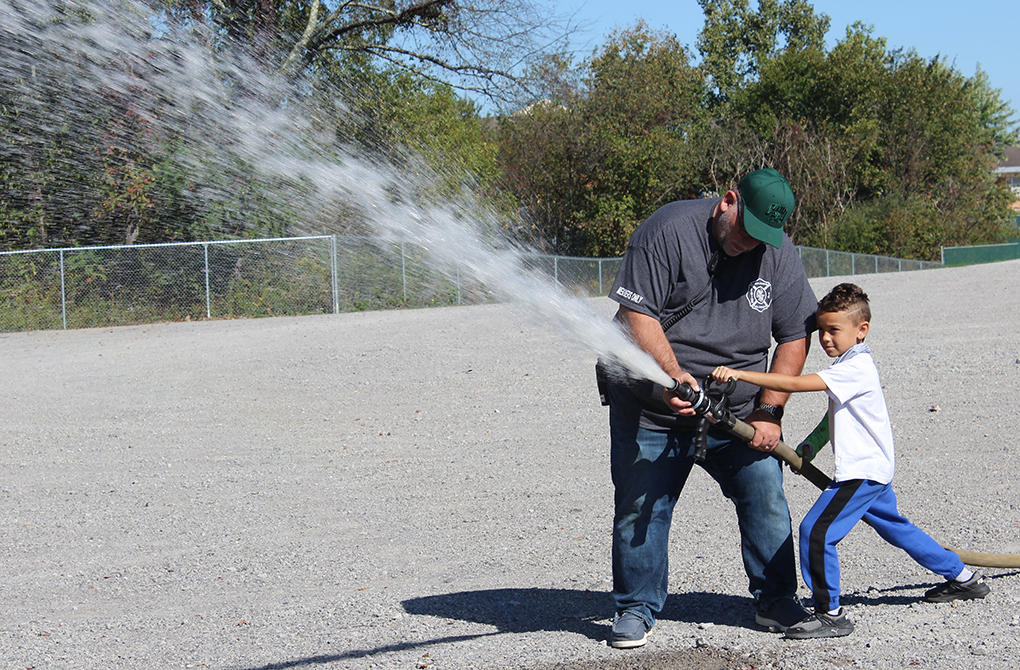 ---
Students Learn about Fire Safety
SALINEVILLE-Southern Local Elementary students learned some important lessons from local emergency crews during Fire Safety Week.
Crews from the Highlandtown, Salineville and Franklin Township Volunteer Fire Departments visited the school the weeks of Sept. 27 and Oct. 4 and shared tips about what to do should they find themselves in danger. HVFD Assistant Fire Chief B.J. Davis spoke to kindergarten to second-graders on Sept. 29 while Salineville and Franklin Twp. officials addressed morning, afternoon and all-day preschool classes and third-graders on Oct. 5 with events held at Wigwam Stadium for COVID safety purposes.
Davis, who was joined by firefighter/EMT's Michelle Cole and Dave Stock, explained how children should respond if their home were on fire. Among his tips were to close their bedroom doors at night to keep smoke out in the event of a fire; stay low to the ground and check the door to see if it is hot before attempting to leave the room; keep their rooms clean and not hide so safety crews could reach them faster; to not leave food unattended on the stove or use extension cords; keep smoke detectors on every floor of their house and change the batteries every spring and fall, while the detectors themselves should be replaced every 10 years; and to create an escape plan and conduct practice drills with family members. Davis suggested having an emergency exit route with a designated meeting area to ensure everyone got out safely. HVFD also conducts a contest and selects the top safety plans with prizes given to winners.
Meanwhile, Cole donned turnout gear which Davis explained weighed between 30-50 pounds and included enough air in their self-contained breathing apparatus (SCBA) for up to 45 minutes. He said an ambulance is regularly on standby to take firefighters' pulses and blood pressure to make sure they could continue working at the scene. Davis later said the students enjoyed the events and the department was pleased to take part.
"They love it. Every year we come out here and they bring up something we told them last year. If it helps one family and saves one life, it's worth coming out here."
Crews also brought safety vehicles to the scene and kids learned about the equipment on board and their uses, plus they got a chance to take part in a fire hose demonstration. Several students gave a thumbs up and said they enjoyed the experience.
"The best part was using the fire hose," said first-grader Hayden Slagle.
SLES Counselor Larry Rudloff told the youngsters that crew members were all volunteers who keep communities secure.
"They give their time to provide a valuable service to our school community," he noted.
In addition, fourth- and fifth-grade students also had an opportunity to watch fire safety videos and receive pencils and other materials to promote the cause. Fire Safety Week has been held annually at the school and Rudloff said lessons do pay off. He recalled a previous incident where a student contacted 911 after his father was injured at the family's home. The child recognized the firefighters who responded to help and said he learned what to do from their school visit.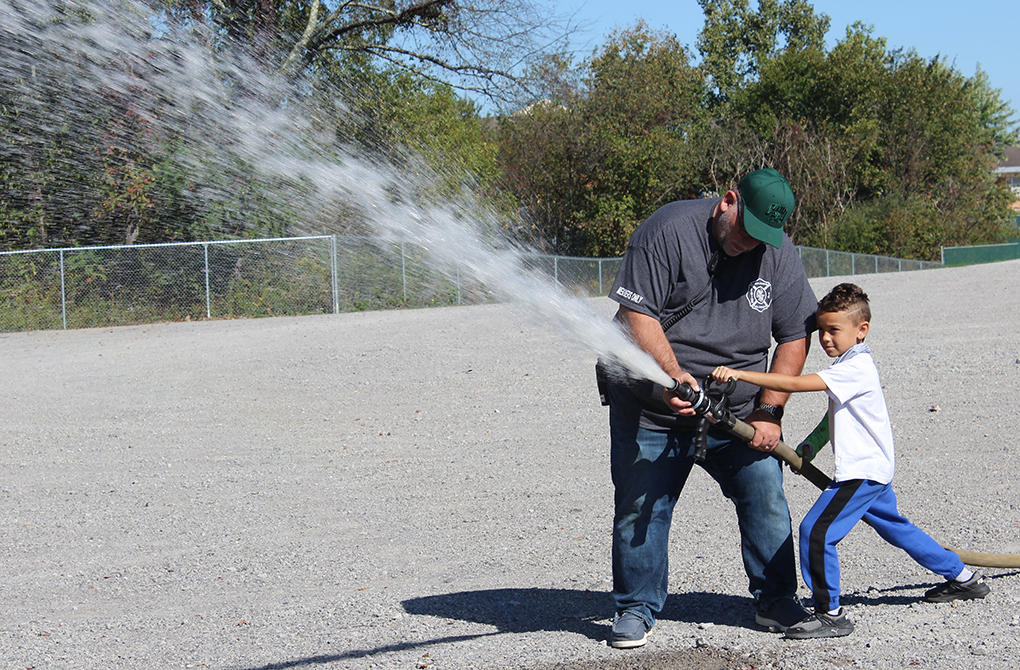 Izayah Crooms, a first-grader at Southern Local Elementary, takes aim with a fire hose with help from Highlandtown Volunteer Fire Department Assistant Chief B.J. Davis during a visit on Sept. 29. Highlandtown, Salineville and Franklin Twp. officials stopped by for Fire Safety Week and held presentations and demonstrations through early October with kids in grades PreK-3. Sessions were held at Wigwam Stadium and emergency vehicles were on hand to review.