Hurtig Shares Message of Hope Amid Adversity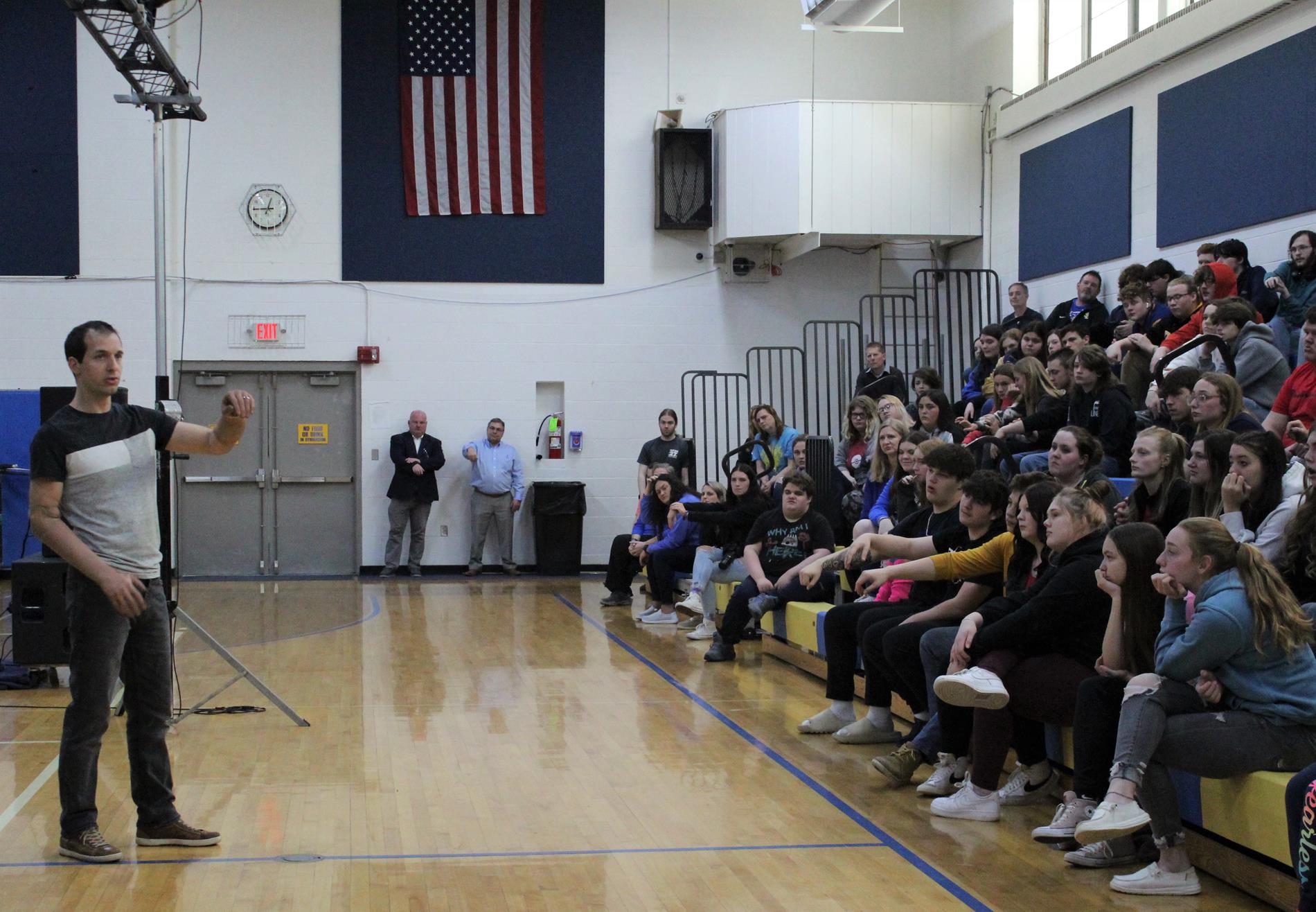 ---
Hurtig Shares Message of Hope Amid Adversity
SALINEVILLE - Brad Hurtig was a high school junior, three-sport athlete and a youth with the world as his oyster, but it all changed in a split second.
While working near his hometown in Northwestern Ohio, he was severely injured in an industrial accident and lost both of his hands. Hurtig received prosthetic limbs and his hopes on the football field appeared to be dashed, but he found the determination to overcome adversity and return to the game. He shared his inspirational story at Southern Local High School on March 21 and told students that they should find a way to reach their goals. Hurtig, who formed his Find A Way program in 2015, was joined by the band 10Talents and continued his motivational message of hope that evening in a separate event for the public.
He and his three brothers were raised in an active family and he said sports were a popular conquest. Hurtig played linebacker on his high school football team and was a stellar athlete, but one June night in 2002 he was working to earn some extra money when the fateful incident occurred. He, his brother and a friend were operating a 500-ton sheet metal press machine used to create car parts. While attempting to straighten a crooked piece of sheet metal, Hurtig's limbs became trapped in the machine and he severed his left hand and right arm.
"The first thing I remember was not the physical pain. The first thing I remember is hearing someone scream at what they saw when they looked at me. When I looked down, part of my left hand was still attached...and half of my right arm was missing."
Hurtig was taken to one hospital but transported by medical helicopter to another facility and underwent multiple surgeries, but doctors were unable to save his left hand. He completed physical and occupational therapy but pondered not playing sports again.
"I desperately wanted to go back in time and change what happened, but I couldn't," he added. "I came home to start a new life without hands. For me, I wanted to keep pressing on...but it caught up with me. I started to feel overwhelmingly sad because of things I'd never do."
Hurtig returned to school the next term with an aide to help him in class but was later outfitted with prosthetic arms featuring moveable fingers. His computer was also adapted with voice-activated software to help with classwork and he would also be able to ride an adjusted ATV to have some normalcy. But support from his football coach led him to seek another dream—to join the team once again.
He was invited to attend practice and a simple gesture turned into a valuable lesson.
"I saw a water bottle at the coach's feet. My coach looked down at the bottle, then he looked back up at me. He thought for a moment and said something that would ultimately change my life. He said, 'If you are thirsty enough, you would find a way,'" Hurtig recalled. "I said, 'I could do this.'"
He proceeded to pick up the bottle and take a drink, saying the water never tasted so good. That challenge gave him new perspective and the coach provided a chance to serve as a kicker for the team. It would take several attempts to kick a proper field goal before he switched gears and eventually returned as a linebacker; however, he faced some opposition to using his metal limbs during games. He was temporarily forced to wear padding on his arms before being permitted to play with his prosthetics. With grit and determination, Hurtig went on to lead the team in tackles and earn First Team All-Ohio during his senior year.
Fast forward to adulthood, and he has since traveled around the country to motivate students and businesspeople with his words of encouragement and corporate safety. Hurtig, who has been featured on the likes of ESPN and in the New York Times, said anyone could attain their dreams if they tried hard enough.
"We don't know how strong we are until strong is the only option. You need to go after it relentlessly," he added.
The presentation was interspersed with music from the band while Hurtig invited students to participate in challenges to retrieve a water bottle using their mouths, elbows and knees to show determination amid adversity. He closed with advice and encouragement for the pupils.
"If you are truly thirsty enough, you will push yourself further than you ever imagined," he concluded. "If you are willing to have the right mindset, you will adapt and persevere and you will find a way."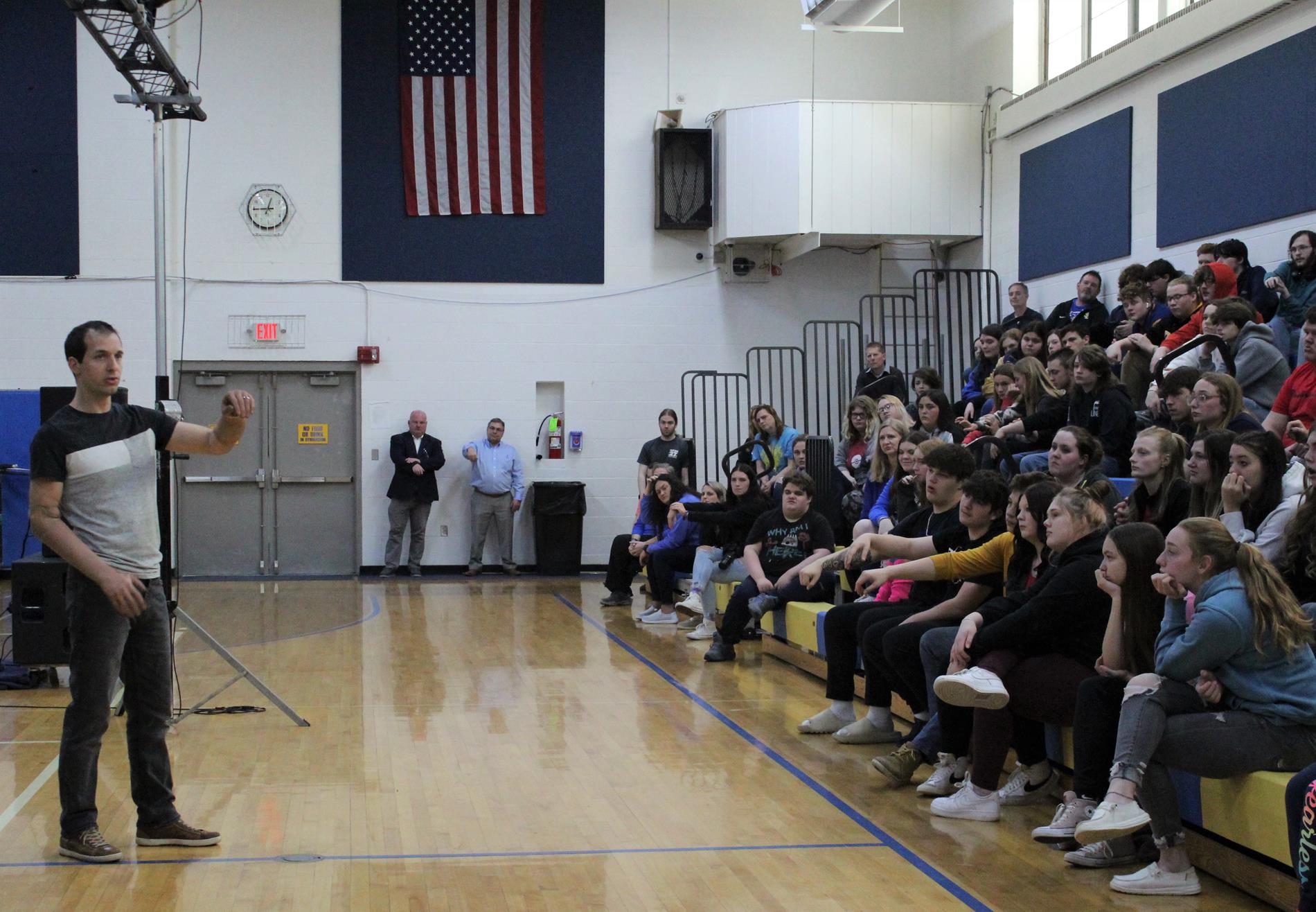 Motivational speaker Brad Hurtig shared a message of hope amid adversity with Southern Local High School students during a presentation on March 21. Hurtig lost both of his hands in an industrial accident as a teen and learned to use prosthetic limbs, and his determination helped him lead his high school football team in tackles as a linebacker and win First Team All-Ohio status.