Students Learn about Natural Gas Safety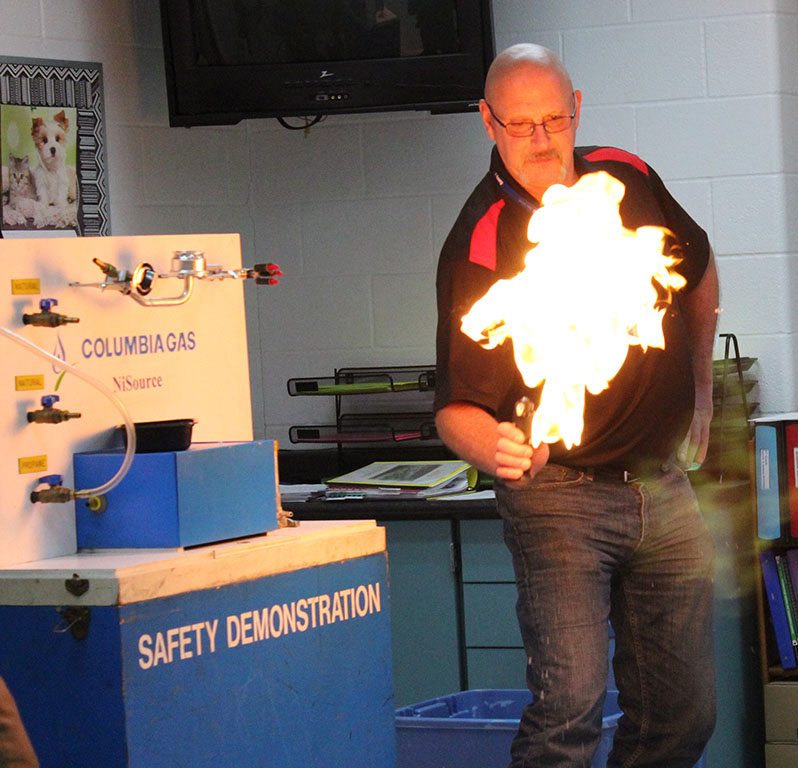 ---
Fifth-graders at Southern Local Elementary School learned the facts and potential dangers of natural gas during a special visit on Dec. 6.
Justin Magestro and Don Crum, representatives of Columbia Gas Ni Source, visited classes to discuss safety and perform a demonstration for the children. Magestro, a compliance officer from New Castle, Pa., said his job was to make sure departments complied with all safety regulations and Crum, who is retiring as a construction leader from the company's Salem office, had worked with contractors responsible for installing gas mains and service lines for utility use.
During the lesson, Magestro said natural gas was very safe but could become dangerous if not treated correctly.
"If you are at home, school or a restaurant or somewhere else and you smell natural gas, tell your parents or an adult," he said. "Don't touch any switches and tell the adults in the house to leave. Walk outside and call 911 on your cell phone."
Light switches and static electricity are possible ignition sources in addition to cell phones, which is why phones should not be activated inside during leaks. Magestro explained that the gas is normally odorless and colorless, so companies add an ingredient called mercaptain to provide a noticeable scent for leak detection. He also shared that propane is heavier than natural gas and sinks to the ground while natural gas rises. Meanwhile, fuel, oxygen and a heat source are needed to ignite a fire but natural gas needs a 5-to-15-percent gas-and-air mixture to become combustible.
Students were questioned about what they learned and the duo performed safety demonstrations such as igniting gas-filled bubbles and a glass full of natural gas to give further insight. Magestro and Crum have visited Southern Local over nearly a decade and travel around parts of Ohio and Pennsylvania to educate students. Their program was part of the elementary school's Safe Student/Healthy Student Initiative led by SLES Guidance Counselor Larry Rudloff.
"Columbia Gas has done this program for eight years," Rudloff said. "It's a nice program not only from a scientific aspect, but from a safety aspect as well."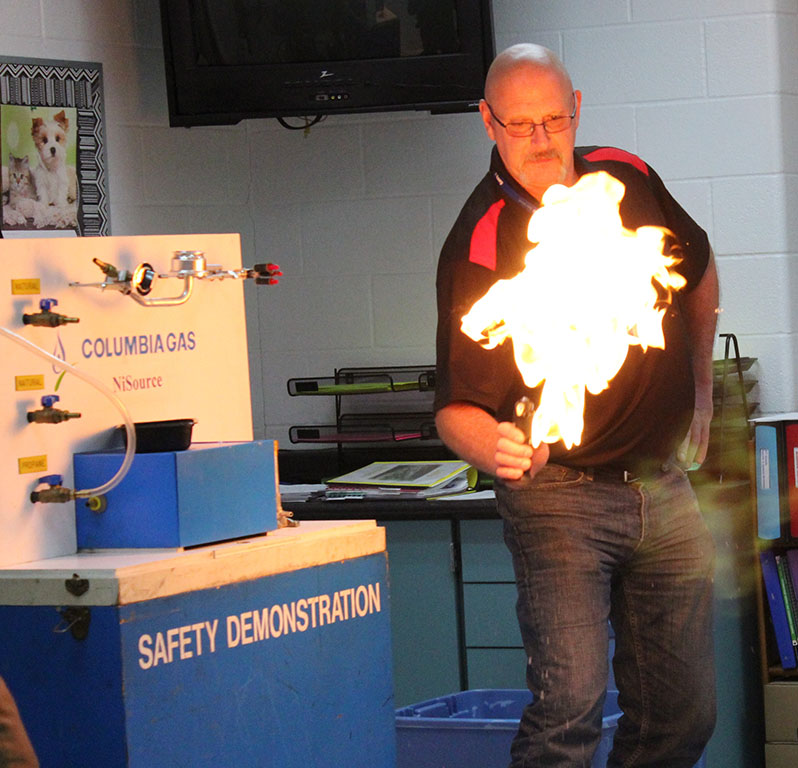 Don Crum, a representative of Columbia Gas Ni Source, demonstrates how flammable a propane-filled bubble can become during a safety demonstration at Southern Local Elementary School on Dec. 6. Crum and fellow company rep Justin Magestro were on hand to discuss natural gas characteristics and safety to fifth-grade classes as part of the school's Safe Student/Healthy Student initiative.