Southern Local Educators Undergo Safety Training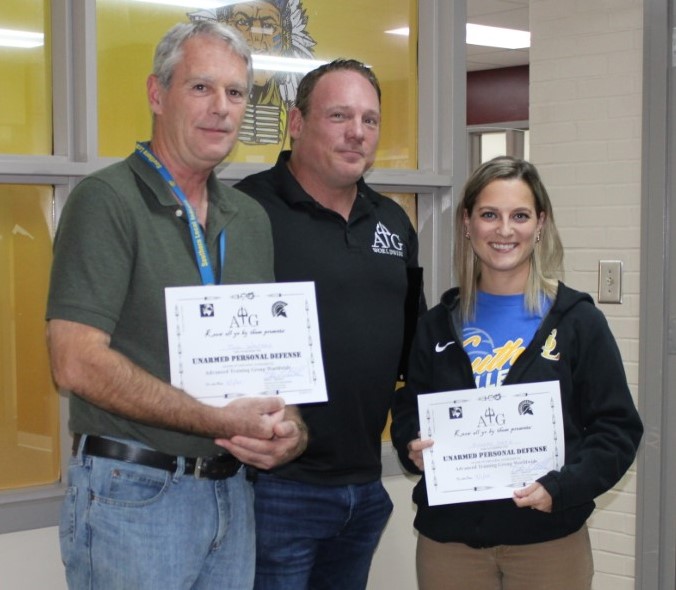 ---
Southern Local Educators Undergo Safety Training
SALINEVILLE-The Southern Local School District is addressing safety by training staff to subdue aggressors in an active situation.
Two educators underwent intensive training through Advanced Training Group in Lisbon between Aug. 24 and Sept. 1 to assist in incidents if needed. Southern Local High School guidance counselor Alannah Smith and junior high teacher Todd Walters spent four days working with ATG staff learning skills that may be utilized by the likes of military and safety forces. Deputy Haugh said he has attended ATG training in the past and it was no easy feat, especially for the likes of everyday citizens.
"This is not something the average person would have to go through," he said. "The training is normally reserved for Navy SEALS and SWAT teams, but a lot of what they go through could be used in a school scenario."
He said he had been in talks with ATG operator Adam Newbold, who had conducted trainings with the Columbiana County Sheriff's Office over the years and also worked with federal officials. The duo spoke about educating some educators and two representatives were sent from Southern for some hard-core instruction.
"They train that you can do anything if you have the belief," Deputy Haugh added. "It's something you can't imagine going through yourself and it affects you physically and mentally. It's far more advanced than anything I'd put anybody through, but the opportunity came up and we grabbed it."
Smith concurred, saying the experience was very intense.
"It was four days, or 16 hours, of training with hand-to-hand personal defense, recognizing a potential threat and acting accordingly," she commented. "There are opportunities to go back for train the trainer. It was extremely useful and I'll be able to use it throughout my life. I definitely learned life-saving skills to save yourself in any situation."
Walters described the training as very demanding and structured and said Newbold showed them techniques that make a huge difference in a desperate situation.
"I believe the training was well worth it and all of it has merit," he noted. "It was one of the most unique instructions I've had and he puts you through the paces. It was very physically challenging. I've told people, 'You'll never experience anything like this in your life. It doesn't matter your size, age or gender."
Newbold, a retired Navy SEAL, has also served as a special advisor to the CIA and commended Smith and Walters for their dedication to the unarmed defense sessions.
"They did an exceptional job and are very capable. We took them to a whole new level," he said. "It's fighting in a high-risk, life-or-death arena. It's used on SEAL teams and special tactics teams and shows reflexive reaction to a threat and situational awareness," Newbold explained. "I've worked with thousands of civilians and we do a lot of training with different schools in active shooter, aggressive response and armed and unarmed defense."
He said having those skills is vitally important, and having that added layer of protection in a school scenario makes a difference.
"When my child goes to school for seven or eight hours a day, I want them to be protected, and our faculty and administrators have to be protectors. I believe it's every adult's responsibility to protect the children. We've been working with schools and churches for the past 10 years, but for the past four years it's become a high priority for schools. Even if you have an SRO and they are on the other side of the school and something happens, we feel within every school system there are people with proper instruction who can fill the gap."
He said the training also helps give people opportunities to get away quickly or help until authorities respond to the scene. Meanwhile, more school staff were expected to undergo training at ATG and officials may also take part in a threat identification program with criminal profiler Phil Chalmers in Massillon on Oct. 26.
Deputy Haugh said it was just another way to prepare should an actual event occur in the schools, and it takes a hard lesson from the tragedies at Uvalde, Parkland and other schools.
"One thing in common with the school shootings is everyone believed it would never happen there. The Southern Local school board and administration have been very supportive of ways to enhance safety."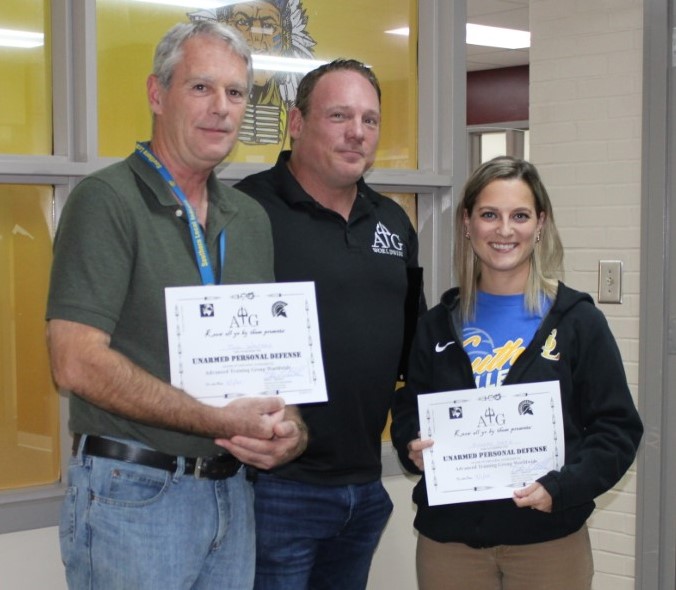 Adam Newbold, owner of Advanced Training Group in Lisbon, presents certificates to Southern Local School District teacher Todd Walters, at left, and guidance counselor Alannah Smith for completing intensive training at the facility. School leaders said it is another layer of protection in the buildings should an active situation occur.