Southern Local Gives Life at Blood Drive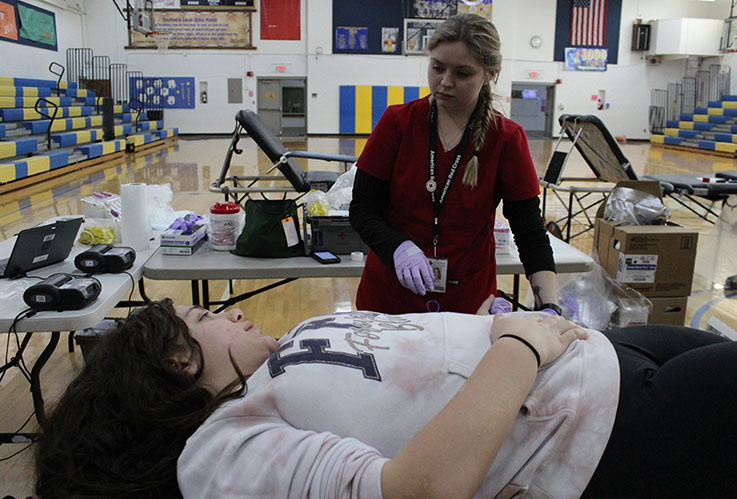 ---
Southern Local High School students, teachers, parents and community members turned out to give the gift of life during the second American Red Cross blood drive of the year, and now organizers have their sights set on a third event.

Twenty-five viable units were donated in the high school gym on Feb. 21 in a collaboration between the SLHS National Honor Society and the Red Cross, where NHS members manned registration tables to the canteen and Red Cross medical personnel oversaw the blood collection. Some attendants were first-time donors while others were regular contributors, but they all had the same purpose: to help someone.

Senior Dominic Pierson said it was his first donation and he believed it was important.

"It's a good cause," he said. "I would donate again without a doubt because it would save a life. It's the greatest accomplishment ever to save a kid's life."

Junior Arianna Goley, a past participant, agrees that the cause is vital.

"I've donated twice," she added. "I just like giving back and just knowing you are going to help someone who needs it."

Roxie West, an SLHS alumna and mother of more Southern grads, has seen the importance of the event as both an oncology nurse and as a community member.
"I feel like I need to give back. I was an oncology nurse and I've donated to help cancer patients," she added, saying several of her children have also volunteered in the past.

NHS Advisor Jody Lockhart said the first activity in November raised 32 units while a goal of 25 units was set for the latest effort. Student members sent about 20 letters to community members who previously gave at the blood drive but she has seen a mixture of old and new faces.

"The ones who donated before know what to expect," she said, adding that they are familiar with guidelines for contributions and the process itself.

Anthony Perris, donor recruitment account manager for the Red Cross in Canton, praised the school for its consistency in gathering volunteers to help save a life.

"High schools are one of the most dedicated donor pools. Not only do they have students but also parents who want to help the community. In 2007, [Southern] raised 60 units when the goal was 30. Even for a smaller school, here it is really good. It's nice to have a new donor, but every time you have a consistent donor pool it's special."
Perris said one unit of blood could help multiple people when divided into red blood cells, platelets and plasma. While the program has been biennial, efforts are being made this year to offer a third blood drive on May 6 from 7:45 a.m. to 1:30 p.m.
Meanwhile, the Red Cross will provide scholarship money toward a senior NHS member for every 25 units collected and the funding will help the graduate further his or her education.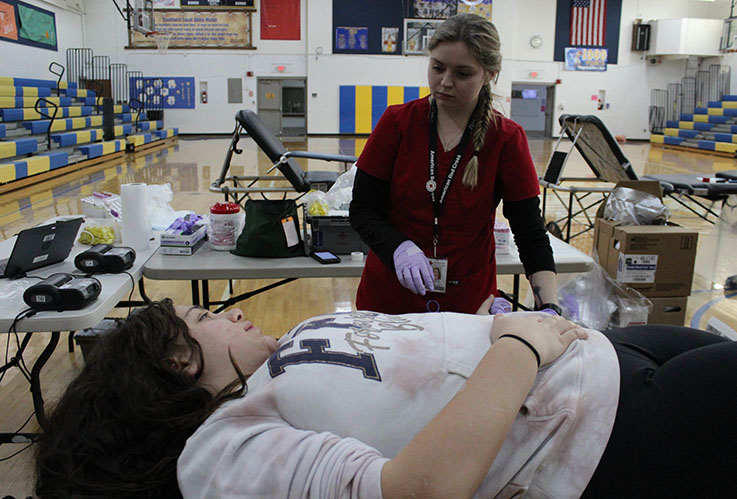 Southern Local High School junior Arianna Goley gives the gift of life during the second American Red Cross Blood Drive of the year in the school gym on Feb. 21. Twenty-five viable units were collected from students, teachers, parents and community members and Goley has been a previous donor. She is pictured with Red Cross medical staff Krista Leonard.