Southern Building Character Programs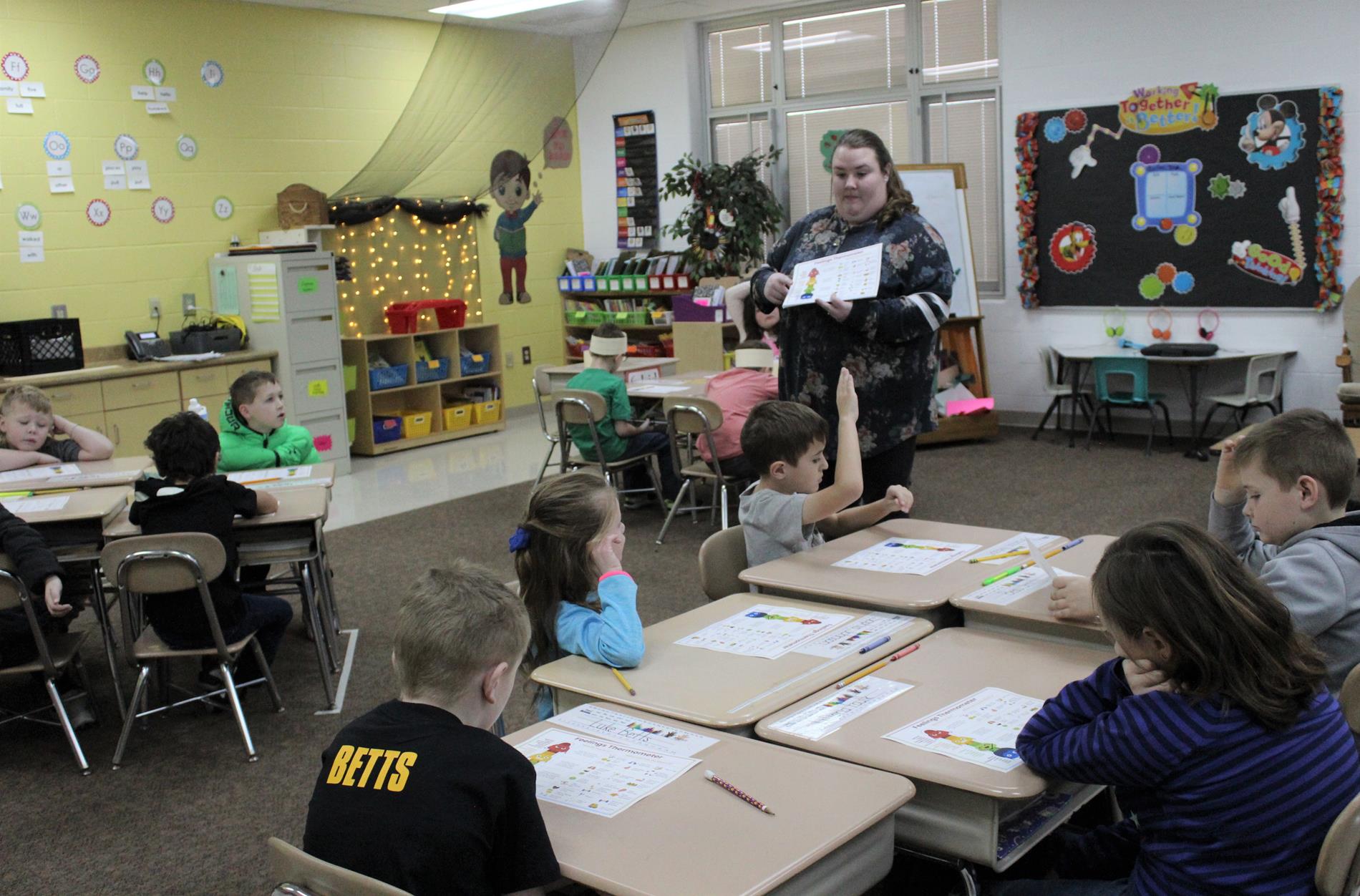 ---
Southern Building Character Programs
SALINEVILLE-Southern Local Schools will build upon its character-based programming by introducing Aiming High and Anti-Virus to junior high students.
The district has hosted Aiming High, which is provided by Family Recovery Center of Lisbon, for more than two decades. More programs kicked off this month for second- and fifth-graders and it will expand to the seventh- and eighth-grade classes in February. During one recent visit on Wednesday, prevention educator Kierstin Fillman spoke to second-graders about identifying feelings and emotions and methods to cope during periods of sadness, nervousness, anger and more.
Fillman said her topics each week include self-esteem, feelings and emotions and coping skills, decision-making and growth mindset. She added that she has witnessed plenty of interaction among the kids and they have been very engaged in the activities. At her session, students described feeling happy, sad, angry and excited and the corresponding emotions from smiling and crying to yelling.
"If we can start to recognize those emotions, especially that you get a red face when you are angry, [you can] prevent yourselves from getting angry," she said, noting that in those situations, they should try quietly counting to 10 or 100, or even taking a few deep breaths. "We want to be able to help ourselves. We want to be able to care for ourselves."
Fillman also provided information and activities for the students to keep so they can help recognize their emotions and ways to counter negative feelings.
Aiming High has been provided in grades K-5 and offers age- and grade-appropriate programming for each class. When it begins at the junior high next month, those students will learn about such subjects as drug prevention and social relationships. SLHS Assistant Principal Jess Krulik said the intent is to spread positivity and help build values that carry forth in the students' lives.
"Aiming High will be put in the English curriculum and they will do presentations then," Krulik said. "We are planning to implement it Feb. 2 in grades 7-8. It will be done on Thursdays through February and they will discuss self-esteem, social relationships, good morals, drug prevention and violence prevention."
SLHS will also host the Anti-Virus program to the sixth grade on Feb. 30 to help develop character and leadership while speakers will also pay a visit come this spring.
"Anti-Virus is done once a week for a nine-week period and that's also done through the Family Recovery Center," he added. "It relates to character values such as hard work, responsibility, emotions, restraint, common sense and generosity. We want to address the junior high and instill programs now so they could carry them forward and we can continue through high school."
Krulik said everything ties together, even with the school's Positive Behavior and Intervention Supports (PBIS) system to promote good choices and positive actions throughout the building.
"The Family Recovery Center supports the values with the speakers and we are using these character values to bring speakers such as Markus Folling," he added, referring to a recent session with the former football player and drug addict who turned his life around and now speaks out on positivity and suicide prevention. "[SLHS Principal Rich Wright] has been speaking to Beaver Local about the speaker they were bringing in and it was perfect for what we are doing."
To that end, Brad Hurtig is expected to visit around March and discussed how he faced his personal struggles and overcame them. Hurtig is a double-hand amputee who went on to become an All-Ohio athlete and now speaks to his theme, "Find A Way."
"It all works with our PBIS. Once we had Markus Folling, we started incorporating it into the PBIS so we can support the values of what the speakers were pressing—staying away from drugs and having positive thoughts."
He said there has been a growth in PBIS rewards among SLHS students, who have been treated to ice cream sundaes and snacks as a result of their good deeds. The most recent PBIS reward was extended to about 200 pupils.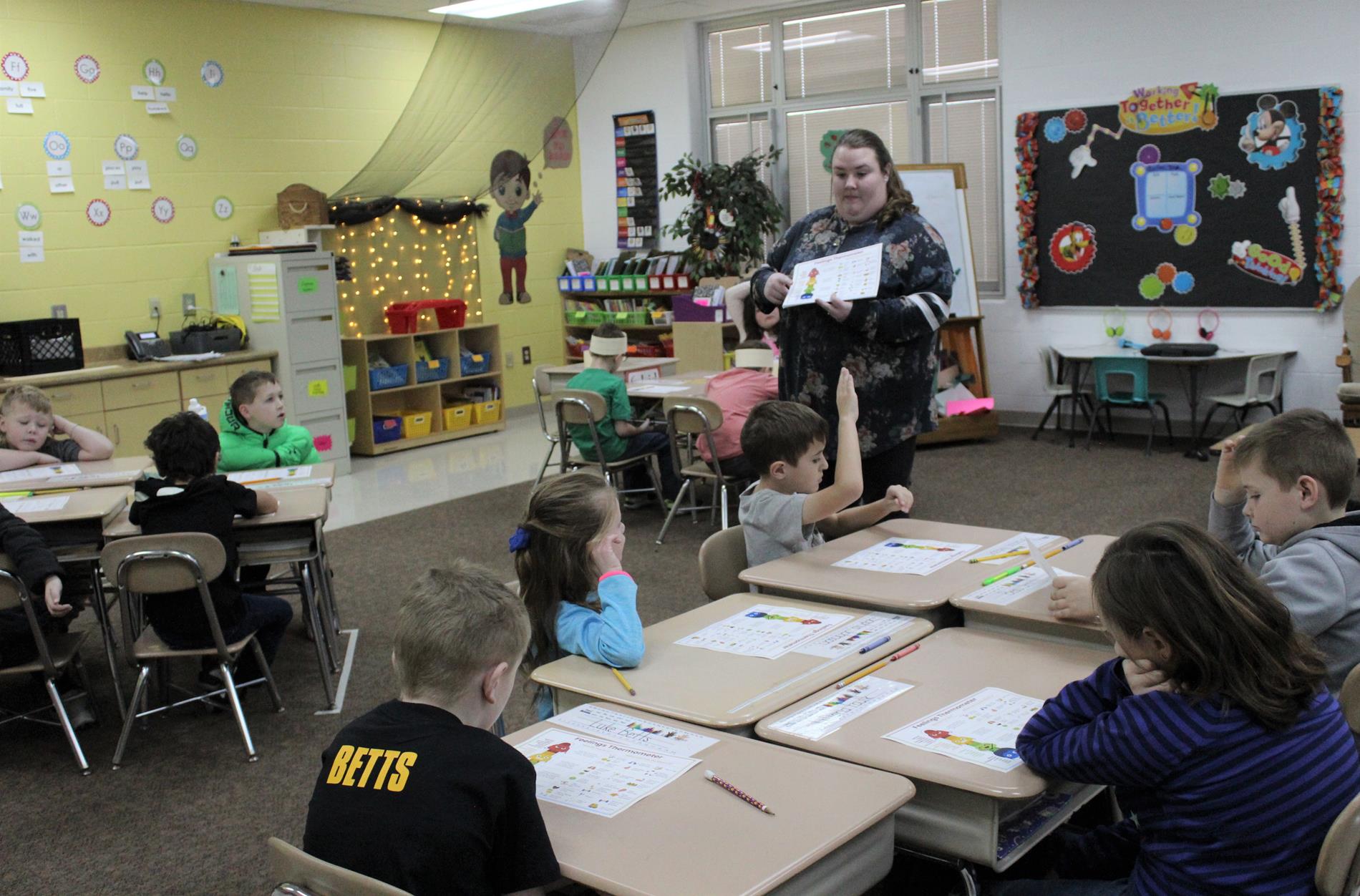 Kierstin Fillman, a prevention educator at the Family Recovery Center of Lisbon, talks to second-graders at Southern Local Elementary about feelings and emotions during the latest session of the Aiming High session. Aiming High will expand into the junior high starting in February in addition to the Anti-Virus program and visiting speakers for character building and enrichment. Southern Local officials are aiming to incorporate positivity and values throughout the buildings so all students learn to make good choices.