Hospitality Services on Tap at USA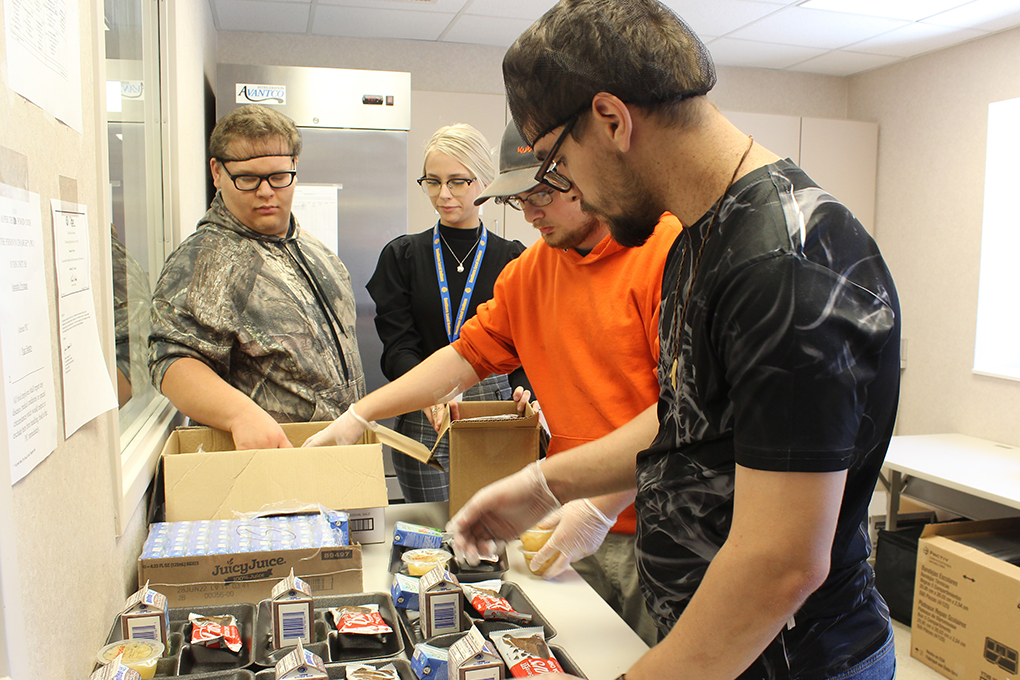 ---
Hospitality Services on Tap at USA
SALINEVILLE-Utica Shale Academy has branched out with more programs to build the workforce, and one of its newest offerings is in hospitality services.
USA's new home base at the former Hutson Building on East Main Street in Salineville has become a worksite for the Mahoning and Columbiana County Training Association hospitality program. Instructor Paige Beatty said 20 students currently participate but more join each day. The program began on Sept. 20 and pupils take classes while also working onsite. They get hands-on learning by preparing and serving prepackaged food, handling inventory, tracking food temperatures and expiration dates and sanitizing the building, skills Beatty said are similar to those used by restaurant employees so they may acclimate themselves to a job even faster.
"They learn the importance of hygiene and keeping things clean and organized. They also work towards a ServSafe certificate," she said. "It will help them for when they graduate."
They also perform 20 hours of community service with fellow USA students to earn a seal for graduation. Among their projects are to serve breakfast at the Kiwanis Club every other Saturday and beautifying the school property. Next, they will update Salineville Park's tennis court with some new paint and gravel work.
Beatty said the hospitality program provides another skillset for students so they can find jobs after graduation.
"They love it. I have female students who may not want to weld and didn't feel like they had options available. Now they feel like they have something to fall back on," she commented. "We've also gotten a lot of great feedback from the community."
Students prepare and serve breakfast and lunch meals at USA while taking classes between mealtimes. Beatty said five different pupils work on rotation each day to give everyone a chance and several students said they like gaining the experience.
"I was working at a cemetery in Salem and was missing some school credits, and I learned I could work [and learn] and kill two birds with one stone," said junior Leroy Rickey.
"I like helping to make food and doing community service," added junior Michael Wilson. "It's good to be a part of it."
"We try to focus on life skills they would do every day," Beatty said. "We're always learning something new and these are things they can take with them throughout their lives."
Utica Shale Academy, which is provided through the Southern Local School District, provides curricula for grades 9-12 that are required by the Ohio Department of Education, including a customizable digital curriculum allowing for acceleration or remediation along with flexible scheduling and safety certification courses. Graduates receive a high school diploma, certificates and college credit options offered through Eastern Gateway Community College. USA also includes welding, industrial maintenance and an upcoming diesel mechanics program. For more information, call (330) 383-6575 or the website at uticashaleschool.com.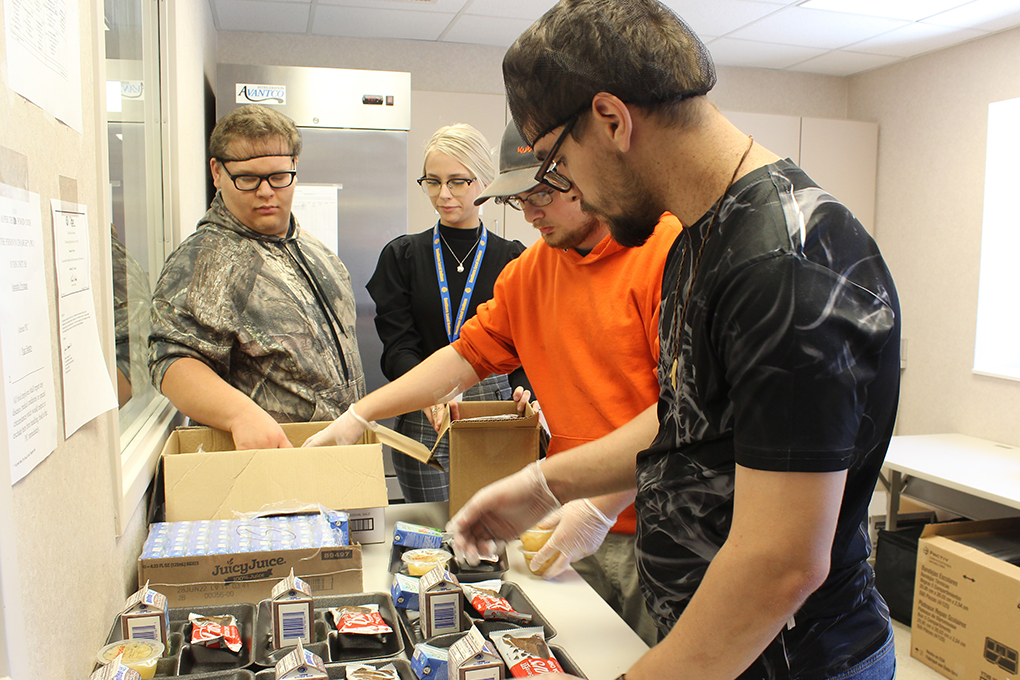 The Utica Shale Academy has added a hospitality program as a worksite through the Mahoning and Columbiana County Training Association to give students another option for the workforce. Students learn in class but may also work onsite and perform community service to gain credit towards graduation. Pictured are, from left, junior Michael Wilson, instructor Paige Beatty, junior Leroy Richey and MCTA employee Zachary Robinson-Hunley preparing prepackaged meals for students. For more information, contact USA at
(330) 383-6575 or the website at uticashaleschool.com
.)