Contracts Renewed at Southern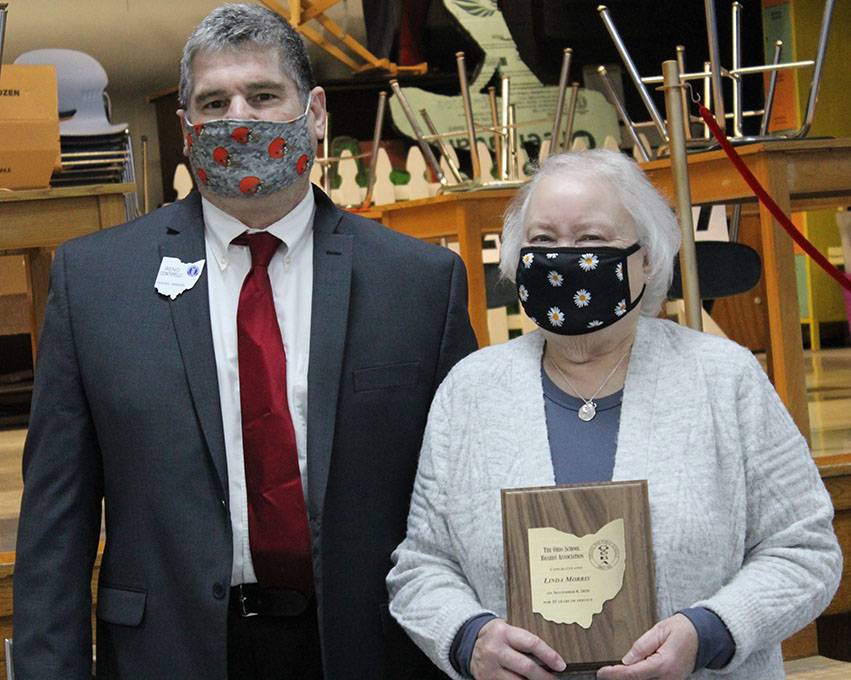 ---
New contracts have been approved for Southern Local Superintendent Tom Cunningham and other officials during the regular school board session March 9.
Cunningham received a five-year extension with a pay increase from $95,000 to $100,000 as part of the pact. He is currently in his third year as superintendent and was excited to continue his tenure at Southern.
"I love the schools and I love the community. I look forward to being here for the next five years and beyond," he added. "I appreciate the board's support and I'm very happy."
Also approved were district Federal Programs Coordinator/Administrator Kristy Sampson and Southern Local High School Principal Jay Kiger, who each received a three-year deal.
Sampson has been part of the district for about 15 years and served as a grades 7-12 health and physical education teacher from 2006-12, federal programs/grant management administrator from 2012-14 and was federal programs and grants manager and special education director in 2014-15.
"We had a long-time special education director retire and the district wanted some time to post this position and hire someone, so it was added to my role temporarily. I then was the elementary principal for four years from 2015-2019. Then the last couple of years I have been back into my position I am currently in as a district office administrator," Sampson, who did not attend the session, later said. "I love working here and am excited for the continued opportunity to do so."
Kiger, who has helmed SLHS for the past two years, was also pleased to return.
"I'm thrilled. I really enjoy the staff and kids at Southern," Kiger commented. "I think we're doing good things together and I hope to continue down this road."
On a similar note, the board granted three-year supplemental contracts in lieu of the one-year deals approved at last month's meeting for SLHS Cross Country Coach Kathy Randolph, Volleyball Coach Bob Shansky and Football Coach Rich Wright. Board President Kip Dowling expressed his pleasure with the deals, saying the officials will keep Southern moving forward.
"We're glad we have [Cunningham]. He's done a good job and he's got great ideas," Dowling noted. "We have great administrators and I think we're going in the right direction."
Meanwhile, the board approved the second reading of an acceptable use policy regarding social media. The code prohibits social networking sites such as personal Twitter, Facebook and blogs during instructional time and inflammatory comments "that could compromise the district's mission, undermine staff relationships or cause a substantial disruption to the school environment." This includes online conduct on personal computers off school property and other rules include not posting information about students, employees or school system business and posting inappropriate content that negatively impacts their ability to perform their jobs. Cunningham said the code was modeled after similar policies in other districts and was simply a precautionary measure.
"Social media is playing a bigger role and we want to ensure the safety of our students and staff," he said.
In other matters, the board:
--Heard from Reno Contipelli, northeast regional manager of the Ohio School Boards Association, who recognized board Vice President Linda Morris with the Veteran Member Award for 25 years of service;
--Approved a one-year contract for Karleigh Davis as athletic trainer for the 2021-22 school year;
--Approved Siera Liolios as a substitute teacher;
--Approved the retirement of multi-handicapped aide Mary Ann Szalkowski effective April 1;
--Learned from Southern Elementary Principal Rich Wright that 65 students were remote but more are requesting to return to the classroom. He added that state testing starts at the end of March and students in grades 5-6 have been taking part in morning intervention programs, plus the school American Heart Association Jump-A-Thon benefit was set for the next week and first-grade teacher Nicole Beadnell was the February Staff Spotlight;
--Heard from Kiger that kids were back in class and it was feeling "normal again";
--Heard from Senior Class Advisor Bob Shansky that the 2021 senior prom, Mask-A-Rade, will be held April 23 with a grand parade at Wigwam Stadium to allow for social distancing, followed by pictures in the elementary gym, a four-course catered dinner in the high school cafeteria and dance in the high school gym. Tickets are $25 per person while seniors were free. He added that graduation was eyed for May 28 at the stadium with a rain date on May 29. Hopes are to have the Class of 2021 receive their diplomas in a safe manner under COVID-19 protocols. As athletic director, he noted that winter sports were completed, spring sports were up and running and presented a thank-you token from the boys' basketball team, which was league champs for the first time. Board members received a note and snippet of the net after clinching the first three titles;
--Learned from Utica Shale Academy Administrator Bill Watson that the virtual welding equipment has been installed in the Southern classroom and more grants were being sought, including one to beautify the Salineville park area. He noted that Kiger was leading the renewal of the CTE-26 and a health career pathway was added for possible STNA or medical coding programs in the future;
--Heard from Cunningham that Coffee with the Superintendent will restart on the second Friday of each month to discuss school-related issues with the community and more information will be forthcoming. He added that
--Approved an agreement with LLA Therapy for student services until July 31, 2022;
--Scheduled the next regular board meeting for April at 6:30 p.m. in the high school cafeteria.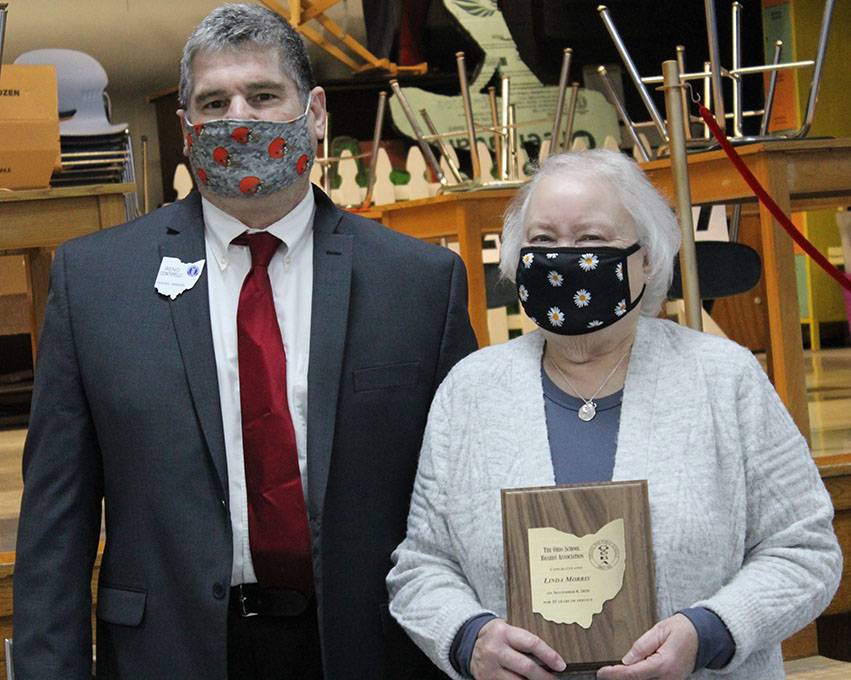 Reno Contipelli, northeast regional manager of the Ohio School Boards Association, recognized Southern Local Board of Education Vice President Linda Morris with the Veteran Member Award for 25 years of service during the regular board meeting on March 9. Contipelli said the OSBA had about 3,500 board members but very few have achieved such a milestone.