Fire Safety Lesson at SLES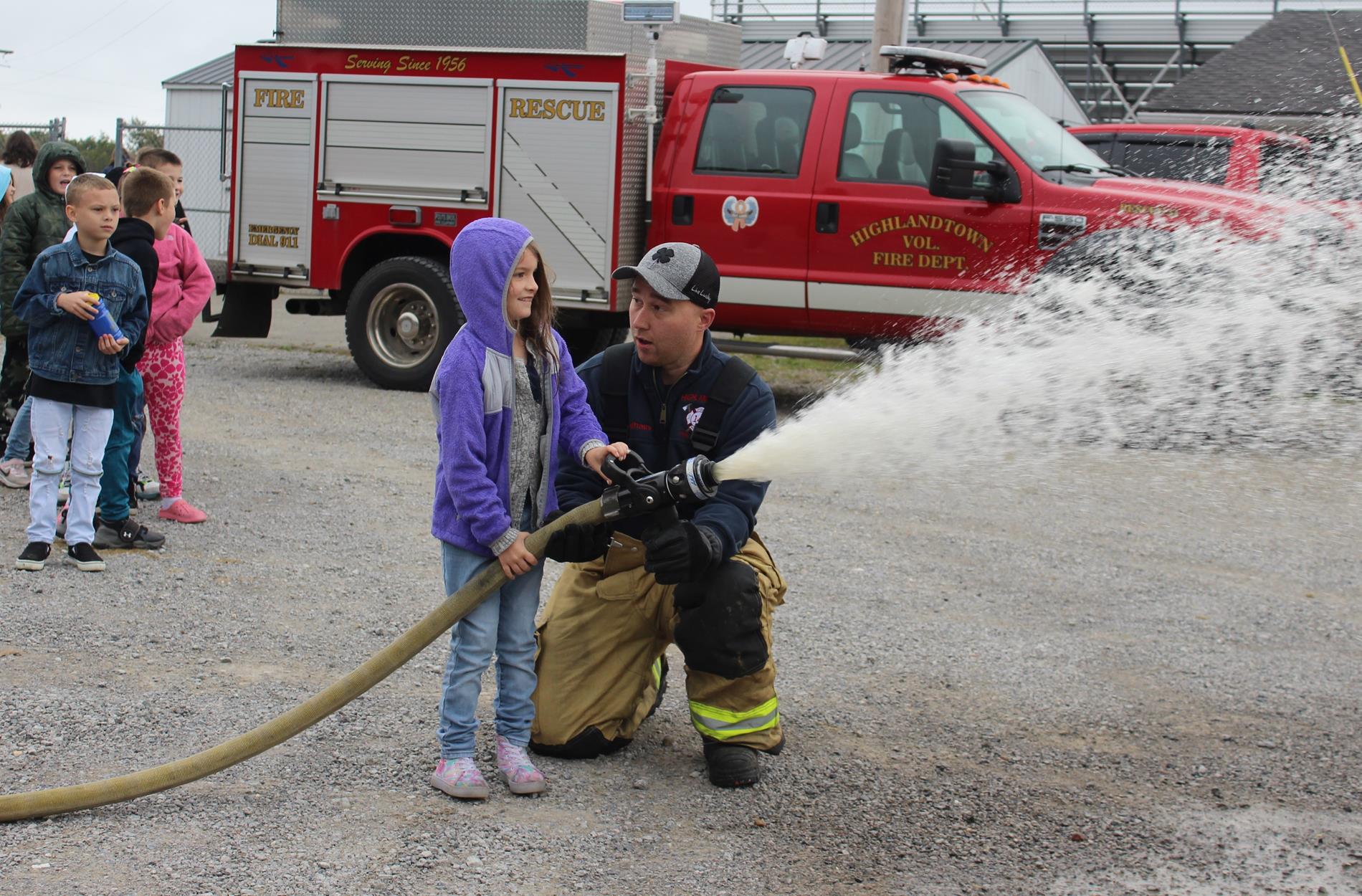 ---
Fire Safety Lesson at SLES
SALINEVILLE- Firefighters became teachers for a day when they took part in Fire Prevention Week at Southern Local Elementary School.
Guidance counselor Larry Rudloff organized the annual event and crews from the Highlandtown, Salineville and Franklin Township Volunteer Fire Departments visited during the observance on Sept. 26-30. Fire officials met with students in grades PK-3 to give a safety lesson while vehicles and equipment were also on display. Salineville and Franklin Township officials were on hand that Monday and met with preschool and third-grade classes while Highlandtown VFD members gathered with grades K-2. Sessions were held at Wigwam Stadium and multi-handicapped pupils also participated while fire and school officials provided materials and videos for all students, including the fourth- and fifth-grade classes.
During Wednesday's presentation, Highlandtown firefighter B.J. Davis discussed what to do in the event of a fire from using smoke detectors to formulating an escape plan.
"We have a theme and it is 'Fire Don't Wait. Plan Your Escape," he said. "Fire doesn't care that you are in the house. You need to have a planned escape route so you know exactly what to do when the smoke detector goes off."
He questioned kids about how many smoke detectors they had at home and where they are placed, saying at least one should be installed on the ceiling in every floor of the house. Davis said smoke travels high into the air and a detector could sense it and alert inhabitants quickly. He also instructed kids to crawl beneath the smoke to get to safety.
"You need to stay as low to the ground as you possibly can since that is the cleanest, most breathable air," he added, also advising students to check closed doors for heat by touching it with the backs of their hands.
Davis further advised them to have their family meet at a designated spot far away from the house so firefighters will know who may or may not still be inside. Meanwhile, those who do not escape should not hide but stay low and yell for help so they can be found, plus their rooms should be kept clean to make it easier for searches. Other tips included testing smoke detectors regularly, changing the batteries twice a year and replacing the detectors within 10 years.
Firefighter Michelle Cole then donned flame-resistant turnout gear which Davis said weighed 125 pounds and cost about $10,000. Following more discussion, he told students to call authorities during an emergency.
"Whether you need the police, whether you need an ambulance or whether you need the fire department, it's 9-1-1."
A brief question-and-answer session was then held, after which students headed to the adjacent parking lot to view emergency vehicles. Davis explained the tools and equipment on board the fire truck as well as their use and students had fun taking turns with the fire hose. The department will sponsor a Home Fire Escape Plan contest for the pupils, who will submit designs of their home plans and the best entry will receive a prize.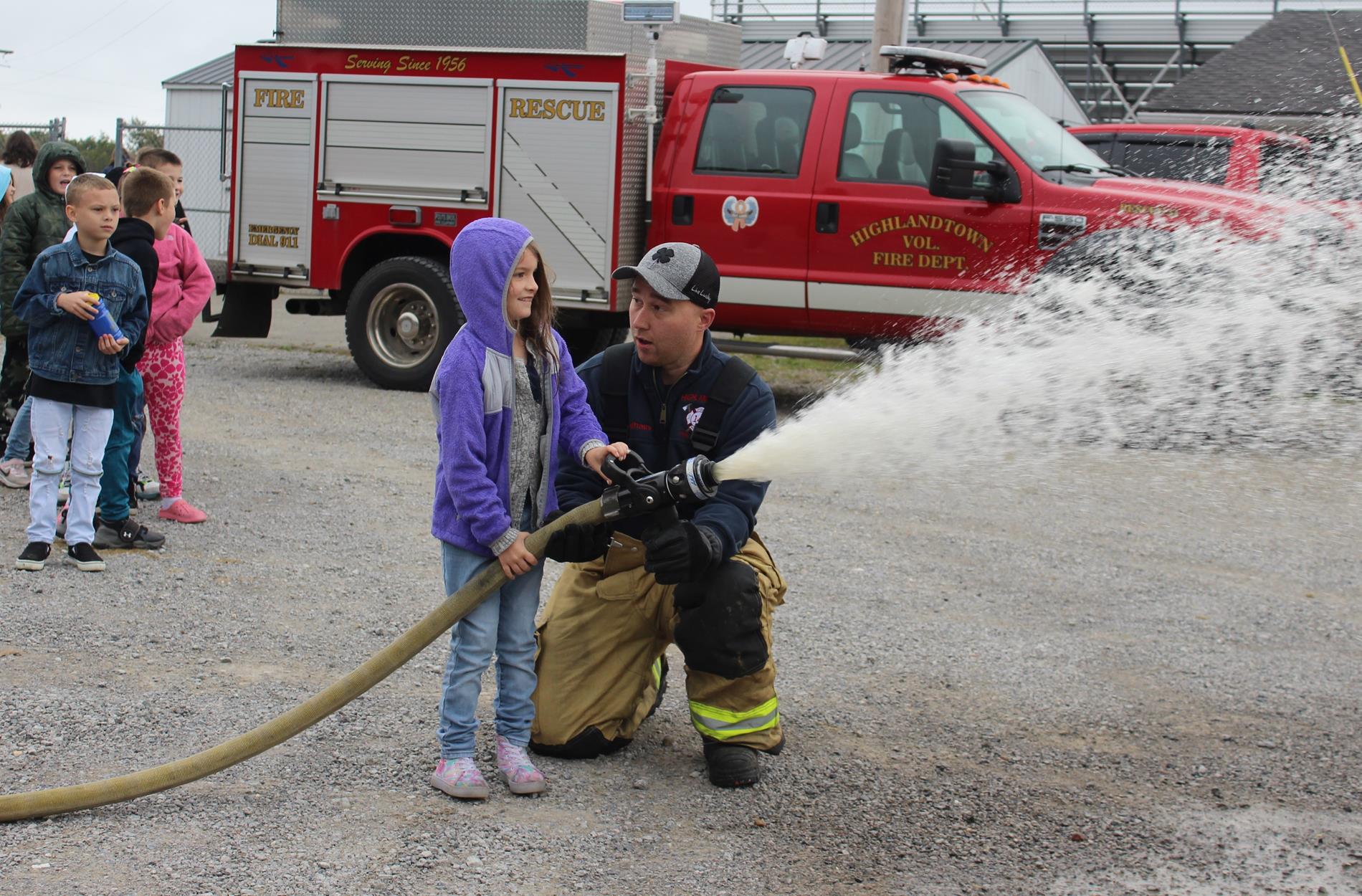 Southern Local Elementary second-grader Kamryn Parrish practices using a fire hose with help from firefighter Matt Grodhaus of the Highlandtown Volunteer Fire Department during Fire Prevention Week on Sept. 26-30. Crews from Highlandtown, Salineville and Franklin Township VFD met with grades PreK-3 to discuss fire safety and display vehicles and equipment. Also pictured is student Noah Crooms with other classmates waiting their turn.