SLBOE Teacher Has Designs on Mural Project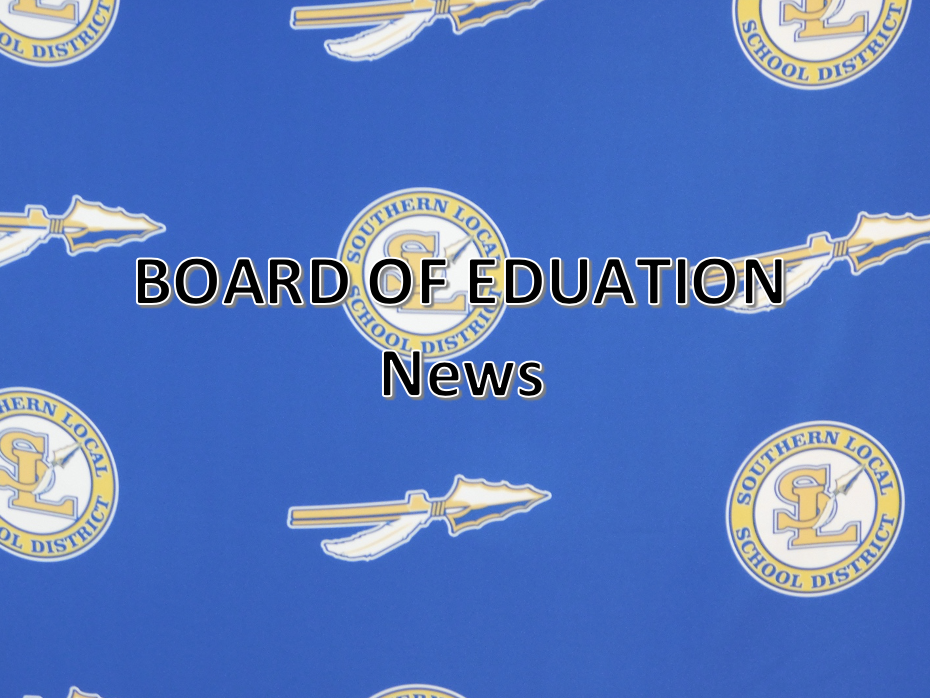 ---
SLBOE Teacher Has Designs on Mural Project
SALINEVILLE-Southern Local Jr./Sr. High School's art teacher has designs on adding a mural in the building and approached the school board with the project.
Teacher Laurie Ronshak and Art Club President Brooke Brown made a presentation to board members on Tuesday and proposed having Florida-based artists Christian and Jessica Stanley decorate walls outside the band and art classroom. Ronshak said the Stanleys were relations of hers and the plan would add some color and life to that section of the building. The concept also expounds upon a previous project by elementary art teacher Kimberly Adams and Ronshak's students would pitch in with the painting.
"I am excited to present this as something that's very positive to our school," she said. "We can get some life into the music and art hallway."
"I think our hallway is empty and doesn't have any attention," added Brown. "I think it should have more expression and we could have an art project."
They conducted a slideshow with samples of the Stanleys' work and Ronshak said ideas would also be incorporated from students, staff and the public. It would include a basic art theme that was inviting and could add the school colors of blue and gold, and if the project is extended down the corridor, it could involve metric or other school-related themes. She said more designs could be viewed at cstanleycreative.com.
"It's not just him coming in. It's about what we want, what the community wants and what the students want," she noted. "Jessica is a former teacher and they can do a half-hour presentation and will design for band and art. He'd be fine to go further if need be and it would take 1 ½ to two weeks if it's bigger."
She said the Art Club has raised $2,000 so far and can seek sponsorships and other funding but asked the school board for financial assistance in the potential $12,000 cost. Ronshak added that she had to pay half of the cost upfront and hoped to have the work underway in late April or early May.
"I think it's a positive project and is much needed," she continued. "It can meet state standards [when students participate]. I hope you can see it's a good purpose for us."
The board took no action during the session.
Among other matters:
--Heard from parent Julie Utt about her hopes to reduce classroom sizes by adding a third fifth-grade class next year;
--SLHS Principal Rich Wright thanked everyone for contributing 200 cases of water for East Palestine residents displaced by the recent train derailment. He added that the next PBIS reward would be a student dodgeball game while juniors will take ACT exams on March 1. Wright continued that the AntiVirus program will continue weekly sessions with Aiming High program to begin for grades 7-8, plus motivational speaker Brad Hurtig will visit on March 21. Officials were planning to host an evening event with Hurtig at 6 p.m. for the public;
--Superintendent Tom Cunningham said the elementary school's robotics program was making exceptional progress and one team earned the Judge's Award during a recent competition, while VEX Robotics will be moved to sixth grade. Cunningham said morning intervention sessions will be held next week with a professional development day set for grades K-1 teachers in March to prepare for upcoming dyslexia screenings. He added that the district's second waiver day went well with teachers working on Bridges Out of Poverty and goalsetting in class assignments;
--Gerard Grimm was given a one-year limited teaching contract for the 2022-23 school year. The board also approved Arlene Obertance as a teacher, Carla Phenicie as a three-hour cafeteria worker at SLHS, Brian Spahlinger as assistant baseball coach, Chris Lewis as assistant softball coach, Rich Sloan as junior high boys' track coach, Chastity Sloan as junior high girls' track coach and Jamie Boyle as scorebooks keeper for the girls' basketball games, all for the 2022-23 school year;
--The board approved a revised agreement with the Columbiana County Educational Service Center to provide services for school-aged students in the district;
--Officials continued the district's membership in the Ohio High School Athletic Association for 2023-24;
--The board approved waiver days for kindergarten and first grade on March 3, 17 and 31 in compliance with the Ohio Department of Education's dyslexia screenings;
--Set the next regular meeting for March 14 at 5:30 p.m. in the SLHS Media Center.