Welcome to Southern Local
Preschool Registration
Our PreSchool sessions are full for the 2021 - 2022 school year. If you wish to be placed on a waiting list, please complete the online PreSchool Registration Form. If you have any questions, please contact Mrs. Sampson, Preschool Coordinator at the administration offices. The phone number is: 330-679-2343 ext. 4100 or email: kristy.sampson@omeresa.net. Please make sure to leave your name, your child's name and a contact phone number.
Thank you

Kindergarten Registration
Spring Kindergarten Registration will be open from February 17 through June 1. Please complete the form for Kindergarten Registration. The Elementary Assistant Principal will then contact you to schedule a time the week of June 1st to complete the required paperwork and screening process with your child. If you have questions regarding registration, please contact Mrs. Brinker, Elementary Assistant Principal at 330-679-2343 ext. 4020 or email at emily.brinker@omeresa.net. Please make sure to leave your name, child's name, and a contact phone number.
Thank you
OPEN ENROLLMENT REGISTRATION
Open Enrollment for the 2021- 2022 school year is now open.
Families who live in another school district wishing to attend Southern Local for the 2021 - 2022 school year may contact the Superintendent's Administrative Assistant to obtain the application for Open Enrollment. If you have any questions or are requesting the form, call 330-679-2343 ext. 4003.
You may also download the documents using the link provided. Complete the forms and return both forms either by mail or email. Email the forms to tammy.phillips@omeresa.net.
EMERGENCY BROADBAND BENEFIT (EBB)
Consumer Internet providers and your home Internet needs. The Connectivity Champions will help families getting Internet and troubleshooting problems. Contact them for assistance.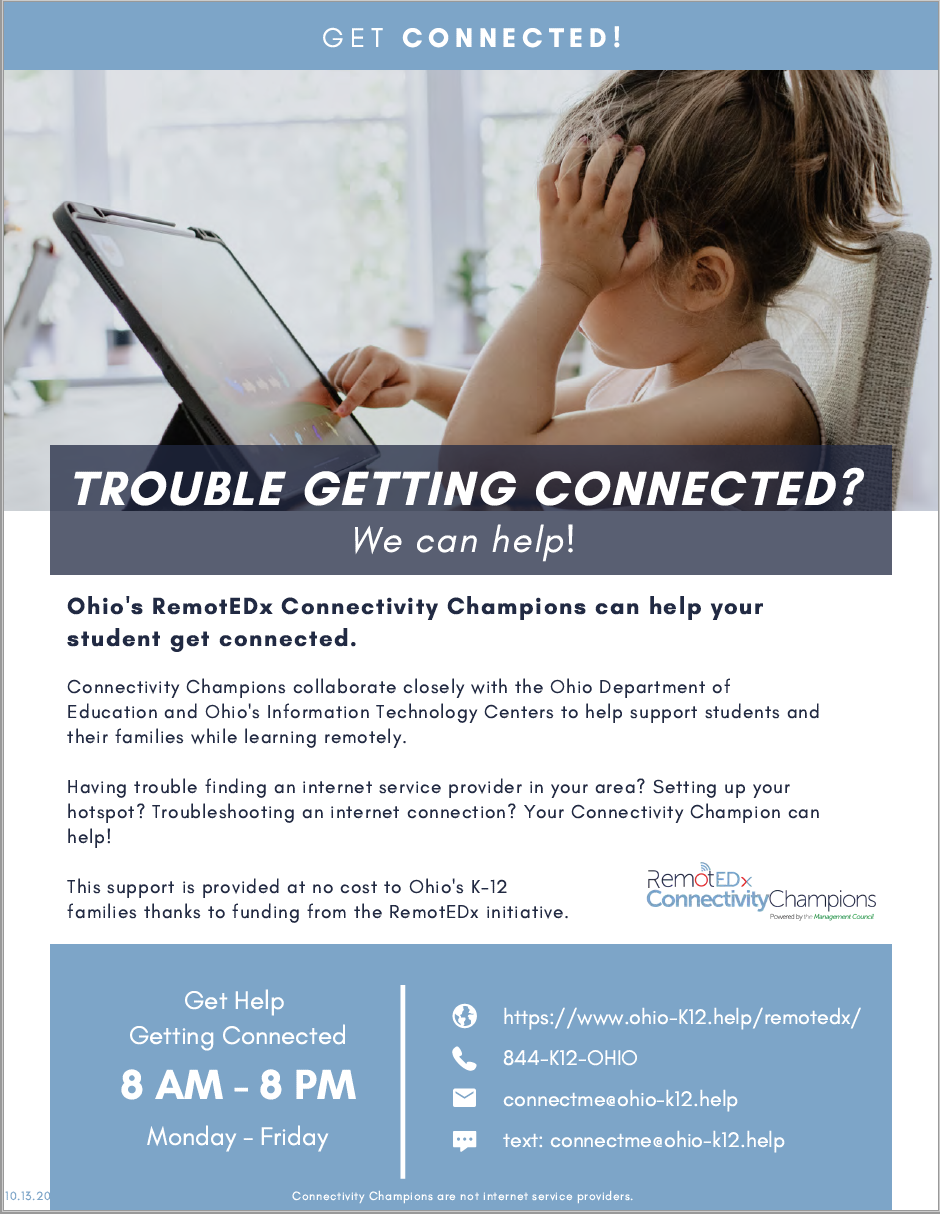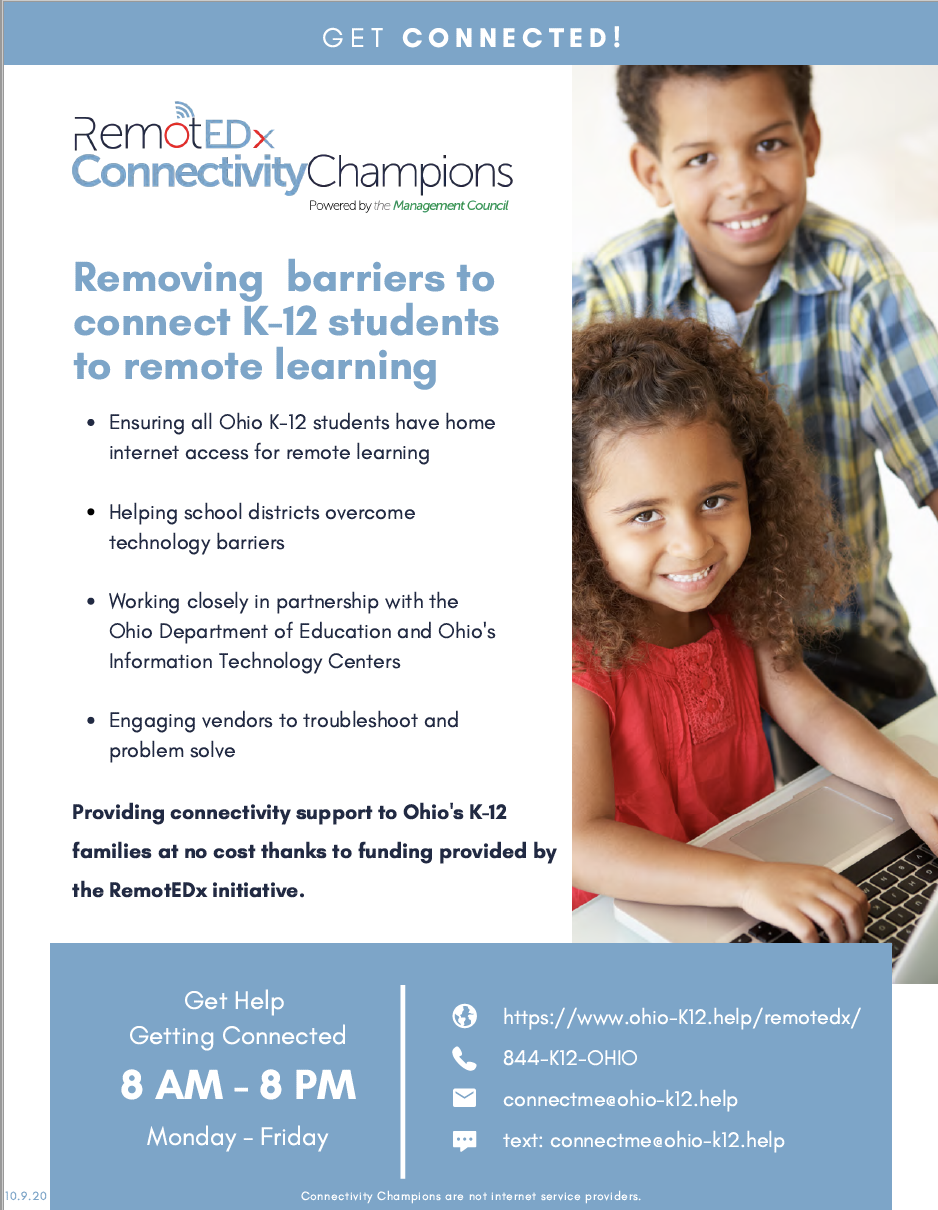 The Emergency Broadband Benefit (EBB)
Provides discounted service for low-income households
Provides Internet and connected device for the home
Household must apply - school or library can not apply on their behalf
All households of student who attended Southern Local during the 2019 or 2020 school year qualifies
The Connectivity Champions
Who are they and what do they do?
Help Remove the barriers to connect all K-12 students to remote learning by:
Ensuring all students have home Internet access for remote learning
Help schools to overcome technology barriers
Working closely in partnership with the Ohio Department of Education and Ohio's Information Technology Centers
Engaging vendors to troubleshoot and problem solve
Providing connectivity support to Ohio's K-12 families at no cost thanks to funding provided by the RemotEDx initiative.
Help filing the forms
Contact Ohio's Connectivity Champions
email: https://www.ohio-k12.help/remotedx/
text: connectme@ohio-k12.help
phone: (844)K12-OHIO [844-512-6446]
To Request Connectivity Champions Support
COVID-19 AND EDUCATIONAL PLANS
The RedZone provides in-house "comprehensive ... mental health counseling, case management and substance abuse services" to individuals in need.
To find out more about The RedZone, visit their website at: https://www.theredzoneoh.com
"Southern Local will be a safe place of excellence, where all students are connected and striving to reach their full potential."
"Creating Confident Communicators and Problem Solvers to serve as productive members of Society."
"T.R.I.B.E" (Trust - Respect - Integrity - Belief - Excellence)